Monster's Chase Sexton looked to have the 450 win in the bag, crashes out @ white flag; Monster 250 racers capture three out of four top spots
CORONA, CA – February 21, 2022 – (Motor Sports NewsWire) – With just over a lap to go in Saturday's premier 450cc class Monster Energy AMA Supercross main event at Minneapolis' U.S. Bank Stadium Monster Energy's Chase Sexton (Honda) was out front, poised to take the checkers. But instead it'd be wreckers for the 21-year-old second year pro when he, literally, buckled his front wheel coming out of a turn and was launched from his bike – unable to finish the race (due to a severely bent front rim). 2nd place Jason Anderson (Monster Energy/Kawasaki) was 3.4 second back at the time, content on 2nd place this evening. Instead Anderson found himself atop the podium for his third win of the season, pulling him to within three points of 450 class point leader Eli Tomac (Monster Energy/Star Racing/Yamaha).
"I had bitten the bullet and decided Chase was riding fast and he was going to win tonight," said Anderson from the podium. "Bummer to see him go down, but I've been there in the past… and that's racing."
And in 250cc Eastern Supercross class action in Minneapolis Monster Energy racers Austin Forkner (Pro Circuit/Kawasaki), Cameron McAdoo (Pro Circuit/Kawasaki) and Jeremy Martin (Star Racing/Yamaha) would capture three of the top four positions – 2nd, 3rd and 4th, respectively, in that class' main event.
Monster 450 Podium – Center: Jason Anderson
450 class qualifying and heats
Monster Energy's Chase Sexton
In his opening timed qualifier contest Tomac was involved in an accident caused by Aaron Plessinger (KTM), which collected defending series champion Cooper Webb (KTM) and then Tomac. Tomac went down hard, but was uninjured in the accident and able to make his heat race and subsequent 450 main event.
Sexton and Tomac got out in 1st and 2nd in the first 450 heat race, clearing themselves from the rest of the pack and running in those positions through the checkers to transfer easily to the main event.
Said Sexton: "It was tough knowing Eli (Tomac) was right behind me. I could hear him. So I knew I couldn't make any mistakes. … I'm happy to be back East and I think we're in for a good night."
The second 450 heat race featured Anderson and Dylan Ferrandis (Monster Energy/Star Racing/Yamaha), who was the day's fastest qualifier.
Both Ferrandis and Anderson would start cautiously, Ferrandis coming around the first lap in 7th and Anderson in 10th.
Halfway through the heat Ferrandis had moved up to 5th, and Anderson to 7th – each in solid transferring positions (top eight make the main).
A Justin Barcia (Gas-Gas) crash would put both Monster Energy racers up a spot, with Ferrandis eventually moving up to 3rd and Anderson 4th.
450 Main Event
Monster Energy/Kawasaki's Jason Anderson
Sexton and Anderson would blitz the start, coming out in 2nd (Sexton) and 3rd (Anderson) behind defending Monster Energy AMA Supercross series 450 champ Webb. … And no sooner did the announcers get settled in when TV announcer Ricky Carmichael blew his top – "Tomac's down on the face of the triple!" … Ferrandis would lose control of his YZ450F at the end of the whoops and crossed into the series point leader (Tomac's) path. Ferrandis would regain control, at the peak of the face of a triple jump, while Tomas, who was on the steep face, was forced to drop his bike. … The situation put Tomac into Dead Last place. … As Sexton and Anderson worked up front to separate themselves (with Webb) from the rest of the field, Tomac began his charge back into the top ten. … At the 14:00 minute mark Sexton would make his move on Webb for the lead, diving deep into a corner out of a rhythm section and past the defending champ for the lead. … Soon thereafter Anderson would catch Webb and nudge him out of the way for 2nd place, setting his sights on Sexton. … During all this Tomac was flying, recording some hyper-fast lap times while picking off some of the world's best supercross racers – including Honda's Ken Roczen and KTM's Aaron Plessinger – to move up to 7th place. … Literally a couple turns before the white flag (signaling the final lap) Sexton went down, Anderson took the lead and that was it. … Tomac would place 6th and Ferrandis 9th.
Said Anderson: "For me I was really struggling all day. Even during the main event I wasn't riding my best. …  Hope Chase (Sexton) is OK."
250 class qualifying
Monster Energy/Star Racing/Yamaha's Jeremy Martin
Local racer Martin (Millville, Minn.) would get the better start out of the Monster Energy racers in the opening heat race, shooting out to 6th place early. He'd move to 5th, then was quickly bounced back to 6th by a charging Jett Lawrence (Honda).
Martin would get back into 5th and McAdoo got close, but settled on the 6th transfer spot at the checkers.
Levi Kitchen (Monster Energy/Star Racing/Yamaha), in his first-ever pro supercross race, pulled the 250 heat 2 holeshot and led for a bit, dropping to 2nd after sketching in a rhythm section.
Forkner moved quickly through the pack, and was onto 3rd place Kitchen, before colliding with Phil Nicoletti (Yamaha) and leaving the track.
Kitchen would hold onto 3rd place, giving him a podium finish in his very first supercross heat race. Forkner would rally back to the 4th transfer spot.
250 Main Event
Monster Energy/Pro Circuit/Kawasaki's Austin Forkner
Forkner pulled the holeshot and was up front early, with McAdoo in 3rd and Martin in 5th. … Kitchen would start mid-pack, move up into the top ten (9th) briefly, then settled in around 11th/12th. … Martin worked hard and was up on McAdoo for the 3rd podium spot, but a couple slight miscues would keep him just back in 4th. … "He's strong and tenacious.  He's a bulldog and just goes for it," said Carmichael on Martin. … With Forkner, McAdoo and Martin occupying 2nd through 4th, Kitchen wicked it up later in the contest, rode consistently, and was able to break back into the top ten (9th). … At the checkers the Monster Energy riders held their positions, capturing three of the top four spots (Forkner 2nd, McAdoo 3rd and Martin 4th).
Said Forkner: "I had some sketchy moments in the heat, but had a pretty solid ride in the main. There was a little bit of yo-yoing early with me and Jett (Lawrence), but overall it was a good race. I got out and didn't see anybody to the side (Re. his holeshot) – and that was the highlight of the night. More races like this all season long and I'll be happy with it."
Said McAdoo: "Things didn't get started off on the right foot, so I didn't have the greatest gate pick after a 6th in my heat. I was definitely in the moment (in the main) and not the result. Some areas where I could do better, but overall it's a good start."
Overall 2022 Monster Energy AMA Supercross Points (through four rounds)
450 class
Jason Anderson

1st – Tomac
2nd – Anderson (-3)
6th – Sexton (-28)
9th – Ferrandis (-49)
250 class (SX East)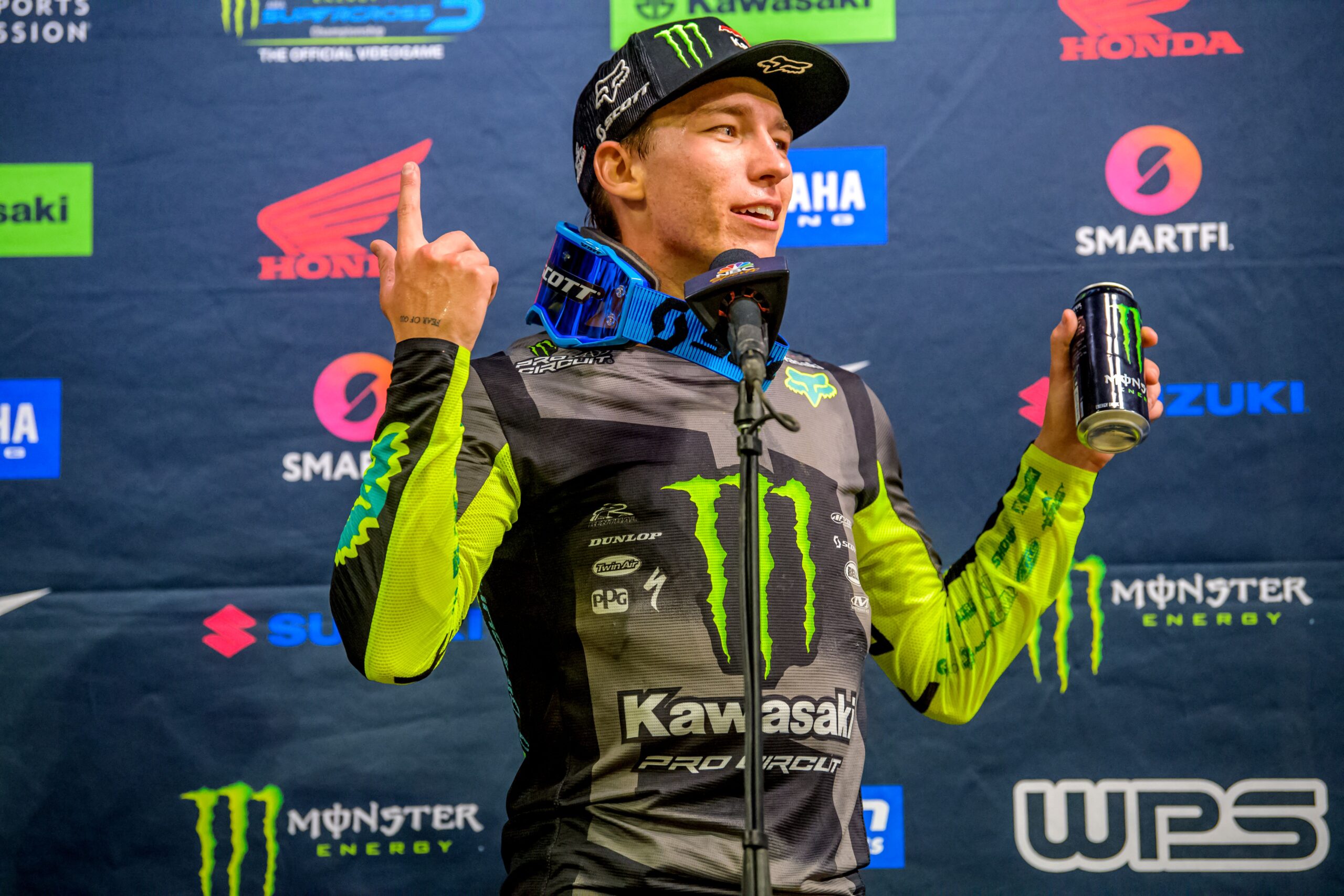 Austin Forkner

2nd – Forkner (-3)
3rd – McAdoo (-5)
4th – Martin (-7)
9th – Kitchen (-12)
Up Next
Round eight of 2022 Monster Energy AMA Supercross will be at Arlington, Texas' AT&T Stadium, home of the Dallas Cowboys, on Saturday, February 26th. More information on times, along with tickets, can be found at www.supercrosslive.com
About Monster Energy
Some companies won't let you have any gear unless you're on the payroll. We're all about our fans rockin' the Monster Energy logo the way they want – on hats, shirts, MX bikes, trucks, gear, or even on themselves. Our idea of a promotion isn't giving away a TV you already got. Our promos offer exclusive VIP access, insane trips hanging with top musicians and athletes, and real gear like dirt bikes, snowboards, and helmets.
In short, at Monster Energy all our guys walk the walk in action sports, punk rock music, partying, hangin' with the girls, and living life on the edge. Monster Energy is way more than an energy drink. Led by our athletes, musicians, employees, distributors, and fans, Monster Energy is… A LIFESTYLE IN A CAN!
Source: Monster Energy Company
####