WASHINGTON, D.C. – April 17, 2020 – (Motor Sports NewsWire) –
Recall Summary
Name of product: Model Year 2019 Polaris PRO XD and model year 2020 Ranger Utility vehicles (UTVs).
Hazard: The seat belts on the vehicles can fail, posing an injury hazard to the user if they were to be in a collision or tip-over incident.
Remedy: Repair
Recall date: April 16, 2020
Units: About 10,100 (In addition, 400 units were sold in Canada)
Consumer Contact: Polaris at 800-765-2747 from 7 a.m. to 7 p.m. CT Monday through Friday or online at www.polaris.com and click on "Off Road Safety Recalls" for more information. In addition, check your vehicle identification number (VIN) on the "Product Safety Recalls" page to see if your vehicle is included in any recalls.
Recall Details
In Conjunction With: Canada
Description: This recall involves model Year 2019 PRO XD and model year 2020 Ranger utility vehicles. The vehicles were sold in black, blue, camo, gray and green colors and have two or four seats. "POLARIS" is stamped on the front grille and "POLARIS PRO XD" or "Ranger" on the sides of the utility bed. Vehicle identification numbers (VIN) included in this recall can be found on a label affixed to the vehicle frame in the left front wheel well. Non-sequential VINs from 4XABEPD40K8940052 through 4XABEPD4XK8940172, 4XARRB990L8930682 through 4XARSW99XL8932306, 4XAT6A990L8881136 through 4XATAU99XL8884593, 3NSM4A570LE764085 through 3NSMAE57XLE767012, 3NSMAA500LE763806, through 3NSMAA50XLE768821 and 3NSMAAE40LE765283 through 3NSMAAE4XLE768742 of the following models are included in this recall:
YEAR

MODEL

  2019

PRO XD 4000D AWD

                            2020

RANGER 500, 570 and 1000

RANGER CREW 570 and CREW XP 1000

RANGER EV

RANGER XP 1000
Remedy: Consumers should immediately stop using the recalled vehicles and contact a Polaris dealer to schedule a free inspection and repair. Polaris is notifying dealers and contacting registered owners directly.
Incidents/Injuries: None reported.
Sold At: Polaris dealers nationwide from October 2019 through December 2019 for between $9,500 and $24,000.
Manufacturer(s): Polaris Industries Inc., Medina, Minn
Manufactured In: United States
Recall number: 20-735
This recall was conducted, voluntarily by the company, under CPSC's Fast Track Recall process. Fast Track recalls are initiated by firms, who commit to work with CPSC to quickly announce the recall and remedy to protect consumers.
The U.S. Consumer Product Safety Commission is charged with protecting the public from unreasonable risks of injury or death associated with the use of thousands of types of consumer products under the agency's jurisdiction. Deaths, injuries, and property damage from consumer product incidents cost the nation more than $1 trillion annually. CPSC is committed to protecting consumers and families from products that pose a fire, electrical, chemical or mechanical hazard. CPSC's work to help ensure the safety of consumer products – such as toys, cribs, power tools, cigarette lighters and household chemicals -– contributed to a decline in the rate of deaths and injuries associated with consumer products over the past 40 years.
Federal law bars any person from selling products subject to a publicly-announced voluntary recall by a manufacturer or a mandatory recall ordered by the Commission.
Source: U.S. Consumer Product Safety Commission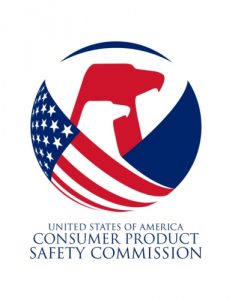 ####