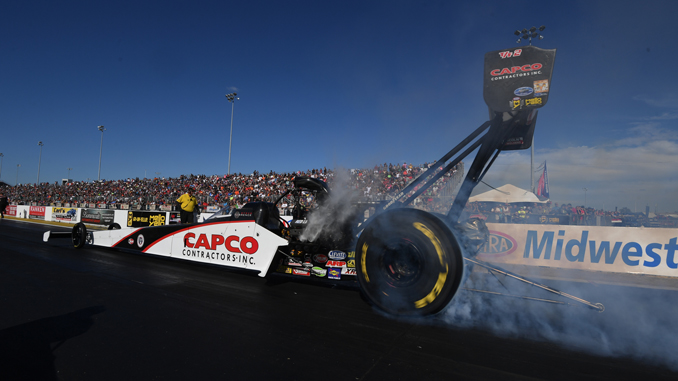 Defending event winner, Torrence, locks in Top Fuel No. 1 qualifier
Hight secures 60th career Funny Car No. 1 qualifying position
Coughlin Jr. sits atop of the Pro Stock class for the third time this season
Ellis clinches first No. 1 qualifier in Pro Stock Motorcycle for the first time this season
MADISON, IL – September 22, 2018 – (Motor Sports Newswire) –  Steve Torrence piloted his Top Fuel dragster to the No. 1 spot during the final round of qualifying Saturday evening in front of a sold-out crowd at the AAA Insurance NHRA Midwest Nationals at Gateway Motorsports Park.
Robert Hight (Funny Car), Jeg Coughlin Jr. (Pro Stock) and Chip Ellis (Pro Stock Motorcycle) are also the No. 1 qualifiers in their respective categories at the second of six payoff events during the 2018 NHRA Mello Yello Drag Racing Series Countdown to the Championship.
Top Fuel points leader Torrence picked up his third No. 1 qualifier of the 2018 season and 19th of his career after his final qualifying run of 3.675-seconds at 327.19 mph in his Capco Contractors/Torrence Racing dragster. Seeking back-to-back victories at St. Louis, Torrence will race Bill Litton to open eliminations.
"It was a good qualifying effort on our part," Torrence state. "Today's track conditions were the best of the season thus far. We were trying to run harder on Billy's (Torrence) car but ended up being able to do it with my car taking the No.1 spot. We are feeling confident going into tomorrow."
Clay Millican finished second in qualifying, courtesy of his 3.692 at 329.83 run in his Great Clips/Parts Plus dragster. Millican will meet Shawn Reed in the first round of eliminations.
Hight claimed his 60th career No. 1 qualifier of his career and third of the 2018 season after his run of 3.844 at 326.16 from the last round of qualifying in his Auto Club Southern California Chevrolet Camaro SS. Seeking his second victory at Gateway Motorsports Park, Hight will face Dale Creasy in the first round.
"We were pushing it," Hight said. "We don't get to run a lot of big numbers like that since the tracks just haven't been there. You could see the numbers dropping with every pair that went down. To be honest, the thing that impressed me the most was running a 3.90 in the heat earlier today because that's what we're going to be racing with tomorrow."
Ron Capps remained in the No. 2 spot in his NAPA Auto Parts Dodge Charger R/T with his run of 3.873 at 327.19. He'll race Cruz Pedregon to start eliminations, while points leader J.R. Todd qualified seventh with a 3.928 at 323.66 in his DHL Toyota Camry, setting up a first-round match up with teammate Shawn Langdon.
In Pro Stock, Coughlin Jr. grabbed his 26th career top qualifier and third in 2018 after his run of 6.496 at 211.76 in his JEGS.com/Elite Motorsports Chevrolet Camaro during the third round of qualifying. Coughlin Jr., who has three wins this season, will look for his first win at Gateway Motorsports Park since 2002 and matches up with Mark Hogan in the first round of eliminations.
"It was close to 'Disneyland' conditions for the Pro Stock cars today," Coughlin Jr. said. "That .49 in Q3 was quite a shot and heard around the pits for sure. It felt great to run in the forties and to get the No. 1 spot feels great going into tomorrow."
Erica Enders, two-time world champion, qualified second in her Melling Performance/Elite Motorsports Chevrolet Camaro with her run of 6.508 at 212.53 on Saturday. The two-time winner at the track meets Charlie Wescott in the opening round of eliminations. Points leader, Tanner Gray, is in the No. 7 position after his pass of 6.521 at 212.03.
Ellis raced to the top of the Pro Stock Motorcycle class with his pass of 6.764 at 196.76 on his Screamin' Eagle Vance & Hines Harley-Davidson during the fourth qualifying session. This is his first No. 1 qualifier of the season and will face off with Mark Paquette in the first round of eliminations.
"It is every Pro Stock Motorcycle racer dream to ride one of those Harley's," Ellis stated. "It is a real honor for me. I've wanted to be on a fast bike and they've certainly given me that today. To be able to come out here and do what we've done is pretty awesome."
Teammate Andrew Hines is second on his Screamin' Eagle Vance & Hines Harley-Davidson after his pass of 6.782 at 197.74 and will race Ryan Oehler in the opening round of eliminations. LE Tonglet is third with his run of 6.812 at 195.76.
Eliminations at the AAA Insurance NHRA Midwest Nationals begin at 11 a.m. on Sunday.
MADISON, IL — Sunday's first-round pairings for eliminations for the seventh annual AAA Insurance NHRA Midwest Nationals at Gateway Motorsports Park, the 20th of 24 events in the NHRA Mello Yello Drag Racing Series. Pairings based on results in qualifying, which ended Saturday.
DNQs listed below pairings.
Top Fuel — 1. Steve Torrence, 3.675 seconds, 327.19 mph vs. 16. Bill Litton, 3.925, 310.20; 2. Clay Millican, 3.692, 329.83 vs. 15. Shawn Reed, 3.812, 326.24; 3. Billy Torrence, 3.717, 328.06 vs. 14. Pat Dakin, 3.796, 322.58; 4. Blake Alexander, 3.717, 326.87 vs. 13. Terry McMillen, 3.796, 326.32; 5. Leah Pritchett, 3.718, 330.96 vs. 12. Scott Palmer, 3.779, 323.74; 6. Tony Schumacher, 3.731, 330.72 vs. 11. Richie Crampton, 3.774, 320.05; 7. Antron Brown, 3.750, 320.58 vs. 10. Doug Kalitta, 3.769, 323.04; 8. Brittany Force, 3.755, 328.78 vs. 9. Mike Salinas, 3.760, 328.78.
Did Not Qualify: 17. Luigi Novelli, 3.930, 278.69; 18. Lex Joon, 4.244, 202.45; 19. Chris Karamesines, 5.717, 158.26.
Funny Car — 1. Robert Hight, Chevy Camaro, 3.844, 326.16 vs. 16. Dale Creasy Jr., Dodge Stratus, 4.060, 309.06; 2. Ron Capps, Dodge Charger, 3.873, 327.19 vs. 15. Cruz Pedregon, Toyota Camry, 4.013, 301.47; 3. Courtney Force, Camaro, 3.881, 331.04 vs. 14. Jim Campbell, Charger, 4.012, 297.68; 4. Tommy Johnson Jr., Charger, 3.896, 327.11 vs. 13. Del Worsham, Camry, 4.001, 321.73; 5. Bob Tasca III, Ford Mustang, 3.915, 320.58 vs. 12. Jonnie Lindberg, Mustang, 3.996, 315.71; 6. Tim Wilkerson, Mustang, 3.924, 325.53 vs. 11. Matt Hagan, Charger, 3.967, 320.13; 7. J.R. Todd, Camry, 3.928, 323.66 vs. 10. Shawn Langdon, Camry, 3.943, 322.81; 8. Jack Beckman, Charger, 3.929, 326.00 vs. 9. John Force, Camaro, 3.934, 327.11.
Did Not Qualify: 17. Terry Haddock, 4.093, 287.90; 18. Jack Wyatt, 4.189, 296.18.
Pro Stock — 1. Jeg Coughlin, Chevy Camaro, 6.496, 211.76 vs. 16. Mark Hogan, Pontiac GXP, 6.769, 204.60; 2. Erica Enders, Camaro, 6.508, 212.53 vs. 15. Charlie Westcott Jr., Ford Mustang, 6.733, 205.35; 3. Jason Line, Camaro, 6.513, 212.79 vs. 14. Val Smeland, Camaro, 6.624, 208.14; 4. Bo Butner, Camaro, 6.515, 212.39 vs. 13. Alan Prusiensky, Dodge Dart, 6.587, 208.78; 5. Drew Skillman, Camaro, 6.515, 211.89 vs. 12. Kenny Delco, Camaro, 6.568, 210.90; 6. Vincent Nobile, Camaro, 6.516, 211.79 vs. 11. Fernando Cuadra, Camaro, 6.547, 211.53; 7. Tanner Gray, Camaro, 6.521, 212.03 vs. 10. Chris McGaha, Camaro, 6.532, 211.99; 8. Greg Anderson, Camaro, 6.527, 212.06 vs. 9. Deric Kramer, Camaro, 6.529, 211.86.
Did Not Qualify: 17. Robert River, 6.794, 203.06.
Pro Stock Motorcycle — 1. Chip Ellis, Harley-Davidson, 6.764, 196.76 vs. 16. Mark Paquette, Buell, 6.933, 191.02; 2. Andrew Hines, Harley-Davidson, 6.782, 197.74 vs. 15. Ryan Oehler, Buell, 6.930, 194.10; 3. LE Tonglet, Suzuki, 6.812, 195.76 vs. 14. Jim Underdahl, Suzuki, 6.925, 193.35; 4. Eddie Krawiec, Harley-Davidson, 6.820, 195.56 vs. 13. Joey Gladstone, Buell, 6.896, 193.82; 5. Matt Smith, EBR, 6.824, 199.61 vs. 12. Scotty Pollacheck, Suzuki, 6.893, 194.35; 6. Steve Johnson, Suzuki, 6.832, 196.10 vs. 11. Angie Smith, Buell, 6.877, 193.85; 7. Hector Arana, EBR, 6.866, 197.45 vs. 10. Jerry Savoie, Suzuki, 6.872, 195.76; 8. Hector Arana Jr, EBR, 6.869, 198.99 vs. 9. Angelle Sampey, Buell, 6.871, 195.11.
Did Not Qualify: 17. Kelly Clontz, 6.943, 192.49; 18. Karen Stoffer, 6.982, 191.02.
To purchase general-admission or reserved seats, call (618) 215-8888. Tickets also are available online at www.gatewaymsp.com. Kids 12 and under are free in general admission areas with a paid adult. To honor the Salute to First Responders, military and first responders can save 20 percent on general admission tickets at the gate. For more info about NHRA visit www.NHRA.com.
About NHRA
Headquartered in Glendora, Calif., NHRA is the primary sanctioning body for the sport of drag racing in the United States. NHRA presents 24 national events featuring the NHRA Mello Yello Drag Racing Series, NHRA Lucas Oil Drag Racing Series, and E3 Spark Plugs NHRA Pro Mod Drag Racing Series presented by J&A Service. NHRA provides competition opportunities for drivers of all levels in the NHRA Summit Racing Series and the NHRA Drags: Street Legal Style presented by AAA. NHRA also offers NHRA Jr. Street program for teens and the Summit Racing Jr. Drag Racing League for youth ages 5 to 17. In addition, NHRA owns and operates four racing facilities: Atlanta Dragway in Georgia; Gainesville Raceway in Florida; Lucas Oil Raceway at Indianapolis; and Auto Club Raceway at Pomona in Southern California. For more information, log on to NHRA.com, or visit the official NHRA pages on Facebook, YouTube and Twitter.
Source: National Hot Rod Association
####