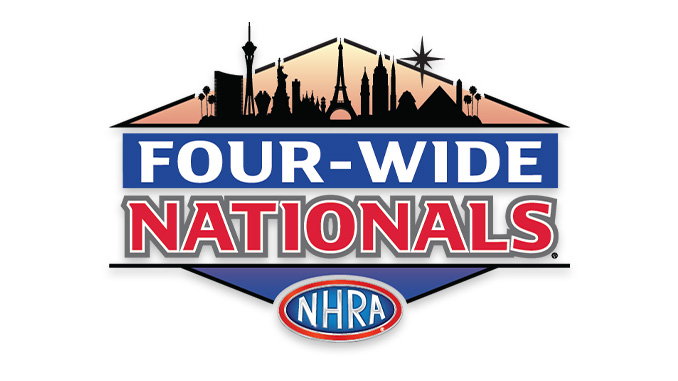 LAS VEGAS, NV – April 11, 2023 – (Motor Sports NewsWire) – Off to a solid start to open her 2023 season in the NHRA Camping World Drag Racing Series, Top Fuel star Leah Pruett is ready to take the next step this year at this weekend's NHRA Four-Wide Nationals at The Strip at Las Vegas Motor Speedway.
Pruett has raced to a pair of semifinal berths over the first three races this season, making strong progress and seeing plenty of improvement from her Tony Stewart Racing Top Fuel team. An early-season victory would do even more for the group's momentum, especially in the challenging – and thrilling – four-wide setting in Las Vegas.
Pruett, who won last year in Denver to give TSR its first Top Fuel win, is after her first victory at the facility. She qualified well at the four-wide race last spring, taking the third spot and just missing out on advancing to the final quad. With the team showing early promise, Pruett likes her chances this weekend in her 11,000-horsepower Code 3 Associates dragster.
"I think the four-wide event comes at an appropriate time in the season," Pruett said. "The off-season rust is kicked off and everyone is moving and grooving in working order. We shook off all the single passes of the off-season, gathered a couple dozen side-by-side hits and now turn it up with the focus of four-wide.
"I am working to get a lower median reaction time and garnish a string of validation that the moves we are making with our hot rod are in the right direction. We made wholesale changes earlier and are now in more of the fine-tuning realm, so responsiveness and validation are what I'm looking for. Those two elements are the yellow brick road that will lead us to Wally contention this weekend."
Brittany Force (Top Fuel), Ron Capps (Funny Car) and Erica Enders (Pro Stock) were last year's winners of a race that will again be broadcast on Fox Sports 1 (FS1) this season, including eliminations action beginning at 9:30 p.m. ET on Sunday, April 16. It's the fourth of 21 races during the 2023 season and Pruett is currently sixth in points in a loaded field, looking to make a move at the first of two four-wide events this year
The first four-wide race of the 2022 campaign predicted later success a year ago, as Force, Capps and Enders all won world titles to finish the season, which Pruett would love to see repeat if she can pick up a victory this weekend in Las Vegas. But it won't be easy in a star-studded field that includes points leader Justin Ashley, who has two straight wins this year, Force, Steve Torrence, Antron Brown, Tony Schumacher, Gainesville winner Mike Salinas, Doug Kalitta and Austin Prock.
Plus, there's all of the unique challenges of four-wide race, which Pruett is focused on as the 10-time event winner heads into what she hopes is a successful weekend.
"Ultimately, crews, crew chiefs, and drivers need to exercise maximum situational awareness on the line," Pruett said. "We have to pay attention to what all of the communication signs mean because so much can change so fast. Someone can break, so drivers have to know what bulbs we expect to be lit or not and therefore not get timed-out.
"Basically, you want to get staged as soon as possible because the alignment of four cars to get to the stage beams eats up 5-10 seconds on average, so you're already burning more fuel than normal. Balancing your cadence is key for consistency."
In Funny Car, Capps will aim for a repeat win and grab his first victory of 2023. Standing in his way is a talented field, one that includes points leader Matt Hagan, Robert Hight, 16-time world champ John Force, J.R. Todd, Alexis DeJoria, Cruz Pedregon, Bob Tasca III and Tim Wilkerson.
Enders has dominated The Strip at Las Vegas Motor Speedway during her stellar career, sweeping both races in 2022. That gave her nine wins in Vegas, the most of any driver in NHRA history. She's after her first 2023 triumph against the likes of points leader Dallas Glenn, Phoenix winner Camrie Caruso, Gainesville winner Troy Coughlin Jr., Greg Anderson, Kyle Koretsky and Aaron Stanfield.
The NHRA Four-Wide Nationals also will feature thrilling competition in the NHRA Lucas Oil Drag Racing Series, featuring some of the top racers in the country. A special jet car exhibition will follow the conclusion of nitro qualifying each day as well. Four nostalgia Funny Cars will also be on display during the event, with a cackle fest set for each day. An autograph session will take place on Saturday at the Toyota Display with Toyota-sponsored drivers, allowing fans great access to several star drivers.
Fans will also be invited all weekend long to the Nitro Alley Stage, which will help create a festive atmosphere leading into the nitro pits. The Nitro Alley Stage will be the main entertainment hub in the pits when the Camping World Drag Racing Series competitors are not on the track, hosting Nitro School, meet and greets, music and much more.
Race fans at The Strip at Las Vegas Motor Speedway can enjoy the special pre-race ceremonies that introduce and celebrate each of the drivers racing for the prestigious Wally on Sunday and includes the fan favorite SealMaster Track Walk. The final can't-miss experience of any NHRA event is the winner's circle celebration on Sunday after racing concludes, where fans are invited to congratulate the event winners of the first four-wide race of 2023.
As always, fans also get an exclusive pit pass to the most powerful and sensory-filled motorsports attraction on the planet in Las Vegas. This opportunity gives fans a unique chance to see teams in action and service their hot rods between rounds, get autographs from their favorite NHRA drivers, and more. Fans can also visit NHRA's popular Nitro Alley and Manufacturers Midway, where sponsors and race vendors create an exciting atmosphere that includes interactive displays, simulated competitions, merchandise, food, and fun for the entire family.
NHRA Camping World Drag Racing Series qualifying will feature two rounds at 11:30 a.m. and 2 p.m. PT on Friday, April 14, and the final two rounds of qualifying on Saturday, April 15 at 11:30 a.m. and 2 p.m. Eliminations will begin at 12 p.m. PT on Sunday, April 16. Television coverage includes qualifying action at 9:30 p.m. ET on both Friday and Saturday on Fox Sports 1 (FS1), leading into eliminations coverage at 9:30 p.m. ET on Sunday at FS1.
To purchase tickets to the NHRA Four-Wide Nationals, fans can visit www.NHRA.com/tickets. Children 12 and under are free in general admission areas with the purchase of an adult ticket. For more information on NHRA, please visit www.NHRA.com.
About Camping World Holdings, Inc.
Camping World Holdings, Inc., headquartered in Lincolnshire, IL, (together with its subsidiaries) is America's largest retailer of RVs and related products and services. Our vision is to build a long-term legacy business that makes RVing fun and easy, and our Camping World and Good Sam brands have been serving RV consumers since 1966. We strive to build long-term value for our customers, employees, and shareholders by combining a unique and comprehensive assortment of RV products and services with a national network of RV dealerships, service centers and customer support centers along with the industry's most extensive online presence and a highly trained and knowledgeable team of associates serving our customers, the RV lifestyle, and the communities in which we operate. We also believe that our Good Sam organization and family of programs and services uniquely enable us to connect with our customers as stewards of the RV enthusiast community and the RV lifestyle. With RV sales and service locations in 42 states, Camping World has grown to become the prime destinations for everything RV. For more information, visit www.CampingWorld.com
About NHRA
Headquartered in San Dimas, Calif., NHRA is the primary sanctioning body for the sport of drag racing in the United States. NHRA presents 21 national events featuring the NHRA Camping World Drag Racing Series, NHRA Lucas Oil Drag Racing Series, NHRA Pro Mod Drag Racing Series, Flexjet NHRA Factory Stock Showdown™ and Top Fuel Harley Series. NHRA provides competition opportunities for drivers of all levels in the NHRA Summit Racing Series and NHRA Street Legal™. NHRA also offers the NHRA Jr. Street® program for teens and the Summit Racing Jr. Drag Racing League® for youth ages 5 to 17. With 120 Member Tracks, NHRA allows racers to compete at a variety of locations nationally and internationally. NHRA's Youth and Education Services® (YES) Program reaches over 30,000 students annually to ignite their interest in automotive and racing related careers. NHRA's streaming service, NHRA.tv®, allows fans to view all NHRA national events as well as exclusive features of the sport. In addition, NHRA owns and operates three racing facilities: Gainesville Raceway in Florida; Lucas Oil Indianapolis Raceway Park; and In-N-Out Burger Pomona Dragstrip in Southern California. For more information, log on to www.NHRA.com, or visit the official NHRA pages on Facebook, Instagram, Twitter, and YouTube.
Source: National Hot Rod Association
####