A recent program graduate is one of the first students to earn a
full-time position with Lucas Oil Products.
CORONA, CA – September 12, 2019 – (Motor Sports NewsWire) – Lucas Oil Products Inc. the American-based manufacturer and distributor of additive and lubricant products enters its second year involved with the South Harrison Community School Corporation summer internship program. Through the program, students are able to receive valuable on-the-job experience with local Indiana businesses while they make the decision of whether or not to pursue a college degree. Conexus Indiana, a non-profit that establishes collaborations with manufacturing and logistics companies, is also an integral partner and supporter of the internship program.
"The summer internship partnership with Lucas Oil and other local companies is in the beginning stages, however, we are already seeing success," said Jeremy Ledford, Advanced Manufacturing and Engineering Teacher, South Central High School. "The internship gives students the opportunity to take their education beyond the classroom walls and demonstrate their work ethic, teamwork and problem-solving skills in a real-life setting."
The collaborative internship program originated due to a shortage of manufacturing opportunities for kids who chose to forgo college but were still looking to build valuable job skills as they embark on their careers. What began as a program with only two local business partners has grown to offer students on-the-job experience with businesses such as Lucas Oil Products, Fred Smith Store Fixtures, Jasper Engines, Howard Packaging and Diverse Woodworking.
"The South Harrison Community School Corporation internship program is a viable option for high school students unsure of what they want to do for a career," stated Matt Conrad, General Manager, Lucas Oil Products. "Kids today are coming out of college with debt that takes them 20 – 25 years to pay off, putting them at a disadvantage right as they're starting their careers. If we can provide them with real-world experiences and help them decide what they want to do earlier in life, then they can potentially save thousands of dollars and avoid the hardships of having student loans on top of a mortgage and a car loan."
Hunter Wright, a recent program graduate, is one of the first students to earn a full-time position with Lucas Oil Products. Wright, who interned with Lucas Oil during the summers of his junior and senior years, is one of three interns to work for Lucas Oil since the program's inception, but is the first to earn a full-time position with the company. Wright's fellow intern, Wyatt Crosier, is also happily with Lucas Oil Products; working part-time for the company as he attends college courses.
"The summer internship program was an amazing experience and taught me many valuable lessons on and off the job," said Wright. "I now have a full-time job right out of high school and great knowledge of job performance and life skills. I would highly recommend it to anyone."
In addition to on-the-job experience, students can also earn the MSSC Safety and MSSC Quality Practices and Measurements certificates during this summer internship program. There are four MSSC certificates required before students can get the MSSC Certified Production Technician Certification which helps potential employees move up the hiring ladder.
Students can contact their school administrators for more information on deadlines and how to apply. Once submitted, applicants must go through a review process before they are accepted and are also required to meet the age and GPA requirements set by Conexus to complete the internship. Program start times vary from business to business but students can expect to work either during the last month of school or the majority of summer break until they've completed the required 240 working hours. Intern pay starts at $9.00/hour but may be higher depending on the business.
About Lucas Oil Products, Inc.
Lucas Oil Products was founded by Forrest and Charlotte Lucas with the simple philosophy of producing only the best line of lubricants and additives available anywhere. Since its inception, Lucas has steadfastly adhered to this corporate objective. Through innovative product research and development, along with aggressive marketing programs, Lucas has established itself as the top selling additive line in the United States. Additionally, Lucas Oil offers a premium line of motor oils, greases, fuel treatments, industrial lubricants, and problem solving additives to help firmly establish Lucas Oil as a prominent figure in the marketplace.
For more information, visit www.LucasOil.com and on Facebook at www.facebook.com/OfficialLucasOil
About Love's Travel Stops & Country Stores
Love's Travel Stops & Country Stores is the nation's industry-leading travel stop network with more than 490 locations in 41 states. Founded in 1964 and headquartered in Oklahoma City, the company remains family-owned and operated and employs more than 25,000 people. Love's provides professional truck drivers and motorists with 24-hour access to clean and safe places to purchase gasoline, diesel fuel, fresh coffee, restaurant offerings and more. Love's has more than 350 truck service centers, which include on-site and stand-alone Speedco and Love's Truck Tire Care locations. Love's and Speedco combined is the largest oil change, preventive maintenance and total truck care nationwide network. Love's is committed to providing customers with "Clean Places, Friendly Faces" at every stop. To learn more, visit loves.com.
Source: Lucas Oil Products, Inc.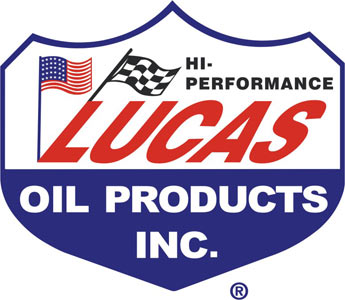 ####