WASHINGTON, DC – June 29, 2019 – (Motor Sports Newswire) –
Yamaha Recall Summary
Name of product: Yamaha Grizzly ATVs and Wolverine X2 Side-by-Side Vehicles (ROV)
Hazard: Purchasers were given a defective owner's manual which shows the correct model on the cover, but the contents are for another model.
Remedy: Replace
Recall date: June 28, 2019
Units: About 1,500
Consumer Contact: Yamaha at 800-962-7926 anytime or online at www.yamahamotorsports.com and click on the CPSC Alerts tab for more information.
Yamaha Recall Details:
Description: This recall involves various models of 2019 model Grizzly ATVs and Wolverine X2 Side-by-Side vehicles (ROVs). The prefix and serial number of the vehicles are stamped into the frame as part of the Vehicle Identification Number (VIN). The VIN is located on the left front frame on ATVs and the left rear frame on side-by-sides (ROVs). The prefix is the 4th through 8th digit of the VIN, and the serial number is the last six digits. Model, prefix and serial numbers are listed in this chart. Yamaha and either the Grizzly or Wolverine X2 are printed on the side of the vehicles. The model number is printed on the vehicle's emission control information label.
Grizzly ATVs
MODEL
PRIMARY ID NUMBER
PREFIX
FROM
TO
YFM70GPAK
AMK33
100491
100700
YFM70GPHK
AMH23
100891
100957
100958
100962
100976
101125
YFM70GPLK
AMK23
100791
100810
100971
100990
101021
101085
101106
101125
101166
101225
101256
101275
101296
101345
Wolverine X2 Side-by-Side Vehicles (ROVs)
MODEL
PRIMARY ID NUMBER
PREFIX
FROM
TO
YXE85WPSK
AN27Y
101261
101290
101441
101480
101691
101740
YXE85WPHK
AN27Y
101481
101490
YXE85WPAK
AN27Y
101341
101440
101789
101860
101771
101788
YXE85WPLK
AN27Y
101491
101690
101741
101770
101861
101870
YXE85WPBK
AN26Y
100261
100460
Remedy: Consumers should immediately contact Yamaha for a free replacement owner's manual. Yamaha is contacting all registered owners directly by U.S. mail. The envelope from Yamaha contains a free replacement owner's manual.
Incidents/Injuries: None reported
Sold At: Exclusively at Yamaha ATV and Side-by-Side dealers nationwide. Grizzly ATVs were sold from June 2018 through May 2019 for between $9,900 and $10,500. Wolverine X2 Side-by-Sides ROVs were sold from June 2018 through May 2019 for between $12,700 and $15,300.
Distributor(s): Yamaha Motor Corporation U.S.A., of Cypress, Calif.
Manufactured In: Japan and assembled in the United States
Recall number: 19-755
This recall was conducted, voluntarily by the company, under CPSC's Fast Track Recall process. Fast Track recalls are initiated by firms, who commit to work with CPSC to quickly announce the recall and remedy to protect consumers.
The U.S. Consumer Product Safety Commission is charged with protecting the public from unreasonable risks of injury or death associated with the use of thousands of types of consumer products under the agency's jurisdiction. Deaths, injuries, and property damage from consumer product incidents cost the nation more than $1 trillion annually. CPSC is committed to protecting consumers and families from products that pose a fire, electrical, chemical or mechanical hazard. CPSC's work to help ensure the safety of consumer products – such as toys, cribs, power tools, cigarette lighters and household chemicals -– contributed to a decline in the rate of deaths and injuries associated with consumer products over the past 40 years.
Federal law bars any person from selling products subject to a publicly-announced voluntary recall by a manufacturer or a mandatory recall ordered by the Commission.
Source: Consumer Product Safety Commission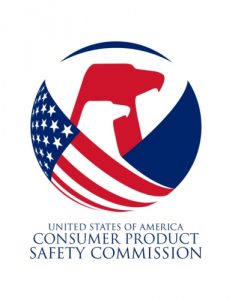 ####