Honda Talon Announced as Official Honda Sport Side-by-Side of AFT
DAYTONA BEACH, FL – May 9, 2019 – (
Motor Sports Newswire
) – American Flat Track and American Honda Motor Co. proudly announce the first official partnership between the powersports industry leader and AFT in over three decades. As the Series' newest Official OEM Partner, American Honda has partnered with AFT to bring Honda's revolutionary sport side-by-side—the Talon—to AFT fans across the country, naming the vehicle the Official Sport Side-by-Side of American Flat Track.
For decades, Honda has been at the forefront of development and production of high-performance dirt bikes. More recently, the Pioneer line diversified the product mix with the addition of several multipurpose side-by-side models. With the reveal of its Talon sport side-by-side last fall, Honda has found the perfect combination of high performance and adventure.
There are two distinct Talon models: the Talon 1000X and Talon 1000R. The 1000X model is designed to be agile and precise, handling nearly all applications with unparalleled maneuverability. The Talon R has a wider stance and increased suspension travel, making it especially well-suited for higher speeds and rougher terrain.
"We are delighted to be partnering with Honda in the American Flat Track series," said Michael Lock, CEO of American Flat Track. "Honda's prowess in engineering is unparalleled and their passion for racing over the last 60 years has delivered an incredible number of victories and created countless memories. We are looking forward to developing the relationship further and are excited to host and showcase the very impressive Talon at AFT race events across the country."
The Talon's designation as the Series' Official Sport Side-by-Side will be evident at each round with its implementation as the new trackside support vehicle for Series officials. In addition, the vehicle will assist AFT in the conditioning of certain tracks as part of an enhanced track prep effort.
AFT will also be offering the Honda Talon Flat Track Experience to designated VIP guests and media. At the remaining events of the season, Al Lamb, owner of world-famous Al Lamb's Dallas Honda, will rip the Talon around the racetracks to demonstrate the power and maneuverability of these off-road machines. Lamb's accolades include multiple racing records; most notable is his current world record for fastest sit-on motorcycle at the Bonneville salt flats: 262.471 mph.
As an extension of its existing relationship with American Honda, the Richie Morris Racing team will reinforce its proud representation of the brand within the paddock by providing vehicle prep and logistics services for the Talon program between and at each round.
"We're pleased to work with AFT to bring about this unique new program," said Chris Cox, American Honda's Manager of Experiential Marketing/Press. "The Talon has been a hit since its launch, and our hope is that it will provide between-race entertainment for fans of American Flat Track racing while also contributing to the track-prep efforts. We look forward to seeing the Talon on dirt ovals across the country."
American Flat Track's highly anticipated fifth round—the So-Cal Half-Mile presented by Russ Brown Motorcycle Attorneys—returns to the iconic Southern California Fairgrounds on Saturday, May 11, 2019. Tickets start at just $40 online and kids 12 and under are free. Tickets can be purchased at www.americanflattrack.com.
How to Watch:
NBCSN and FansChoice.tv are the official homes for coverage of American Flat Track. For the 2019 season, NBCSN's coverage of AFT moves to highly coveted weekend afternoon programming slots within two weeks of each event. The complete schedule for AFT on NBCSN can be viewed at http://www.americanflattrack.com/events-nbcsn/. FansChoice.tv remains a cornerstone of AFT's digital strategy, providing live streaming coverage of every event on AFT's live page while previous events and exclusive features are available on AFT's VOD page.
About American Honda Motor Co.:
American Honda Motor Co., Inc., is the sole distributor of Honda motorcycles, scooters, ATVs and Side-by-Sides in the U.S. American Honda's Motorcycle Division conducts the sales, marketing and operational activities for these products through independent authorized Honda retail dealers. For more information on Honda products, go to powersports.honda.com.
About American Flat Track:
American Flat Track is the world's premier dirt track motorcycle racing series and one of the longest-running championships in the history of motorsports. Sanctioned by AMA Pro Racing in Daytona Beach, Fla., the series is highly regarded as the most competitive form of dirt track motorcycle racing on the globe. For more information on American Flat Track, please visit http://www.americanflattrack.com, like us on Facebook, follow us on Twitter, check us out on Instagram, live stream the events at FansChoice.tv and catch all the American Flat Track racing action on NBCSN.
Source: American Honda Motor Co., Inc.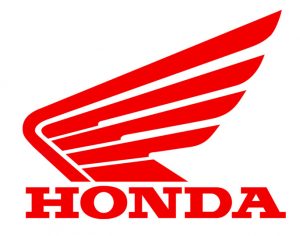 ####