KANSAS CITY, MO – October 31, 2018 – (Motor Sports Newswire) –  MOMO is pleased to announce a special steering wheel celebrating Hot Wheels' 50th Anniversary. Designed as an exclusive collaboration between MOMO and Hot Wheels for use on Hot Wheels life-size fleet of vehicles. This limited edition steering wheel is now available to collectors worldwide for purchase at hotwheels.momo.com and retails for $399.95. It will be unveiled at SEMA 2018 and available to order for a limited period.
Based on the classic MOMO Prototipo design, the MOMO X Hot Wheels steering wheel is wrapped in genuine Alcantara, which is cross stitched by hand in Italy using Hot Wheels 50th Anniversary gold thread. The official Hot Wheels logo is laser-etched onto the spokes while the horn button features the Hot Wheels 50th Anniversary logo. The specialty product is beautifully packaged in a commemorative box to enhance its collectability.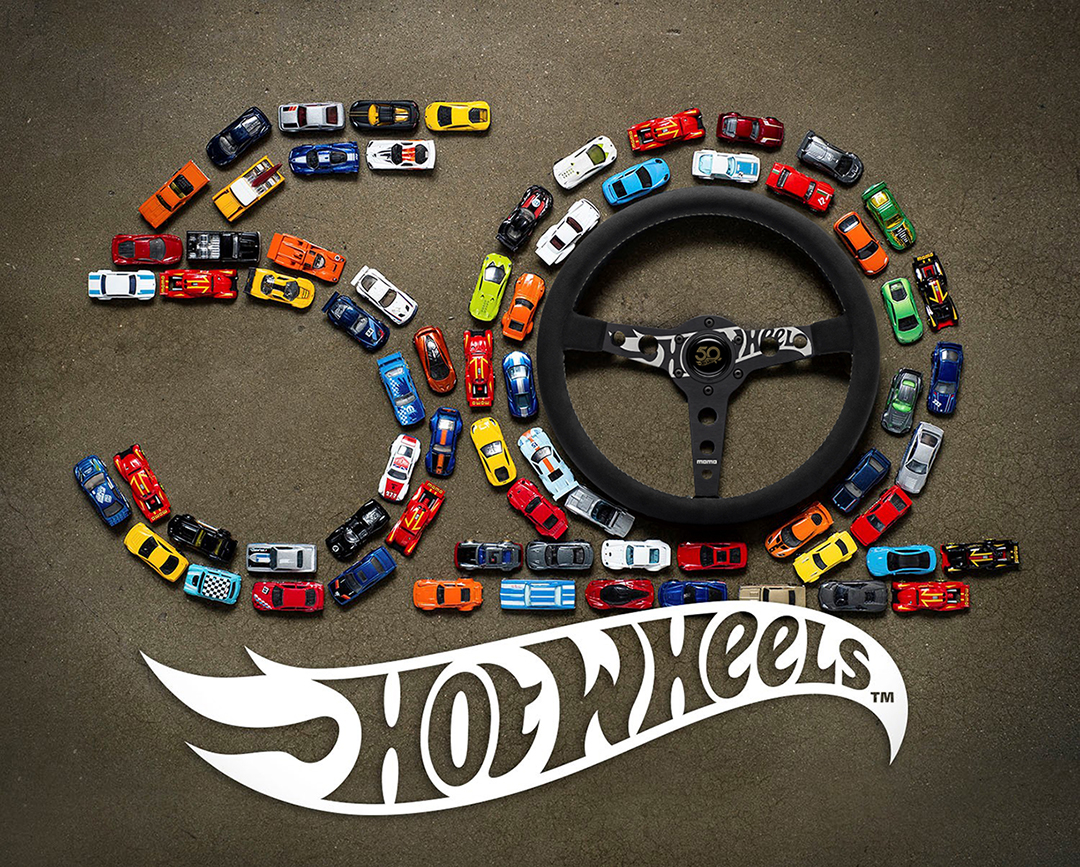 Throughout the year, MOMO worked closely with Hot Wheels lead designers to develop a matching steering wheel and shift knob for life-size Hot Wheels cars such as Bone Shaker and Rip Rod. The result was 50 serialized steering wheels and shift knobs, which were given to Mattel to outfit the Hot Wheels fleet both present and future. However, it soon became apparent to everyone involved that both Hot Wheels and MOMO collectors might want to take part in this historic partnership.
Fans of MOMO and Hot Wheels can now purchase non-serialized versions of the limited edition steering wheel that adorns the life-size Hot Wheels cars.
The MOMO X Hot Wheels steering wheel can only be ordered online and for a limited period from hotwheels.momo.com – global order fulfillment will begin early 2019.
The MOMO X Hot Wheels steering wheel and shift knob will be unveiled at SEMA 2018 in the MOMO booth #20365 in Central Hall on Tuesday, October 30 at 1:00PM. It will be showcased on a unique center-steer Porsche Boxman, conceived and engineered by Bisi Ezirioha from Bisimoto Engineering. Bone Shaker, Rip Rod and the Hot Wheels loop cars will also feature the MOMO X Hot Wheels steering wheel and shift knob during the 2018 SEMA show and can be found in booth #61045 in Silver Lot 1.
"With MOMO recently celebrating its 50th Anniversary we fully understand the importance of such a milestone," said Henrique Cisneros, chairman of MW Company. "We're incredibly proud to help such an iconic brand as Hot Wheels commemorate not only 50 years of history but 50 years of inspiring fans of all ages."
SEMA 2018 attendees are invited to visit the MOMO booth to see the MOMO X Hot Wheels steering wheel, shift knob and many more new products.
Visit momo.com for product information and hotwheels.momo.com to order the limited edition MOMO X Hot Wheels steering wheel.
ABOUT MATTEL
Mattel is a leading global children's entertainment company that specializes in design and production of quality toys and consumer products. We create innovative products and experiences that inspire, entertain and develop children through play. We engage consumers through our portfolio of iconic franchises, including Barbie®, Hot Wheels®, American Girl®, Fisher-Price® and Thomas & Friends®, as well as other popular brands that we own or license in partnership with global entertainment companies. Our offerings include film and television content, gaming, music and live events. We operate in 40 locations and sell products in more than 150 countries in collaboration with the world's leading retail and technology companies. Since its founding in 1945, Mattel is proud to be a trusted partner in exploring the wonder of childhood and empowering kids to reach their full potential. Visit us online at www.mattel.com.
ABOUT MOMO
Founded in 1964 by racecar driver Gianpiero Moretti, MOMO revolutionized the motorsport world when it introduced the first thick grip steering wheel in Formula 1. The trend rapidly expanded into the automotive aftermarket and into the most prestigious automotive brands in the world as an OEM supplier. Now with more than 50 years of heritage, MOMO has vastly grown its product line to include motorsports safety products, road wheels, tires and tuning accessories. Headquartered in Milan Italy, the MOMO brand continues to be inspired by simple yet strong values: product quality, superior craftsmanship, maximum safety standards and the highest performance levels. MOMO is part of MW Company brand portfolio. To learn more, please visit www.momo.com. 
ABOUT MW COMPANY
Blending tradition and innovation to capture the imagination of the driving enthusiast, MW Company is a design, engineering and marketing company with a portfolio of leading brands in the automotive lifestyle and motorsport industry including, ADV.1, Driven Motorsports, CCW Forged Performance, Forgestar, HiPer Technology, MOMO, Reds, Tikore and WELD Racing brands. Headquartered in Kansas City, MO, the company operates facilities in Anaheim, CA, and Milan Italy, and employs more than 200 people worldwide. The company was founded in 2018.
FOLLOW MOMO ONLINE
www.momo.com
Source: MOMO
####