Defending Funny Car event winner Todd leads the category
Salinas is the Top Fuel leader for the first time in his career
Gray leads the Pro Stock category in search of his first No. 1 qualifier this season
Defending Pro Stock Motorcycle champ Krawiec sits atop of the category
BROWNSBURG, IN – September 1, 2018 – (Motor Sports Newswire) – Defending Funny Car event winner J.R. Todd powered to the top of the category Friday evening during the single qualifying session at the 64th annual Chevrolet Performance U.S. Nationals at Lucas Oil Raceway at Indianapolis.
Mike Salinas (Top Fuel), Tanner Gray (Pro Stock), and Eddie Krawiec (Pro Stock Motorcycle) also lead qualifying in their respective categories at the 18th of 24 events on the NHRA Mello Yello Drag Racing Series schedule.
Todd's ran a 3.910-second pass at 325.45 mph in his DHL Toyota Camry during the first of three qualifying days and first of five qualifying sessions. He is on the hunt for his first career Funny Car No. 1 qualifier.
"Listening to (crew chiefs) Todd (Smith) and John Oberhofer before that run back in the pits they weren't planning on running that good," Todd stated. "That run is a testament to those guys, the yella fellas, they're a great group of guys. Three-second runs had been hard for us to come by till Brainerd where we were able to get it tuned up in the semi-finals for one."
Holding the second position is Bob Tasca III with a 3.928 pass at 322.65 in his Motorcraft Quality Parts Ford Performance Mustang. Points leader Courtney Force secured the No. 1 position in the Countdown to the Championship during tonight's qualifying session.
Salinas piloted his Scrappers Racing dragster to a 3.756 at 321.04 to lead the Top Fuel class for this first time in his NHRA career.
"This is my first U.S. Nationals and I'm like a little kid in a candy store," Salinas said. "When I was a kid we only dreamt of this stuff so I'm just lucky enough to come out here and do this. We have a plan and its actually coming together which is scary."
Antron Brown, a three-time world champion, is second in the standings with his Matco Tools dragster after his pass of 3.772 at 325.22 and Scott Palmer rounds out the top three in his CatSpot Litter dragster.
In Pro Stock, Gray holds the No. 1 spot after his 6.603 pass at 208.68 in his Gray Motorsports/Valvoline Chevy Camaro. He is seeking his fifth event victory of the season and first at the prestigious Chevrolet Performance U.S. Nationals.
"As a driver, you try to take this race like any other race," Gray said. "I think when you put more pressure on yourself you're more prone to mistakes. Winning this event would be really cool for me since my dad (Shane Gray) won this event back in 2014."
Veteran Greg Anderson is in the No. 2 position with his 6.621 pass at 208.75 in his Summit Racing Equipment Chevrolet Camaro. Defending world champion Bo Butner clinched his spot in the NHRA Mello Yello Drag Racing Series Countdown to the Championship during the lone qualifying session of the evening.
Defending event winner Krawiec is at the top of the Pro Stock Motorcycle order with a 6.825 at 197.02 on his Mello Yello / Screamin' Eagle Vance & Hines Harley-Davidson.
"I think that was an awesome run for it just getting off the trailer," Krawiec stated. "I made a nice clean pass. It didn't rattle, shake and it was overall just a very clean run and I'm happy with it."
Matt Smith is currently in the No. 2 position on his Victory Magnum after his pass of 6.850 at 196.47.
Qualifying at the Chevrolet Performance U.S. Nationals continues Saturday with two sessions beginning at 1:15 p.m.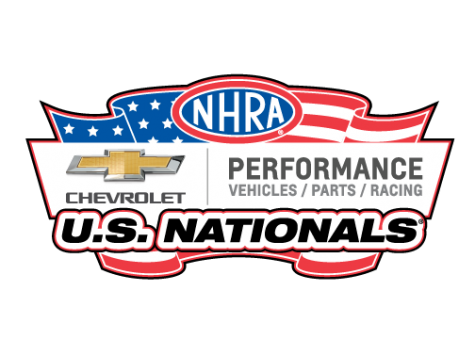 BROWNSBURG, IN — Friday's results after the first one of five rounds of qualifying for the 64th annual Chevrolet Performance U.S. Nationals at Lucas Oil Raceway at Indianapolis, 18th of 24 events in the NHRA Mello Yello Drag Racing Series. Qualifying will continue Saturday for Monday's final eliminations.
Top Fuel — 1. Mike Salinas, 3.756 seconds, 321.04 mph; 2. Antron Brown, 3.772, 325.22; 3. Scott Palmer, 3.791, 327.90; 4. Leah Pritchett, 3.797, 323.50; 5. Tony Schumacher, 3.801, 328.14; 6. Clay Millican, 3.813, 318.17; 7. Blake Alexander, 3.815, 311.41; 8. Doug Kalitta, 3.824, 305.77; 9. Pat Dakin, 3.835, 323.04; 10. Billy Torrence, 3.840, 315.12; 11. Brittany Force, 4.393, 179.85; 12. Richie Crampton, 4.402, 183.72; 13. T.J. Zizzo, 4.514, 171.05; 14. Wayne Newby, 4.567, 171.34; 15. Steve Torrence, 4.957, 141.16; 16. Terry McMillen, 5.116, 138.96.
Not Qualified: 17. Kebin Kinsley, 5.325, 111.64; 18. Lex Joon, broke.
Funny Car — 1. J.R. Todd, Toyota Camry, 3.910, 325.45; 2. Bob Tasca III, Ford Mustang, 3.928, 322.65; 3. Matt Hagan, Dodge Charger, 3.943, 324.05; 4. Tommy Johnson Jr., Charger, 3.948, 320.36; 5. Tim Wilkerson, Mustang, 3.952, 319.60; 6. Shawn Langdon, Camry, 3.961, 325.22; 7. John Force, Chevy Camaro, 4.003, 320.89; 8. Cruz Pedregon, Camry, 4.006, 316.08; 9. Robert Hight, Camaro, 4.010, 301.27; 10. Del Worsham, Camry, 4.103, 261.32; 11. Courtney Force, Camaro, 4.330, 214.83; 12. Jonnie Lindberg, Mustang, 5.043, 151.58; 13. Jack Beckman, Charger, 6.031, 113.03; 14. Ron Capps, Charger, 6.240, 114.66; 15. Jim Campbell, Charger, 10.389, 61.82; 16. Justin Schriefer, Charger, broke.
Not Qualified: 17. Bob Bode, broke; 18. Terry Haddock, broke.
Pro Stock — 1. Tanner Gray, Chevy Camaro, 6.603, 208.68; 2. Greg Anderson, Camaro, 6.621, 208.75; 3. Erica Enders, Camaro, 6.623, 206.99; 4. Vincent Nobile, Camaro, 6.628, 208.04; 5. Alex Laughlin, Camaro, 6.630, 207.85; 6. Jeg Coughlin, Camaro, 6.632, 207.08; 7. Bo Butner, Camaro, 6.638, 208.17; 8. Jason Line, Camaro, 6.642, 208.26; 9. Drew Skillman, Camaro, 6.648, 208.23; 10. Chris McGaha, Camaro, 6.650, 207.30; 11. Deric Kramer, Camaro, 6.653, 208.26; 12. Matt Hartford, Camaro, 6.658, 206.76; 13. Kenny Delco, Camaro, 6.690, 206.13; 14. John Gaydosh Jr, Camaro, 6.718, 205.91; 15. Fernando Cuadra, Camaro, 6.731, 206.01; 16. Steve Graham, Camaro, 6.735, 205.32.
Not Qualified: 17. Alan Prusiensky, 6.738, 205.57; 18. Charlie Westcott Jr., 6.832, 202.15; 19. Val Smeland, 6.888, 176.17.
Pro Stock Motorcycle — 1. Eddie Krawiec, Harley-Davidson, 6.825, 197.02; 2. Matt Smith, Victory, 6.850, 196.47; 3. Chip Ellis, Harley-Davidson, 6.856, 196.44; 4. Andrew Hines, Harley-Davidson, 6.866, 195.11; 5. LE Tonglet, Suzuki, 6.879, 195.11; 6. Hector Arana Jr, 6.883, 197.51; 7. Mark Paquette, Buell, 6.893, 194.13; 8. Steve Johnson, Suzuki, 6.934, 193.38; 9. Ryan Oehler, Buell, 6.940, 193.93; 10. Joey Gladstone, Victory, 6.941, 193.71; 11. Angie Smith, Buell, 6.952, 191.02; 12. Jim Underdahl, Suzuki, 6.961, 191.78; 13. Scotty Pollacheck, Suzuki, 6.962, 190.94; 14. Hector Arana, 6.986, 197.28; 15. Jerry Savoie, Suzuki, 6.991, 192.08; 16. Kelly Clontz, Suzuki, 6.992, 191.43.
Not Qualified: 17. Ron Tornow, 7.080, 190.81; 18. Angelle Sampey, 7.091, 191.29; 19. Andie Rawlings, 7.501, 171.18; 20. Karen Stoffer, 13.187, 58.53; 21. Odolph Daniels, broke; 22. Wendell Daniels, broke.
Tickets for the world's most prestigious drag race can be purchased by calling the NHRA Ticket Sales Center at (800) 884-NHRA (6472), or online at www.NHRA.com/tickets. Kids 12 and under are free in general admission areas with a paid adult. To honor the Salute to First Responders, military and first responders can save 20 percent on general admission tickets at the gate. For more information about the NHRA visit www.NHRA.com.
About NHRA
Headquartered in Glendora, Calif., NHRA is the primary sanctioning body for the sport of drag racing in the United States. NHRA presents 24 national events featuring the NHRA Mello Yello Drag Racing Series, NHRA Lucas Oil Drag Racing Series, and E3 Spark Plugs NHRA Pro Mod Drag Racing Series presented by J&A Service. NHRA provides competition opportunities for drivers of all levels in the NHRA Summit Racing Series and the NHRA Drags: Street Legal Style presented by AAA. NHRA also offers NHRA Jr. Street program for teens and the Summit Racing Jr. Drag Racing League for youth ages 5 to 17. In addition, NHRA owns and operates four racing facilities: Atlanta Dragway in Georgia; Gainesville Raceway in Florida; Lucas Oil Raceway at Indianapolis; and Auto Club Raceway at Pomona in Southern California. For more information, log on to NHRA.com, or visit the official NHRA pages on Facebook, YouTube and Twitter.
Source: National Hot Rod Association
####