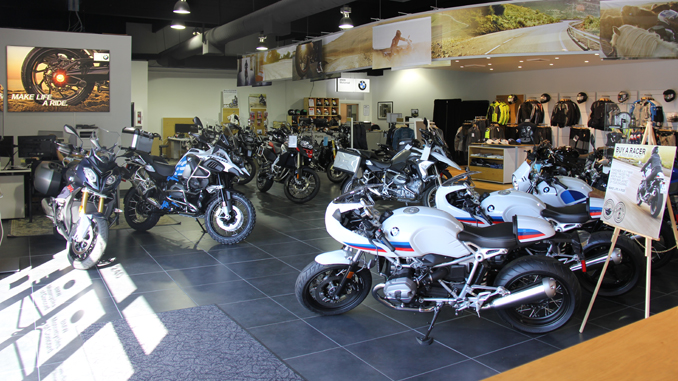 WOODCLIFF LAKE, NJ – June 19, 2018 – (Motor Sports Newswire) – BMW Motorrad USA has announced the opening of BMW Motorcycles of Concord, CA.  The dealership – now operating at 1240 Willow Pass Road – has relocated to a larger, completely new facility from its previous location in Walnut Creek.  Under the leadership of Dealer Principal Eric Wight, the East Bay's only exclusive BMW motorcycle dealership will offer a complete line of new and pre-owned BMW motorcycles, parts, accessories, apparel and service capabilities in a new retail facility with a 3,000-square-foot showroom.
A grand opening celebration is planned for Saturday, June 23 from 9 a.m. to 5 p.m., featuring a barbecue lunch, commemorative T-shirts, discounts and specials throughout the store, and a special two-wheel guest – the BMW HP 4 Race.
"Eric and his family have a track record of success with BMW motorcycles, which will serve them well in their new location," observed Michael Peyton, Vice President, BMW Motorrad Americas. "They and their knowledgeable friendly staff have been working with BMW bikes and serving the BMW riding community in the Bay Area for more than a decade."
"We welcome the opportunity to introduce more riders in this region to the BMW brand and the premium level of customer service that an exclusive BMW dealer offers," commented Eric, who also owns and operates BMW Motorcycles of San Francisco since 2008.  With our larger facility, added parking and more centralized location in Concord, we will be able to host more on- and off-site events for the community and continue to build our reputation as a reliable source for service and support."
For more information about BMW Motorcycles of Concord, visit: www.bmwmcconcord.com or call 925-954-4121.  Showroom hours are Tuesday through Saturday, 9:00 a.m. to 6:00 p.m. 
BMW Group In America
BMW of North America, LLC has been present in the United States since 1975.  Rolls-Royce Motor Cars NA, LLC began distributing vehicles in 2003.  The BMW Group in the United States has grown to include marketing, sales, and financial service organizations for the BMW brand of motor vehicles, including motorcycles, the MINI brand, and Rolls-Royce Motor Cars; Designworks, a strategic design consultancy based in California; technology offices in Silicon Valley and Chicago, and various other operations throughout the country.  BMW Manufacturing Co., LLC in South Carolina is part of BMW Group's global manufacturing network and is the manufacturing plant for all X5 and X3 Sports Activity Vehicles and X6 and X4 Sports Activity Coupes.  The BMW Group sales organization is represented in the U.S. through networks of 346 BMW passenger car and BMW Sports Activity Vehicle centers, 153 BMW motorcycle retailers, 127 MINI passenger car dealers, and 36 Rolls-Royce Motor Car dealers.  BMW (US) Holding Corp., the BMW Group's sales headquarters for North America, is located in Woodcliff Lake, New Jersey.
Information about BMW products is available to consumers via the Internet at: www.bmwmotorradusa.com.
Source: BMW of North America, LLC
####