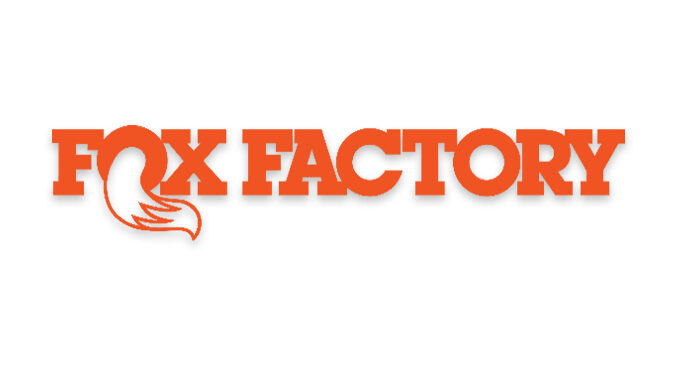 $572 million acquisition will be immediately accretive to top and bottom-line
Combination offers expected engineering, manufacturing and sourcing synergies
Companies share complementary cultures that drive category leadership in enthusiast brands by successfully winning over passionate consumer bases
FOX recently reaffirmed 2025 target of $2.0 billion sales and 25% adjusted EBITDA margin – which excludes Marucci
Acquisition continues FOX's track record of generating successful returns from M&A outside of legacy core shock and suspension business
DULUTH, GA – November 16, 2023 – (Motor Sports NewsWire) – Fox Factory Holding Corp. (NASDAQ: FOXF) ("FOX" or the "Company") today announced it has closed its acquisition of Wheelhouse Holdings, Inc., the parent company of Marucci Sports LLC ("Marucci"), at an enterprise value of $572 million. Marucci is an industry-leading designer, manufacturer and distributor of premium performance baseball, softball and other sports-related products.
The acquisition advances FOX's position as a diversified provider of market-leading branded products with a proven ability to win over both professional athletes and passionate consumer bases, while positioning the combined company for future profitable growth. Marucci will be part of FOX's Specialty Sports Group ("SSG").
Additional benefits of the transaction include:
The deal provides immediate financial benefit – the transaction is expected to be accretive across all key financial performance metrics for FOX, including revenue, EBITDA margin and earnings per share.
The significant growth power of the Marucci business – Marucci participates in a $3M global TAM with a market share of <5% and has generated strong revenue and Adjusted EBITDA CAGRs of 22% and 33% respectively since 2019. There are multiple vectors for additional growth, including a strong pipeline of player-tested future products, the currently underpenetrated softball market, Marucci's unique e-commerce platform (Locker Room), and the expansion of the Hitter's House offering.
The potential for value-additive synergies – Fox's world-class, precision-crafted aluminum and composite manufacturing along with the combination of highly engineered design innovations across both companies is expected to drive technology and sourcing synergies over time.
The compounded value of compatible company cultures – Marucci and its management team share FOX's core values, including an obsessive focus on the athlete, a commitment to ensure innovation and product development drive every decision, and a focus on meeting the customer where they want to be met. Importantly, the existing Marucci management team will continue to run the day-to-day business based out of Baton Rouge, Louisiana.
Builds on FOX's history of successful diversification through acquisitions – this transaction immediately brings counter cyclicality and enhanced diversification to SSG and to FOX overall. Further, it continues FOX's track record of value-additive acquisitions outside of its legacy core shock and suspension business, which previously have included Custom Wheel House, SCA, and more.
"Our acquisition of Marucci represents a major milestone for FOX as we continue to identify ways to drive synergistic growth without compromising the core identity and values that have been so crucial to our success," said Mike Dennison, FOX's Chief Executive Officer. "This deal is not about baseball. It's about adding a business to our platform that clearly meets our 1+1=3 growth criteria, given that each company's individual power to grow and deliver shareholder value will be stronger together. Importantly, Marucci and its team share our commitment to winning through superior innovation and quality products in order to help drive leading positions in each of the key markets where we compete."
Dennison continued, "This transaction makes us better from day one – not just by being immediately accretive in terms of both revenue and profitability, but by further diversifying our offerings and providing us additional leverage to extend the value of our brands. With a strong balance sheet and receding headwinds, such as the United Auto Workers strike, we are in a powerful position to deliver sustainable shareholder value."
FOX recently reaffirmed its 2025 target of $2.0 billion sales and 25% adjusted EBITDA margin – which excludes Marucci.
The Marucci acquisition was financed through an incremental facility amendment under FOX's existing credit facility, which includes a fully funded term loan of $400 million, with a $200 million delayed draw feature, at an interest rate that is 0.5% higher than the previous rate of the revolver.
Separately, FOX recently announced it intends to repurchase up to $300 million of shares (equating to approximately 8% of outstanding shares) under a new repurchase plan that expires November 1, 2028.
Advisors
Squire Patton Boggs (US) LLP acted as legal counsel to Fox Factory Holding Corp. Jefferies LLC acted as exclusive financial advisor and Ropes & Gray LLP and Jones Walker LLP acted as legal counsel to Compass Diversified (the prior majority owner of Wheelhouse Holdings Inc.).
Contact:
Fox Factory Holding Corp.
Vivek Bhakuni
Sr. Director of Investor Relations and Business Development
706-471-5241
vbhakuni@ridefox.com
Cautionary Note Regarding Forward-Looking Statements
Certain statements in this press release may be deemed to be forward-looking statements within the meaning of Section 27A of the Securities Act of 1933, as amended and Section 21E of the Securities Exchange Act of 1934, as amended. The Company intends that all such statements be subject to the "safe-harbor" provisions contained in those sections. Forward-looking statements generally relate to future events or the Company's future financial or operating performance. In some cases, you can identify forward-looking statements because they contain words such as "may," "might," "will," "would," "should," "expect," "plan," "anticipate," "could," "intend," "target," "project," "contemplate," "believe," "estimate," "predict," "likely," "potential" or "continue" or other similar terms or expressions and such forward-looking statements include, but are not limited to, statements with regard to expectations related to the acquisition of Marucci, the future performance of Fox and Marucci, as well as statements about the impact of the global outbreak of COVID-19 on the Company's business and operations; the Company's continued growing demand for its products; the Company's execution on its strategy to improve operating efficiencies; the Company's optimism about its operating results and future growth prospects; the Company's expected future sales and future adjusted earnings per diluted share; and any other statements in this press release that are not of a historical nature. Many important factors may cause the Company's actual results, events or circumstances to differ materially from those discussed in any such forward-looking statements, including but not limited to: the Company's ability to complete any acquisition and/or incorporate any acquired assets into its business including, but not limited to, the possibility that the expected synergies and value creation from the Marucci acquisition will not be realized, or will not be realized within the expected time period or the risk that unexpected costs will be incurred in connection with the completion of the Marucci acquisition; the Company's ability to maintain its suppliers for materials, product parts and vehicle chassis without significant supply chain disruptions; the Company's ability to improve operating and supply chain efficiencies; the Company's ability to enforce its intellectual property rights; the Company's future financial performance, including its sales, cost of sales, gross profit or gross margin, operating expenses, ability to generate positive cash flow and ability to maintain profitability; the Company's ability to adapt its business model to mitigate the impact of certain changes in tax laws; changes in the relative proportion of profit earned in the numerous jurisdictions in which the Company does business and in tax legislation, case law and other authoritative guidance in those jurisdictions; factors which impact the calculation of the weighted average number of diluted shares of common stock outstanding, including the market price of the Company's common stock, grants of equity-based awards and the vesting schedules of equity-based awards; the Company's ability to develop new and innovative products in its current end-markets and to leverage its technologies and brand to expand into new categories and end-markets; the Company's ability to increase its aftermarket penetration; the Company's exposure to exchange rate fluctuations; the loss of key customers; strategic transformation costs; the outcome of pending litigation; the possibility that the Company may not be able to accelerate its international growth; the Company's ability to maintain its premium brand image and high-performance products; the Company's ability to maintain relationships with the professional athletes and race teams that it sponsors; the possibility that the Company may not be able to selectively add additional dealers and distributors in certain geographic markets; the overall growth of the markets in which the Company competes; the Company's expectations regarding consumer preferences and its ability to respond to changes in consumer preferences; changes in demand for high-end suspension and ride dynamics products; the Company's loss of key personnel, management and skilled engineers; the Company's ability to successfully identify, evaluate and manage potential acquisitions and to benefit from such acquisitions; product recalls and product liability claims; the impact of change in China-Taiwan relations on our business, our operations or our supply chain, the impact of the Russian invasion of Ukraine or rising tension in the Middle East on the global economy, energy supplies and raw materials; future economic or market conditions, including the impact of inflation or the U.S. Federal Reserve's interest rate increases in response thereto; and the other risks and uncertainties described in "Risk Factors" contained in its Annual Report on Form 10-K for the fiscal year ended December 30, 2022 and filed with the Securities and Exchange Commission on February 23, 2023, its Quarterly Report on Form 10-Q for the quarter ended September 29, 2023 and filed with the Securities and Exchange Commission on November 3, 2023 or otherwise described in the Company's other filings with the Securities and Exchange Commission. New risks and uncertainties emerge from time to time and it is not possible for the Company to predict all risks and uncertainties that could have an impact on the forward-looking statements contained in this press release. In light of the significant uncertainties inherent in the forward-looking information included herein, the inclusion of such information should not be regarded as a representation by the Company or any other person that the Company's expectations, objectives or plans will be achieved in the timeframe anticipated or at all. Investors are cautioned not to place undue reliance on the Company's forward-looking statements and the Company undertakes no obligation to publicly update or revise any forward-looking statements, whether as a result of new information, future events or otherwise, except as required by law.
Source: Fox Factory Holding Corp.

####