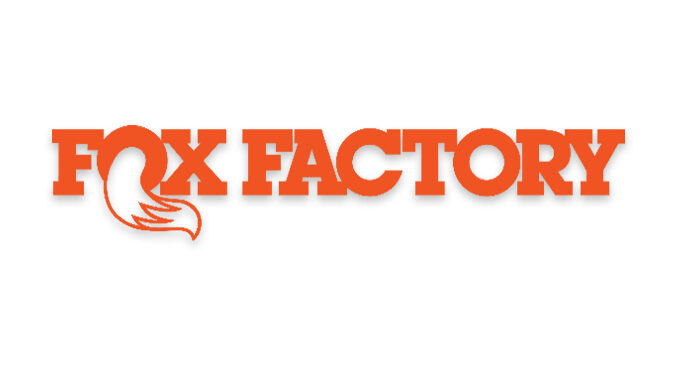 Accretive, Strategic Transaction Expands Fox Factory's Leadership Position in Aftermarket Vehicle Performance Packages

Complementary products will better serve off-road enthusiasts and customers

The Company will provide updated guidance on our May earnings call post acquisition close
DULUTH, GA – February 22, 2023 – (Motor Sports NewsWire) – Fox Factory Holding Corp. (Nasdaq: FOXF) ("FOX" or the "Company") announced today that its subsidiary, Fox Factory, Inc., signed a definitive agreement to acquire Custom Wheel House, LLC ("CWH") from Thompson Street Capital Partners and other sellers. The purchase price for the transaction, which is subject to customary adjustments, is based on an enterprise value of $131.6 million and will be financed through a combination of cash on hand and borrowings from the Company's line of credit. The transaction is expected to close late in the first quarter of 2023, subject to customary closing conditions, and to be accretive to the Company's fiscal 2023 financial results.
CWH, based out of Rancho Dominguez, California, designs, markets, and distributes high-performance wheels, performance off-road tires, and accessories. The family of brands includes their premier flagship brand Method Race Wheels, along with Tensor Tire, and GMZ Race Products, which are geared towards the manufacturing and distribution of off-road performance products for automotive, truck, and utility vehicles. This acquisition is complementary to FOX's upfitting and lift kit business and further broadens its product offering in a growing segment of the automotive industry.
"We are excited to announce the acquisition of Custom Wheel House, and believe it presents a substantial vertical integration and collaborative opportunity for FOX. This will further expand our performance-defining aftermarket solutions with the additions of high-performance wheels and performance off-road tires," stated Mike Dennison, FOX's Chief Executive Officer. "When pushing the limits of ride dynamics, expanding the Company's expertise from suspension to wheels and tires is a natural evolution. We welcome the experienced Custom Wheel House leadership team and believe they will play an integral part in the Company's growth going forward."
"As a founder-focused private equity firm, we greatly value the opportunity to partner with and support entrepreneurs like Kevin Fitzgerald and his talented executive team," said Jeff Aiello, Managing Director at Thompson Street Capital Partners. "We are confident that Custom Wheel House, and its market-leading Method Race Wheels brand, will continue to flourish under Fox Factory's ownership."
Compelling Strategic and Financial Transaction Benefits:
Bolsters FOX's Leadership Position in an Attractive Market: The addition of CWH and its brands is expected to broaden and diversify FOX's range of aftermarket vehicle offerings, creating a unique opportunity to meaningfully increase the Company's addressable market and reinforce its vertical integration strategy.
Creates a Dedicated Supplier: CWH's established manufacturing footprint and supplier network is expected to allow the team to seamlessly integrate into FOX's aftermarket portfolio. This acquisition provides the ability to scale up quickly to meet customer demand and drive cost efficiency.
Adds an Experienced Leadership Team with Strong Track Record: CWH adds a proven executive team, with deep industry experience and a track record of strong growth and operating results, to FOX's Powered Vehicles Group.
Reflects FOX's Commitment to Strategic Investments: This transaction is another example of FOX's disciplined, accretive merger and acquisition strategy to diversify revenue streams, broaden the product platform, and drive growth and profitability. The Company's past value-enhancing acquisitions include Ridetech, Tuscany Motor Company, Race Face/Easton Cycling, Sport Truck USA, SCA, Outside Van, SOLA Sport, and Shock Therapy.
Advisors
Squire Patton Boggs (US) LLP acted as legal advisor to FOX.
Stifel, Nicolaus and Company served as the exclusive financial advisor to Custom Wheel House, LLC. Sidley Austin, LLP served as legal counsel to CWH.
About Fox Factory Holding Corp. (Nasdaq: FOXF)
Fox Factory Holding Corp. designs and manufactures performance-defining products primarily for bicycles, on-road and off-road vehicles and trucks, side-by-side vehicles, all-terrain vehicles, snowmobiles, specialty vehicles and applications, and motorcycles. The Company is a direct supplier to leading powered vehicle original equipment manufacturers ("OEMs"). Additionally, the Company supplies top bicycle OEMs and their contract manufacturers and provides aftermarket products to retailers and distributors.
FOX is a registered trademark of Fox Factory, Inc. NASDAQ Global Select Market is a registered trademark of The NASDAQ OMX Group, Inc. All rights reserved.
Cautionary Note Regarding Forward-Looking Statements
Certain statements in this press release may be deemed to forward-looking statements within the meaning of Section 27A of the Securities Act of 1933, as amended, and Section 21E of the Securities Exchange Act of 1934, as amended, including statements with regard to the expectations related to the acquisition of CWH, the expected closing date of the transaction and the future performance of Fox and CWH. Words such as "believes", "expects", "anticipates", "intends", "projects", "assuming", and "future" or similar expressions, are intended to identify forward-looking statements. These forward-looking statements are subject to the inherent uncertainties in predicting future results and conditions. Certain factors could cause actual results to differ materially from those projected in these forward-looking statements, including, but not limited to, the risk that the acquisition may not be completed in a timely manner or at all; risks associated with the acquisition generally, such as the occurrence of any event, change or other circumstances that could give rise to the termination of the definitive purchase agreement; difficulties and delays in integrating CWH's business or fully realizing cost savings and other benefits; business disruption following the proposed transaction; changes in the economy, financial markets and political environment; general considerations associated with the COVID-19 pandemic and its impact on the markets in which we operate; and the effect of the announcement or pendency of the transaction on CWH's business relationships, performance, and business generally. Certain other factors are enumerated in the risk factor discussion in the Form 10-K filed by the Company with the SEC for the year ended December 31, 2021 and other filings with the SEC. Except as required by law, the Company undertakes no obligation to publicly update or revise any forward-looking statements, whether as a result of new information, future events or otherwise.
CONTACT:
Fox Factory Holding Corp.
Vivek Bhakuni
Sr. Director of Investor Relations and Business Development
706-471-5241
vbhakuni@ridefox.com


####