INDIANAPOLIS, IN – January 26, 2023 – (Motor Sports NewsWire) – Lucas Oil Products today announced three new additions to its leadership team, hiring Jason Bonikowske as General Counsel and promoting Nicole York to Vice President of Finance and Megan Burakiewicz to Vice President of Human Resources.
Prior to joining Lucas Oil as General Counsel, Jason spent 16 years at CSM Sport and Entertainment (formerly JMI), where he oversaw the legal operations, developed internal governance policies, advised executives on risk mitigation, and routinely negotiated high-quality sport and entertainment agreements.
"Jason is a talented, business-minded attorney with the ideal track record in legal strategy and business operations to help strengthen our executive leadership team and enhance company procedures and initiatives overall," said Katie Lucas, Chief Administrative Officer at Lucas Oil. "We are thrilled to welcome Jason to our team – his perspective, experience, and negotiation skills will be invaluable to the company as we continue to advance our growth into new markets."
"I feel privileged to join an incredible organization with deep roots in entrepreneurship, community leadership, and a commitment to solving problems with integrity – all values I respect and share," commented Bonikowske. "I look forward to working with the team, and blending my experience and enthusiasm to advance corporate goals."
In York's new role as Vice President of Finance, she will serve as a financial advisor to the executive team, supervising activities including tax preparation, gathering and analyzing financial data, and preparing financial reports. She has proven herself an extremely capable, knowledgeable, and dedicated Accounting Specialist, and is very deserving of her appointment to the leadership team.
"I'm pleased to announce the promotion of Nicole to Vice President of Finance. Her dedication, leadership, and expertise have been a tremendous asset to Lucas Oil, and she has earned the confidence and trust of the Lucas family, myself, and her peers," said Matt Kimmick, Chief Financial Officer at Lucas Oil. "We expect great things from Nicole and look forward to her continued success at Lucas Oil and taking on an even greater role within the organization."
In 2021, York was recognized by the Indiana CPA Society by receiving their Emerging Leader Award, which is given to up-and-coming CPA professionals who made significant contributions to the overall success of their employer.
"This is an exciting opportunity to collaborate as part of the leadership team, and I am grateful to be able to contribute to the mission and evolution of the company more significantly through this new role," said York. "I look forward to serving as Lucas Oil's VP of Finance and working with our talented teams throughout the company."
Building on her previous role as Director of People Operations, Burakiewicz will continue to foster a flourishing company culture and growth opportunities as Vice President of Human Resources.
"Megan is a team builder. She takes pride in collaboration and blends people and processes to find the perfect mix that supports company values and goals," added Katie Lucas. "Our employees are everything to us, so having an effective and empathetic human resources leader is incredibly important. We have seen firsthand how Megan has helped nurture our culture, and we are excited to see her advance in this new role."
In addition to her human resources background, Burakiewicz is adept at business operations and change leadership, aptitudes that amplify her understanding of executive team needs and objectives.
"I have long admired the Lucas Oil mission and its humbling origins, because it always encourages a strong and values-driven culture that I am eager to continue supporting," Burakiewicz said. "I'm excited to advance HR goals, working with leadership and team members to build a community that is a great place to work and is sought out by top talent."
For more information on these executive appointments or to schedule an interview with a member of the executive leadership team, please contact LucasOil@GoDriven360.com.
About Lucas Oil
Founded in 1989 by Forrest and Charlotte Lucas, Lucas Oil Products was created with the simple philosophy of producing the best lubricants and additives available anywhere. Lucas Oil offers the most diversified range of innovative engine oil, gear oil and additive products refined by years of specialized research, development and testing. The company's high performance engine oils and gear oils are widely recognized as best-in-class in the automotive, powersports, marine, industrial, outdoor, and motorsports marketplaces. In total, Lucas Oil boasts more than 300 premium products, representing the largest variety of shelf products of any oil company in the United States with a distribution network across 48 different countries.
Lucas Oil's commitment to motorsports includes long standing support for high profile regional and national racing series, and the distribution of exclusive motorsports content from across the globe via MAVTV, a Lucas Oil owned and operated television network. The company also serves as the exclusive oil and lubricant partner of Monster Jam®, the Dallas Cowboys, the Indianapolis Colts and Lucas Oil Stadium. For more information, please visit www.LucasOil.com.
Contact: Lucas Oil Corporate Communications
310.374.6177
LucasOil@GoDriven360.com
Source: Lucas Oil Products, Inc.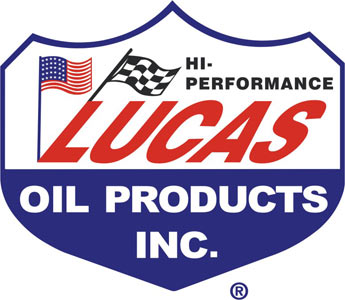 ####