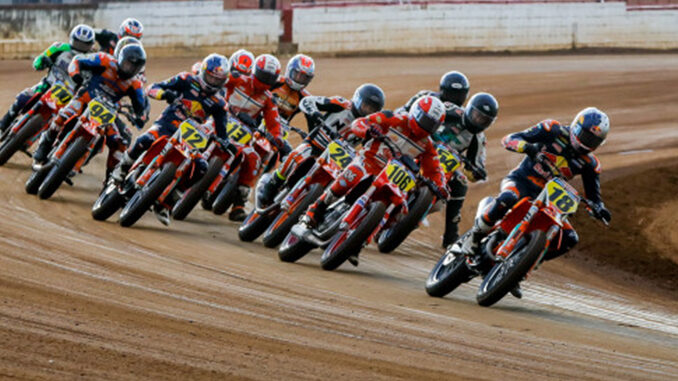 DAYTONA BEACH, FL – January 10, 2022 – (Motor Sports NewsWire) – AMA Pro Racing has confirmed its finalized 18-round schedule for the upcoming 2023 Progressive American Flat Track season.
The previously announced provisional schedule laid out an ideally balanced slate in terms of discipline, geography, and pacing. Other key features were visits to venues both historic and new, the alignment of the calendar with multiple high-profile rallies and holiday weekends, and a more compact timeframe that fits all 18 rounds in during motorcycle riding season. The final schedule features five Miles, five Half-Miles, four Short Tracks, and four TTs.
The final schedule further solidifies that intent with the confirmation of the return of the Arizona Super TT and the West Virginia Half-Mile.
The Arizona Super TT returns following its 2019 debut, joining the entertainment options planned during the weekend of the 29th annual Arizona Bike Week on April 1. The '19 event marked the first Mission SuperTwins presented by S&S Cycle Main Event win of JD Beach's career – one that kicked off a run that has seen him score six of seven TTs wins in the years since.
On July 1, Progressive AFT will compete in the state of West Virginia for the first time since 2006 with the West Virginia Half-Mile. The event will take place at the scenic West Virginia Motor Speedway in Mineral Wells, W.V. This mountainside 5/8-mile track is both renowned for its high speed and beautiful settings, promising to serve as an incredible stage for the world's greatest motorcycle dirt track racers next summer.
The final 2023 Progressive American Flat Track schedule follows:
March 25, 2023 – Senoia Short Track, Senoia Raceway, Senoia, GA
April 1, 2023 – Arizona Super TT, Chandler, AZ
April 22, 2023 – Dallas Half-Mile, Devil's Bowl Speedway, Mesquite, TX
May 6, 2023 – Ventura Short Track, Ventura Raceway, Ventura, CA
May 13, 2023 – Sacramento Mile, Cal Expo, Sacramento, CA
May 27, 2023 – Red Mile, The Red Mile, Lexington, KY
June 17, 2023 – DuQuoin Mile, Du Quoin State Fairgrounds, Du Quoin, IL
June 24, 2023 – Lima Half-Mile, Allen County Fairgrounds, Lima, OH
July 8, 2023 – Orange County Half-Mile, Orange County Fair Speedway, Middletown, NY
July 22, 2023 – Bridgeport Half-Mile, Bridgeport Speedway, Swedesboro, NJ
July 30, 2023 – Peoria TT, Peoria Motorcycle Club, Peoria, IL
August 6, 2023 – Buffalo Chip TT, Sturgis Buffalo Chip, Sturgis, SD
August 12, 2023 – Castle Rock TT, Castle Rock Race Park, Castle Rock, WA
September 2, 2023 – Springfield Mile I, Illinois State Fairgrounds, Springfield, IL
September 3, 2023 – Springfield Mile II, Illinois State Fairgrounds, Springfield, IL
Tickets for select rounds are on sale now, and the remainder of the rounds will be made available for purchase in the weeks ahead at https://www.americanflattrack.com.
How to Watch:
FOX Sports and FansChoice.tv are the official homes for coverage of Progressive American Flat Track. For the 2023 season, all races will premiere in one-hour telecasts on FS1 during highly desirable weekend time slots. The complete schedule can be viewed at https://www.americanflattrack.com/events-foxsports. FansChoice.tv provides livestreaming coverage of every Progressive AFT round at http://www.FansChoice.tv.
About Progressive American Flat Track
Progressive American Flat Track is the world's premier dirt track motorcycle racing series and one of the longest-running championships in the history of motorsports. Sanctioned by AMA Pro Racing in Daytona Beach, Fla., the series is highly regarded as the most competitive form of dirt track motorcycle racing on the globe. For more information on Progressive American Flat Track, please visit us on the web, like us on Facebook, follow us on Twitter, check us out on Instagram and catch all the Progressive American Flat Track racing action on FOX Sports.
Source: Progressive American Flat Track
####