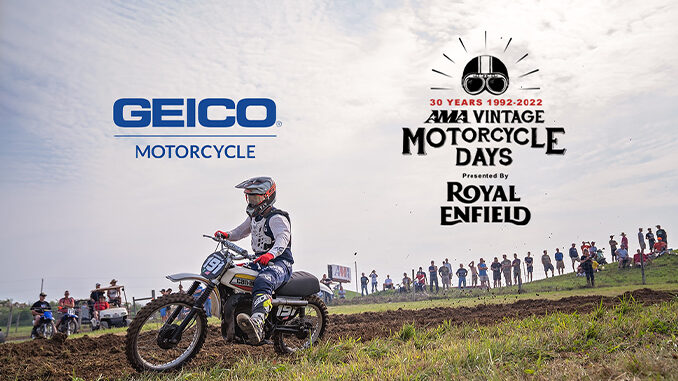 Long-time insurance provider to connect with motorcyclists and
celebrate motorcycling at AMA VMD's 30th running

PICKERINGTON, OH – June 6, 2022 – (Motor Sports NewsWire) – GEICO, an insurance company established in 1936, will be the Official Insurance Company of the 2022 AMA Vintage Motorcycle Days presented by Royal Enfield, which takes place July 22-24 at the Mid-Ohio Sports Car Course in Lexington, Ohio.
"GEICO is excited to sponsor AMA Vintage Motorcycle Days again," said GEICO's Marketing Director Keith Slonski. "Motorcycling is more than a passion; it is a lifestyle that connects people through a shared history. GEICO Motorcycle has shared in that history ever since it first participated in AMA racing. Through AMA Vintage Motorcycle Days, we are delighted to celebrate the grassroots of the motorcycling community while protecting everyone's adventure in motorcycling."
Established in 1936 by Leo and Lillian Goodwin as the Government Employees Insurance Company, the company more commonly known as GEICO was a direct-to-consumer insurance provider focused on military and federal employees. Despite its humble beginnings amid the Great Depression, GEICO has grown to the second-largest auto insurer in the U.S., insuring more than 28 million vehicles in all 50 states and the District of Columbia and provides additional coverage for motorcycles, ATVs, RVs, and boats.
"Given GEICO's long heritage as a premier insurance company," said AMA Editorial Director Mitch Boehm, "it's great to have their support behind VMD again. The event attracts some of the most committed motorcycle enthusiasts in the country, and that's something the GEICO folks surely recognize. They've been supporting motorcyclists for a long time, and we appreciate their commitment."
AMA Motorcycle Hall of Famer and 500cc World Champ Kevin Schwantz will serve as Grand Marshal for 2022 AMA Vintage Motorcycle Days. Along with signing autographs and speaking to enthusiasts from the AMA Soundstage, the legendary rider will participate in a Lap For History each day.
The three-day event will also include all the vintage-oriented happenings classic-bike fans love, including Hall of Fame activities, the AMA Hall of Fame Bike Show, Wall of Death and more. Add to that the scenic and expansive Mid-Ohio grounds, plenty of food and refreshments, camping and vintage motorcycles for as far as the eye can see, and it's easy to see why AMA VMD is one of the biggest and best events in all of motorcycling.
AMA Vintage Motorcycle Days features vintage roadracing and off-road racing in multiple disciplines, too. Those interested in registering to race or learning more can go to VintageMotorcycleDays.com/page/racing/.
For more information on GEICO, visit Geico.com.
For more information visit VintageMotorcycleDays.com, sign up for the AMA VMD newsletter or follow #AMAVMD on social media channels. To purchase tickets, visit MidOhio.com/tickets.
About the American Motorcyclist Association
Founded in 1924, the AMA is a not-for-profit member-based association whose mission is to promote the motorcycle lifestyle and protect the future of motorcycling. As the world's largest motorcycling rights and event sanctioning organization, the AMA advocates for riders' interests at all levels of government and sanctions thousands of competition and recreational events every year. Besides offering members money-saving discounts on products and services, the AMA also publishes American Motorcyclist, a recently revitalized and monthly full-color magazine (and digital version of same) that covers current events and motorcycle history with brilliant photography and compelling writing. American Motorcyclist is also North America's largest-circulation magazine. Through the AMA Motorcycle Hall of Fame in Pickerington, Ohio, the AMA honors the heroes and heritage of motorcycling. For more information, visit AmericanMotorcyclist.com.
Not a member? Join the AMA today: AmericanMotorcyclist.com.
Source: American Motorcyclist Association

####