WASHINGTON D.C. – April 28, 2022 – (Motor Sports NewsWire) –
Polaris Recall Summary
Name of Product: Model Year 2022 RZR Pro R 4 Premium and RZR Pro R 4 Ultimate Recreational Off-Road Vehicles
Hazard: An incorrectly routed battery cable can contact the prop shaft during use, which can result in an electrical short, posing a fire hazard.
Remedy: Repair
Recall Date: April 28, 2022
Units: About 1,160 (In addition, about 11 were sold in Canada)
Consumer Contact: Polaris at 800-765-2747 from 7 a.m. to 7 p.m. CT Monday through Friday or online at www.polaris.com and click on "Off Road Safety Recalls" or www.polaris.com/en-us/off-road-recalls/ to check if your vehicle identification number (VIN) is included in any recalls.
Polaris Recall Details
In Conjunction With: Canada
Description: This recall involves certain VINs of Model Year 2022 RZR Pro R 4 Premium and Ultimate vehicles. The recalled vehicles were sold in the following colors: black, blue and lime. The recalled vehicles were sold in a four-seat configuration. POLARIS is stamped on the front grille and POLARIS and RZR are printed on the sides of the vehicles. The model name is also printed on the side of the chassis. The VIN is located on the vehicle's frame in the left rear wheel well.
Remedy: Consumers should immediately stop using the recalled vehicles and contact a Polaris dealer to schedule a free inspection and repair. The dealer will re-route the battery cable, and if needed, replace it free of charge. Polaris has notified consumers to stop riding the vehicles and is contacting registered owners directly to provide more details about the repair.
Incidents/Injuries: The firm has received one report that a vehicle lost power after start up. No injuries or fires have been reported.
Sold At: Polaris dealers nationwide from May 2021 through April 2022 for between $39,000 and $45,000.
Importer(s): Polaris Industries Inc., of Medina, Minnesota
Manufactured In: Mexico
Recall number: 22-744
This recall was conducted, voluntarily by the company, under CPSC's Fast Track Recall process. Fast Track recalls are initiated by firms, who commit to work with CPSC to quickly announce the recall and remedy to protect consumers.
About the U.S. CPSC
The U.S. Consumer Product Safety Commission (CPSC) is charged with protecting the public from unreasonable risks of injury or death associated with the use of thousands of types of consumer products. Deaths, injuries, and property damage from consumer product incidents cost the nation more than $1 trillion annually. CPSC's work to ensure the safety of consumer products has contributed to a decline in the rate of deaths and injuries associated with consumer products over the past 40 years.
Federal law bars any person from selling products subject to a publicly announced voluntary recall by a manufacturer or a mandatory recall ordered by the Commission.
Source: U.S. Consumer Product Safety Commission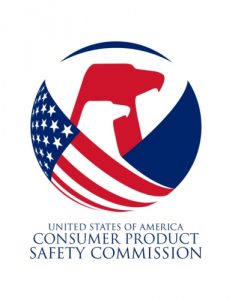 ####