Make that 5 wins in a row for Tomac, extends 450 class point lead to 54 over 2nd place Anderson; Monster's Christian Craig rallies to 2nd on WSX 250s after crash
CORONA, CA – March 28, 2022 – (Motor Sports NewsWire) – Monster Energy/Star Racing/Yamaha's Eli Tomac continues to cover the rest of the field in Monster Energy AMA Supercross racing, this past Saturday night at Seattle's Lumen Field taking the wire-to-wire win in his most dominant performance of the season thus far. Monster Energy/Kawasaki's Jason Anderson would put up a great effort as well, placing 2nd to Tomac for the Monster Energy 1-2 finish in the 450cc class main event.
Said Tomac from atop the podium: "My main focus was to just put the hammer down. Justin (Barcia) was close the first few laps and I was able to put the hammer down and ride mistake-free. Thanks to Monster Energy/Star Racing/Yamaha. This was a special one for us."
Tomac's Seattle victory was the Coloradoan's fifth in a row, and 44th overall – which ties him for 4th place on the overall supercross premier 450 class victory list with Chad Reed – and is just four wins away (48) from 3rd place Ricky Carmichael on the all-time wins list.
In 250cc class racing's return to the Western Supercross Series (WSX), point leader Christian Craig (Monster Energy/Star Racing/Yamaha) overcame a mid-race collision with Michael Mosiman (Gas-Gas) to rally back from 6th to a 2nd place podium finish at Seattle. Monster Energy/Pro Circuit/Kawasaki's Jo Shimoda battled tough all night in Seattle as well, coming thisclose to the podium with a 4th place effort at the finish.
450 Podium Seattle SX. Monster Energy's Eli Tomac & Jason Anderson
450 class heat racing highlights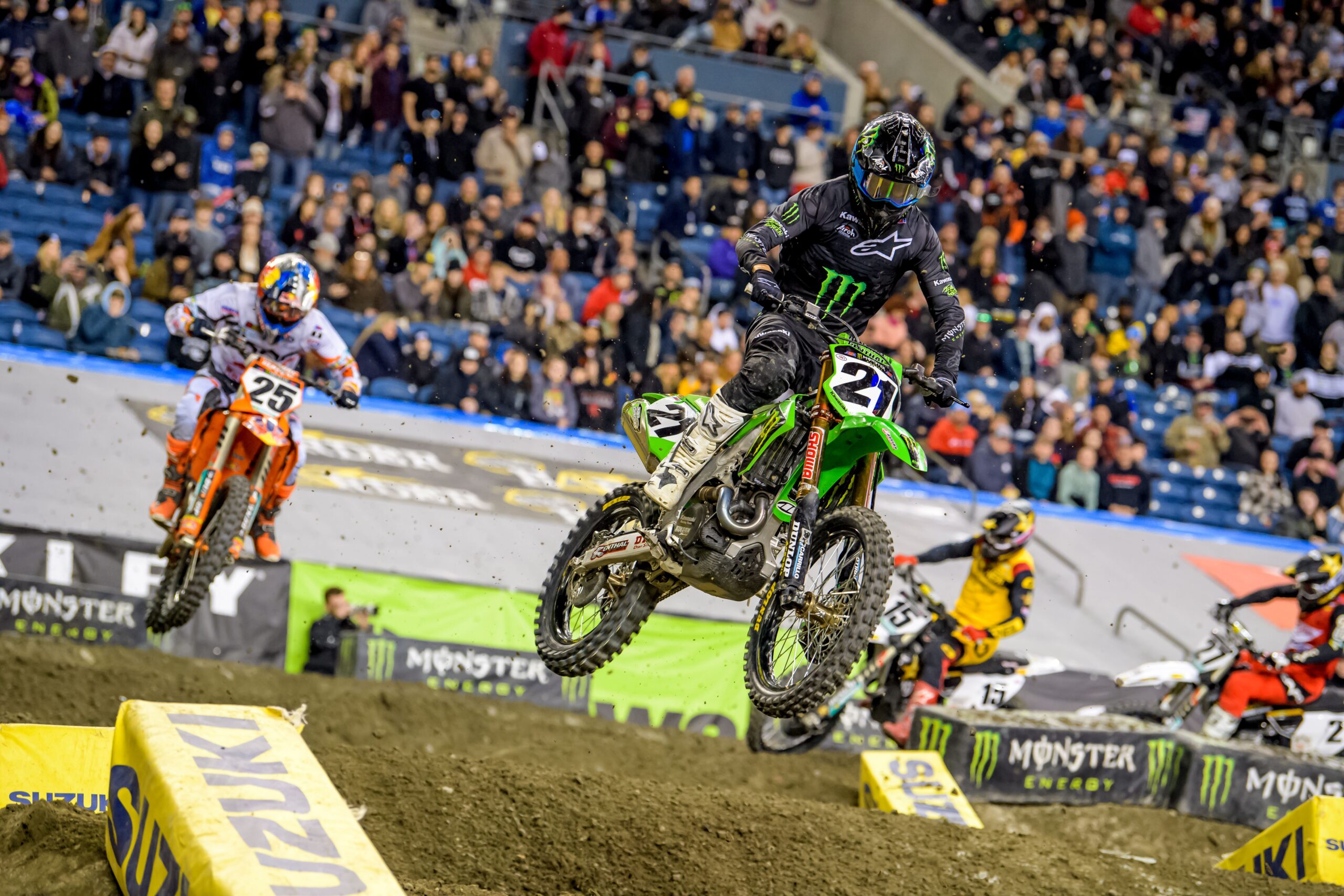 Monster Energy's Jason Anderson
450 Heat Race 2 at Seattle saw Anderson pull the holeshot, but was quickly passed by rival Malcolm Stewart (Husqvarna) for the race lead. Tomac got out in 3rd
As the aforementioned three racers separated from the rest of the field, Anderson caught race leader Stewart at the midway point of the contest, passing the Husqvarna rider and taking the lead.
Tomac would get by Stewart soon thereafter and Monster Energy racers were in 1st and 2nd place position, foreshadowing their results in the upcoming 450 main event.
As the heat race drew to a close Anderson and Tomac had put three seconds on Stewart – who was the fastest rider in timed qualifying.
Said Anderson of his 4th heat race win of the season: "The track is hard to move around on. Now let's get a good start and try to stay on two wheels, keep it good tonight in the main."
Noteworthy: Monster Energy's Chase Sexton (Honda) had a scary get-off in the whoops section during the afternoon's timed qualifying sessions. Though it initially appeared he was OK, Sexton was unable to answer the bell for the heat races.
450 Main Event
Monster Energy/Star Racing/Yamaha's Eli Tomac
Tomac would pull a picture perfect holeshot, slightly wheelieing down the start straight, into and out of the first corner with authority for the race lead. … Anderson would pull a solid start himself, coming out of the first turn mayhem in 4th position, then moving past Marvin Musquin (KTM) into 3rd place on the opening lap. … After the field cleared the opening lap, the scoring tower read: 1 – Tomac… 2 – Barcia… 3 – Anderson. … As the Monster Energy 450 class racers settled in and started putting down their usual fast and consistent laps, Barcia would have a tough time keeping pace and went down in the whoops (out of a corner triple jump). … Anderson, now in 2nd place, set sail for Tomac. And in trying to make up the now 14-second lead Tomac enjoyed, furthered himself from now 3rd place Musquin. … Despite the difficult track conditions (slight misty rain and slippery) Tomac, who lapped up to 7th place in the field, and Anderson would ride virtually mistake-free for the remainder of the contest. The two crossed at the checkers in 1st (Tomac) and 2nd (Anderson) places for the 1-2 Monster Energy sweep at Seattle.
Said Anderson: "That track out there was just brutal. I wasn't riding the best all day, but man was I able to salvage that. Coming out 2nd was nice." Anderson continued from the podium with a fun jab at last week's controversial incident he had with Barcia. "And the AMA didn't need to charge me three points and three grand to get by Barcia (who was fined that point and dollar amount by the AMA last week for his illegal takeout pass on Anderson). So it was a good night."
250 class heat race highlights
Monster Energy/Pro Circuit/Kawasaki's Jo Shimoda
A very un-Craig like start outside the top ten in the opening 250 heat race was erased quicker than you could say "Third to first in one corner." Craig made and unbelievable move to the front, leading announcer Carmichael to add: "He's passed a lot of guys in just one lap."
With Craig up front, Monster Energy's rookie 250 racer Kaeden Amerine (Team Tedder/KTM) moved into the 9th and final transfer spot to the main.
Craig continued to ride flawlessly, putting 3.3 seconds between himself and Honda's Hunter Lawrence with 2:00 and a lap to go.
As Craig and Lawrence distanced themselves from the rest of the 250 Heat 1 field, Amerine was able to hold on and transfer cleanly to the main in 9th
Said Heat 1 winner Craig: "It was a little frustrating starting that far back at the start. And this track's going to be tricky (for the main)."
Heat 2 featured Monster Energy's Shimoda, along with Monster Energy/Star Racing/Yamaha's Nate Thrasher. And both pulled good starts, Thrasher out in 2nd place and Shimoda in 4th after the opening lap.
As the lead pack settled in and got towards the end of the second heat race, Thrasher was on to leader Vincent Friese (Honda), but was unable to make the pass and settled on the 2nd place transfer spot – a mere 15/100ths of a second behind at the checkers.
Shimoda would get past Carson Mumford (Suzuki) – and make it stick – for 3rd
250 Main Event
Monster Energy/Star Racing/Yamaha's Christian Craig
Much like his Monster Energy/Star Racing/Yamaha teammate Tomac did in the 450 main, Craig pulled a laser start on his YZ250F and took the early race lead. … Shimoda was also on the pipe off the start, grabbing an early 3rd place in the 250 main. And though he was back at the start of the opening lap, Thrasher made up all kinds of time on lap one to run in 6th place at the beginning of the second lap. … Having led an impressive 64-percent of the laps in heats and main events he's raced this season, Craig was up front – in control and cruising. Shimoda was still solidly in 3rd place and Thrasher had moved up into the top five. … No sooner did it appear Craig was going to run away with the win, Mosiman came firing seemingly out of nowhere, rode Craig high into a berm, and sent the 250 WSX point leader careening off the track and onto the stadium floor. "It wasn't dirty, but he (Mosiman) was aggressive," added Carmichael. … Craig was able to re-mount and return to the race in 6th place, with Shimoda and Thrasher each able to hold their spots as Honda's Hunter Lawrence also made an appearance with the race leaders. … With Lawrence soon grabbing the lead spot, the crowd had to keep an eye on Craig, who was charging through the WSX's top riders like it was a state fairground race. … Cheers for Craig would mount as the Monster Energy/Star Racing/Yamaha rider got past Thrasher and Shimoda, and then 2nd place Mosiman – setting his sights on race leader Lawrence. … Thrasher would also get by Mosiman for 2nd, but then ran into a couple issues and ended up on the ground – and out of the top ten. … Craig would simply run out of time in his pursuit of Lawrence, and smartly dialed in the 2nd place finish. Shimoda would give it all he had, battling Mosiman back and forth for the 3rd and final podium spot, before leaving the track in an effort to pass near the checkers – and taking 4th.
Said Craig: "That's three times now I've been cleaned out. I'm sour, but it is what it is. That's racing. I look forward to coming back in a couple of weeks."
Overall 2022 Monster Energy AMA Supercross Points (through 12 rounds)
450 class
Eli Tomac
1st – Tomac
2nd – Anderson (-54)
7th – Sexton (-98)
9th – Ferrandis (-140)
250 class (SX West)
Christian Craig

1st – Craig
5th – Shimoda (-65)
6th – Thrasher (-77)
Up Next
After a break this upcoming weekend, Round 13 of 2022 Monster Energy AMA Supercross resumed at St. Louis' Dome at America's Center, Saturday, April 9th. More information can be found at www.supercrosslive.com
About Monster Energy
Some companies won't let you have any gear unless you're on the payroll. We're all about our fans rockin' the Monster Energy logo the way they want – on hats, shirts, MX bikes, trucks, gear, or even on themselves. Our idea of a promotion isn't giving away a TV you already got. Our promos offer exclusive VIP access, insane trips hanging with top musicians and athletes, and real gear like dirt bikes, snowboards, and helmets.
In short, at Monster Energy all our guys walk the walk in action sports, punk rock music, partying, hangin' with the girls, and living life on the edge. Monster Energy is way more than an energy drink. Led by our athletes, musicians, employees, distributors, and fans, Monster Energy is… A LIFESTYLE IN A CAN!
Source: Monster Energy Company
####