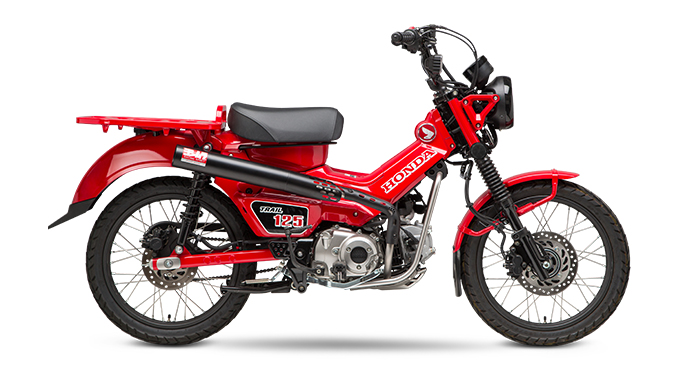 CHINO, CA – April 9, 2021 – (Motor Sports NewsWire) – One of the most fun bikes we have had in the shop in a while, the new Honda Trail 125. This bike has the ergos that make you want to twist the throttle and hit curbs (no it wasn't meant for that). We thought why not give this little red rocket more take off power.
Since Honda captured the Trail 125 retro look so well we felt obligated to do the same. We went with a hand made Cyclone just our team raced way back when. We added a Cerakote finish on the muffler and heat shield with our Works Finish on the header assembly for style and durability. What a great contrast it provides, perfect for incorporating the bikes mascot in the heat shield. We were even able to keep the stock ground clearance on the header.
The handcrafted Cyclone dropped over 4 lbs. and responded with power! Up 5.7% max HP and a whopping 16% max torque, way up in the RPM range which means the rider can pull that gear when up in the RPM range! Power and the distinctive Yoshimura sound makes this Cyclone a winner!
We also have developed a USFS approved spark arrestor for those that want to quite it down in a campground or when out on a trail ride where its required.
The Cyclone system proudly developed, designed and made in the USA.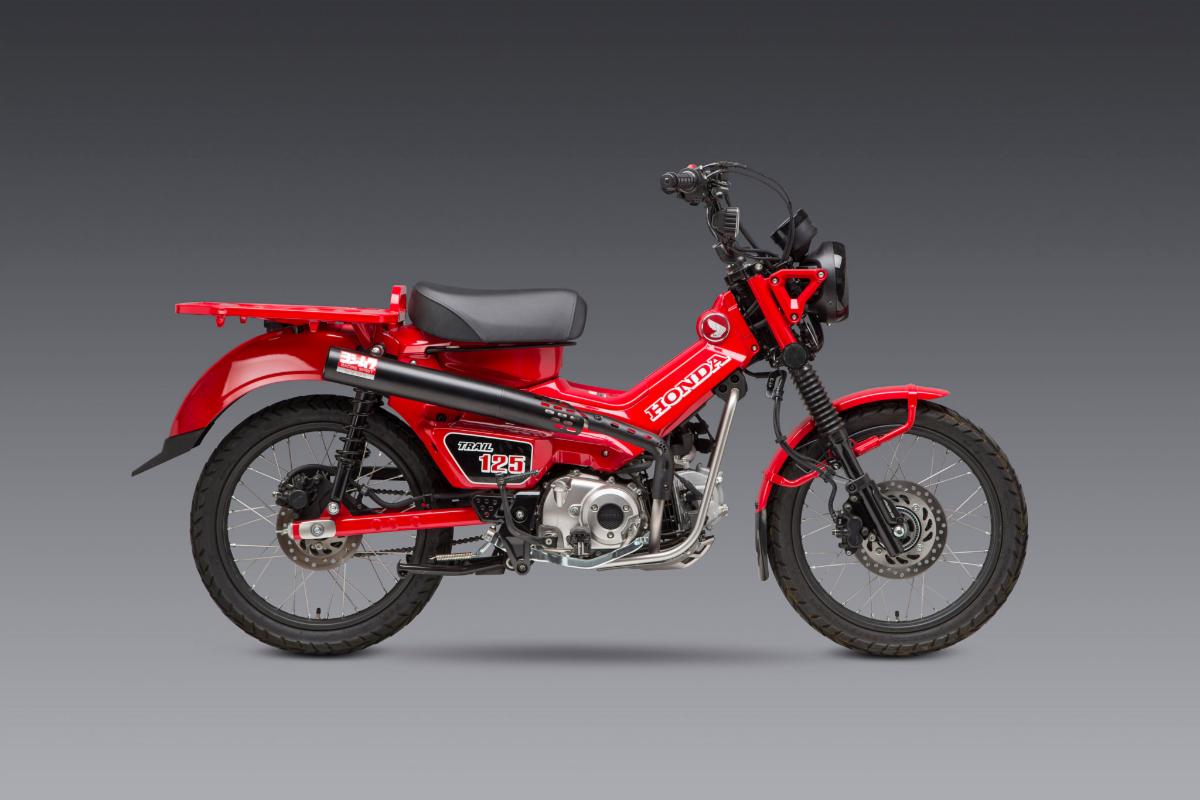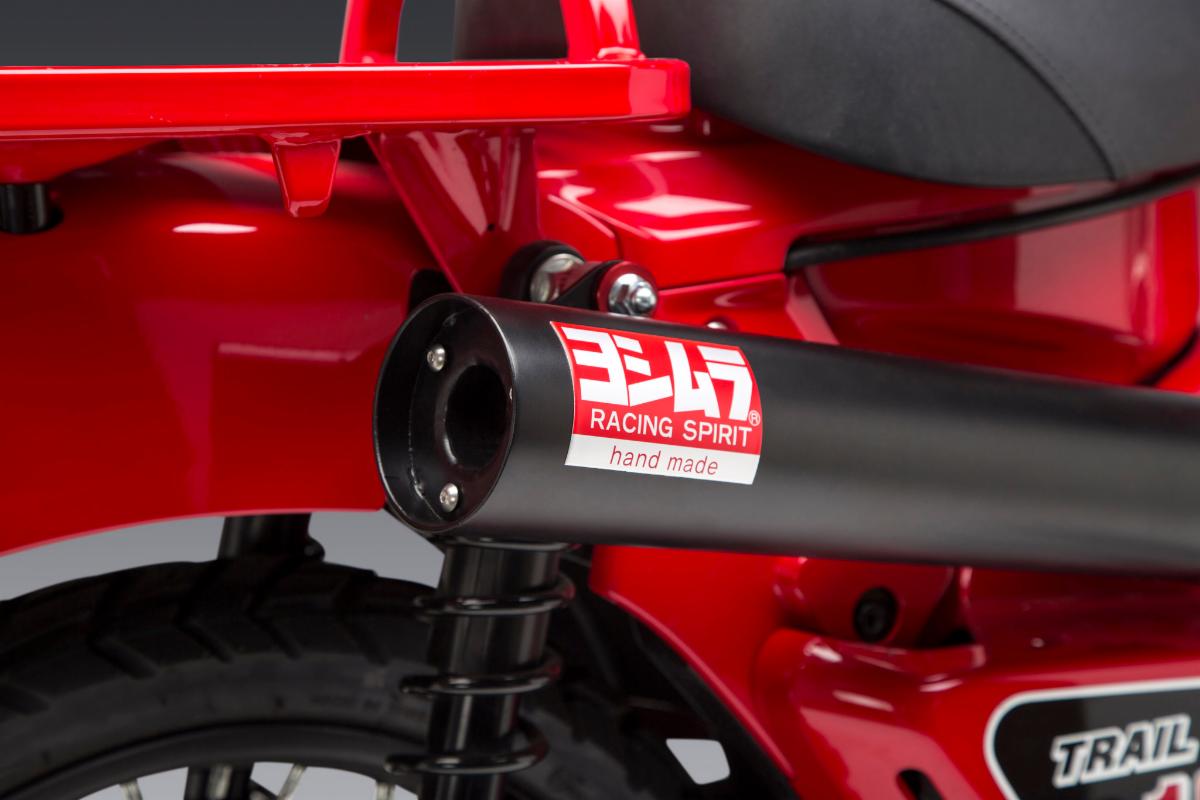 The Cyclone is hand crafted in our facility in Chino California, the Cerakote and Works Finish compliment each other in the perfect way on the 2021 Honda Trail 125
The Cyclone's Cerakoted heat shield includes the Trail 125's mascot bear claw. The contrasting Works Finish header completes the custom look. It's all about the details.
2021 Honda Trail 125 Cyclone Race Series Full System Pricing and Info

2021 Honda Trail 125 Race Series FS SS CK
Part #121600K500
MSRP: $599.00
Hi-res images available here: https://www.dropbox.com/sh/rmuptzfrwdc8vcj/AADPrs7oNFbsgYi6Nlo2R-aoa?dl=0
QUALIFIED MANUFACTURER DECLARED "MODIFIED PART"
This product is designed and intended for closed course competition use only and is labeled as such, i.e. Yoshimura "RACE SERIES." Yoshimura RACE SERIES products are neither designed nor intended for use on PUBLIC ROADS or LAND. Such use is prohibited by Federal and State regulations.
Weights:
Stock exhaust system: 10.3 Lbs.
Yoshimura Cyclone full system: 6.1 Lbs.
Spark Arrestor for 2021 Honda Trail 125 Cyclone
Part #SA-22-K
MSRP: $33.95
About Yoshimura
Yoshimura is "The Leader in Performance" and has been for over 65 years. With unmatched skills, knowledge and passion for racing, Yoshimura is on the forefront of the aftermarket. Yoshimura exhaust systems are race bred and feature the same legendary performance, fit, and quality that has been our trademark for six decades. To learn more about Yoshimura and view their wide variety of performance products, visit www.yoshimura-rd.com.
Source: Yoshimura Research and Development of America

####