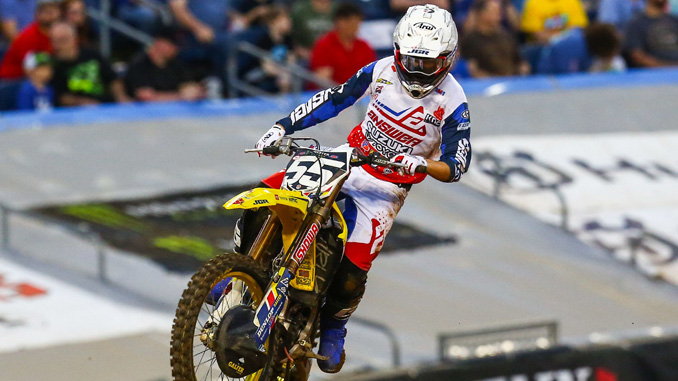 JGRMX/Yoshimura/Suzuki Factory RM-Z250 Riders Take Home
Two Top-Ten Finishes
BREA, CA – April 8, 2019 – (Motor Sports Newswire) – The JGRMX/Yoshimura/Suzuki Factory Racing Team was in Nashville, Tennessee this past weekend for round 14 of the 2019 Monster Energy Supercross Championship and the seventh stop of the 250 Eastern Regional Supercross Series. Suzuki RM-Z250 rider Kyle Peters earned his first top-five finish of the series and moved up in the points standings. Teammate Alex Martin rode through adversity to score his sixth top-ten finish in seven rounds. Suzuki RM-Z450 rider Justin Hill was hampered by an injury suffered in practice and had to end the night early.
"Peters had his best day of the season," said Jeremy Albrecht, Team Manager. "He rode really well through practice to the main and was solid in the whoops. Kyle had a little slide out in the heat race, but he came back strong. It looked like he was going to get on the podium, but he was holding his breath. It's disappointing that he didn't get a podium, but he's getting better every week. With more experience, he 'll continue to gain confidence."
Aside from a fluke race in Atlanta earlier in the 250 East series, Kyle Peters has steadily improved his finishes at consecutive rounds. Peters looked instantly comfortable on the Suzuki RM-Z250 in Nashville, attacking the complicated track. In front of 54,703 fans, the North Carolina native started just outside the top-five in the main event and charged up to second place. He held that position for several laps, but settled for a hard-fought fourth. It marked his best finish of the season.
Alex Martin (#26) flew past the checkered flag to grab a top-ten finish on his RM-Z250.
Alex Martin was excited to race at the series' inaugural visit to Nashville. He rode a strong heat race, finishing second. Before heading into the main, A-Mart made some big changes to his RM-Z250 in hopes to continue the momentum. Unfortunately, the deteriorating track didn't mesh well with the changes, but Martin was able to push through the discomfort and earn a solid top-ten finish.
"The heat race was the highlight of my weekend," said Martin. "Nashville is a pretty cool city, but the racing was rough. We made some changes going into the night show and they didn't work out like we had hoped. It was frustrating, but we're going to rebound."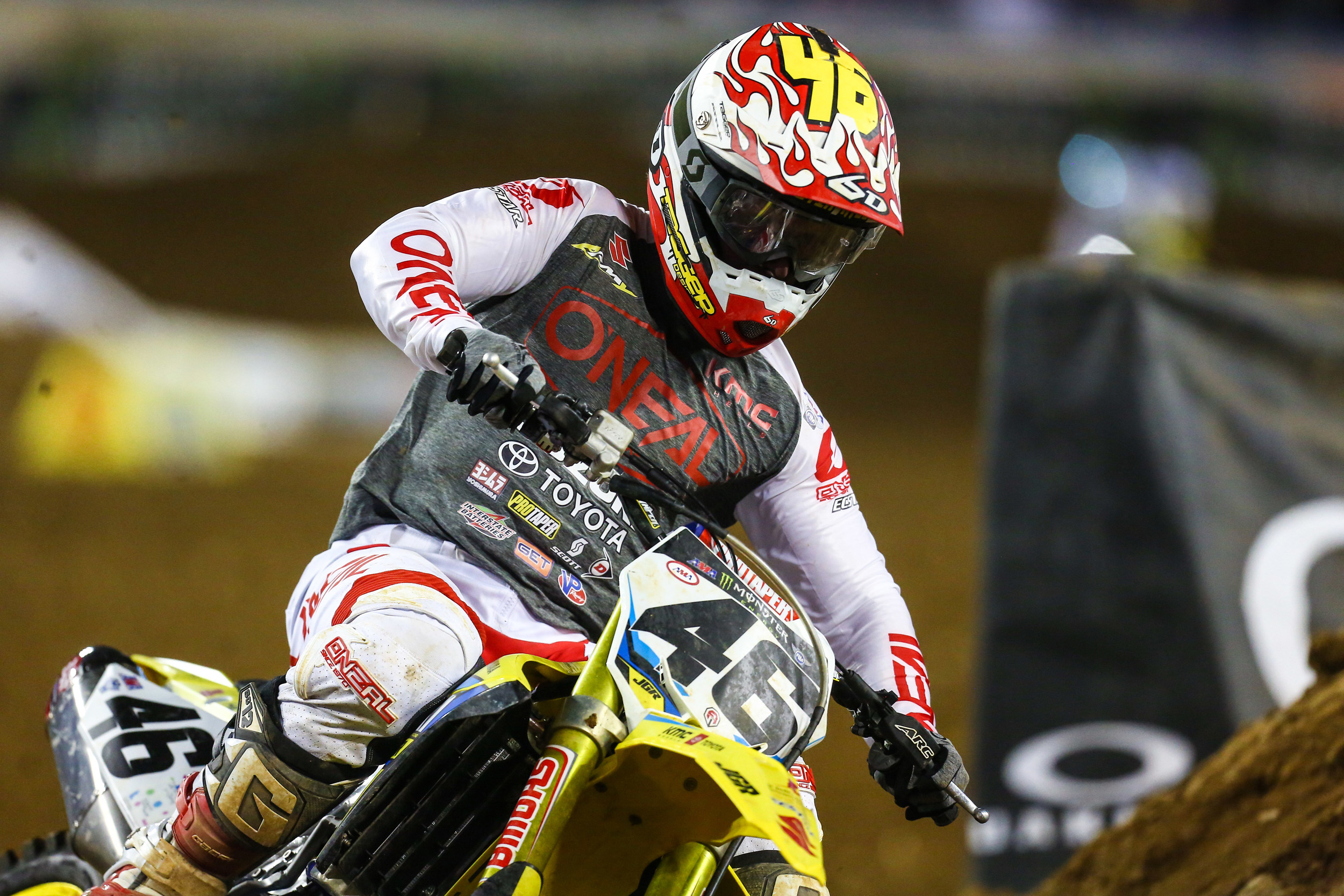 Justin Hill (#46) suffered in an injury during practice but fought through the pain in the main.
Justin Hill jammed his back in the opening practice session and missed the first qualifying session. He fought through pain and put in a fast lap. Hill followed that up with an impressive fourth place finish in his heat race, given his level of pain. Unfortunately, Hill only lasted half of the main event before pulling off the track. The team will provide more information on the extent of Hill's injury when it becomes available.
"I was really vibing with the track this weekend, but I made a small miscalculation in a rhythm section," said Hill. "I rode the remainder of the night as best as I could, but I was in a lot of pain. It's very disappointing because I liked the track a lot. The bike is working really well right now. I'm going to get my body checked out and take it from there."
The JGRMX/Yoshimura/Suzuki Factory Racing Team will travel to Broncos Stadium at Mile High in Denver, Colorado on Saturday, April 13th for the 15th round of the 2019 Monster Energy AMA Supercross Championship. This will also serve as the ninth round of the 250 West Regional Supercross series.
Please visit www.jgrmxraceteam.com for more team news.
Photos courtesy of Brown Dog Wilson.
Contacts:
Rachel Anderson – Press Relations & Marketing Lead
Suzuki Motor of America, Inc.
Rachel.Anderson@suz.com
(714) 996-7040 x2009
John Basher – Communications Manager
JGRMX/Yoshimura/Suzuki Factory Racing
jbasher@jgrmx.com
(704) 274-3426
About Suzuki:
Suzuki Motor of America, Inc. (SMAI) distributes Motorcycles, ATVs, Scooters, Outboard Motors and Automotive Parts and Accessories via an extensive dealer network throughout 49 states. Suzuki Motor Corporation (SMC), based in Hamamatsu, Japan, is a diversified worldwide manufacturer of Motorcycles, ATVs, Scooters, Automobiles, Outboard Motors and related products. Founded in 1909 and incorporated in 1920, SMC has business relations with 201 countries/regions. For more information, visit www.suzuki.com.
About JGRMX:
Joe Gibbs Racing Motocross (JGRMX), based in Huntersville, NC, was founded in 2007 by Coy Gibbs, son of NFL Hall of Fame head coach and multi-time NASCAR Championship winning team owner Joe Gibbs. JGRMX competes in both the Lucas Oil Pro Motocross Championship series as well as the Monster Energy Supercross series with support from Suzuki Motor of America, Inc. aboard Suzuki RM-Z250 and RM-Z450 race machines.
About Yoshimura R&D of America:
Yoshimura is "The Leader in Performance" and has been for 65 years. With unmatched skills, knowledge, and passion for racing, Yoshimura is on the forefront of the aftermarket. Yoshimura exhaust systems are race bred and feature the same legendary performance, fit, and quality that has been their trademark for six decades. To learn more about Yoshimura and view their wide variety of performance products, visit www.yoshimura-rd.com.
Source: Suzuki Motor of America, Inc.
####