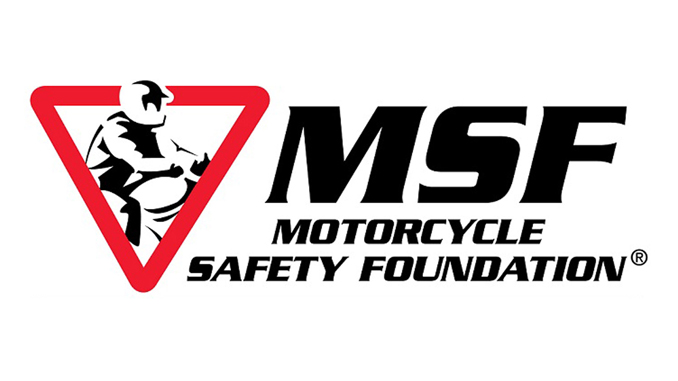 IRVINE, CA – May 20, 2020 – (Motor Sports NewsWire) – MSF staff and RiderCoaches have a number of important safety messages for riders heading into the long holiday weekend and the rest of Motorcycle Safety Awareness Month. Whether it's a day trip or a three-day adventure, many motorcyclists will be on the road starting on Friday and through the coming Monday. Prep work before the ride and precautions during the ride can help ensure a good, safe journey.
"Like any group of citizens, motorcyclists should follow local health and safety guidelines as this pandemic continues," said Robert Gladden, MSF vice president of training operations. "For those riders who will be getting out there, possibly after hunkering down at home and staying off their bikes, the MSF has a number of online tools loaded with valuable information, many for free."
Bikes that have been sitting awhile should be treated to a thorough pre-ride inspection, the MSF's T-CLOCS maintenance check. That can help prevent mechanical trouble, but if it does happen, an American Motorcyclist Association membership includes roadside assistance if it's needed. And before getting on their motorcycles, riders also need to check themselves and the safety apparel they're wearing with the help of Gear Up Every Ride.
"Prior to heading out on a long journey, we suggest motorcyclists take a little time to ride in parking lots or similar spaces to reacquaint themselves with their bikes and controls," Gladden said. "Short rides before any big ones can help riders identify things that need to be addressed before the real adventure begins."
Riders wanting more safety information can even take the MSF Basic eCourse online and/or the MSF Street Strategies eCourse.
For those longer trips that require luggage and packing, there are some key rules of thumb:
When loading a bike, riders should think light, low, balanced, and centered. The total load of the bike, rider, accessories, and cargo (plus possibly a passenger) should never exceed the bike's gross vehicle weight rating. Loading things low, as in a pair of saddlebags, helps avoid raising the bike's center of gravity, which can impair the bike's responsiveness. Balanced (side-to-side) loads help prevent the bike from pulling to one side. Centered (front-to-back) weight distribution helps prevent one tire from being overloaded (possibly leading to tire failure) or one tire from being underloaded (possibly causing a loss of traction or responsiveness).
Riders using a tank bag should check that it doesn't interfere with steering.
All cargo must be fastened securely, using tie-down straps, bungees, or web nets, taking care not to block any lights or moving suspension parts. Riders should also ensure there are no loose items that could shift or fall off, contact hot mufflers, or worse, get caught in the wheels or drive chain.
And riders should check their owner's manuals and adjust tire pressure and suspension settings as recommended, to accommodate any additional weight.
Before and during an extended trip, riders need to take care of themselves, too, with these tips, among others:
Generally maintaining good fitness will help any rider.
Getting plenty of sleep before and during each night of the trip is essential for both physical and mental stamina. When out on the road, riders ideally should take a short break every hour or so, with a safe place to park and stretch. During these breaks, some time with closed eyes can give them a needed rest.
Riders can stay fresher with the help of comfortable safety gear, good posture, and, if the motorcycle saddle allows it, an occasional change of seating position.
Good lunch breaks can help. Eating a light, protein-rich meal and avoiding caffeine and sugar-laden desserts can help prevent a mid-afternoon energy fade, as can frequent healthful snacks and plenty of water.
Before the ride, and in the middle of it, riders should never consume any alcohol, which can impair judgment and have a bad effect on riding skills.
Wearing hearing protection helps, too, since constant wind and engine/exhaust noise can hasten fatigue, in addition to the obvious risk of some hearing loss.
Riders who are venturing out in a group should keep their distance from one another, in pandemic times or not, and can review the MSF's iTunes tips for Group Rides, which is free from iTunes and include these suggestions:
Hold a rider meeting. Discuss things like the route, rest and fuel stops, and hand signals.
Keep the group to a manageable size, ideally five to seven riders.
Ride prepared. At least one rider in each group should have a first-aid kit and full tool kit, and all riders should carry a mobile phone, so the group is prepared for a variety of problems.
Assign a lead rider and sweep rider. Both should be experienced, and well-versed in group riding procedures. The leader should be aware of each rider's skill level before the ride and monitor the riders during the ride.
Ride in formation. The leader generally rides in the left third of the lane, while the next rider stays at least one second behind in the right third of the lane; the rest of the group follows the same alternating pattern.
A single-file formation with a minimum two-second following distance (more is better) is preferred on a curvy road, under conditions of poor visibility or poor road surfaces, entering/leaving highways, or other situations where an increased space cushion or maneuvering room is needed.
Avoid side-by-side formations, as they reduce the space cushion.
Riders can also refer to the MSF's Quick Tips on group riding.
"It's our wish that everyone getting on board a motorcycle this weekend has an enjoyable ride," Gladden said. "With a little preparation and by practicing some key safety principles, a great motorcycle trip, long or short, can be serious fun."
About Motorcycle Safety Foundation
The Motorcycle Safety Foundation promotes safety through rider training and education, operator licensing tests, and public information programs. The MSF works with the federal government, state agencies, the military, and others to offer training for all skill levels so riders can enjoy a lifetime of safe, responsible motorcycling. Standards established by the MSF have been recognized worldwide since 1973.
The MSF is a not-for-profit organization endorsed by American Honda Motor Co., Inc.; BMW Motorrad USA; BRP, Inc.; Harley-Davidson Motor Company, Inc.; Indian Motorcycle; Kawasaki Motors Corp., U.S.A.; KTM North America, Inc.; Suzuki Motor of America, Inc.; Triumph Motorcycles America; and Yamaha Motor Corporation, U.S.A. For safety information or to enroll in an MSF Basic RiderCourse near you, or to learn more about the many other MSF course offerings, visit MSF-USA.org or call (800) 446-9227. Follow @msf__usa to keep up with MSF on Twitter and Instagram.
Source: Motorcycle Safety Foundation

####