CORONA, CA – November 18, 2019 – (Motor Sports NewsWire) –  During its annual visit to the AAPEX automotive aftermarket trade show in Las Vegas, Lucas Oil Products became the talk of the show thanks to a new, innovative product packaging program known as "Bag in a Box." Lucas Oil was selected as the winning entry for the Best Packaging Award for the show's Environmental Impact category.
Lucas Oil SVP of Sales, Morgan Lucas, receives the Environmental Impact Best Packaging Award at AAPEX 2019 in Las Vegas.
The "Bag in a Box" oil program was specifically designed to be used by dealerships, auto repair shops, and quick lubes for their ability to carry multiple oil grades and specialty items for faster lube servicing and dispensing. Thanks to a 100% recyclable package, the "Bag in a Box" oils boast an eco-friendly design that aims to reduce waste with less plastic, while the bag system ensures that users get every last drop.
"We're really excited about the 'Bag in a Box' program. It's not necessarily a new idea or philosophy, but it's new to us and allows us to build on the line of products that we've created to help the environment," said Morgan Lucas, Senior Vice President of Sales. "By providing this packaging alternative, we're giving our consumers a more effective disposal or recycling option, which we think will be a welcome addition across the board.
"It's very special to be recognized by AAPEX with the Environmental Impact Best Packaging Award. We try to be mindful with all Lucas Oil products, and as we continue to entrench ourselves in the installer world, we hope to progress the automotive industry on a broad scale to help the environment with initiatives like this, and more."
The new "Bag in a Box" program, now being used at businesses across the country and available to consumers in search of an environmentally friendly alternative.
Each year, AAPEX serves as the preeminent trade show for the automotive aftermarket, where businesses and potential clients from around the world converge to see the latest products from across the industry. It's here where Lucas Oil grew from a fledgling company to the global leader in oil and lubricant products, and its continued presence at the show has continually provided an opportunity to further expand the company's reach, while simultaneously occupying the role as one of the industry's most influential brands.
"Overall, the AAPEX show is very important to Lucas Oil," said Dave Wonser, Director of Business Intelligence. "It offers us a great opportunity to showcase new products to existing partners as well as connect on strategies to help drive sales. It also provides us with a platform to bring awareness of the Lucas Oil brand to industry professionals who may not already be familiar with the benefits of our product offering."
The Lucas Oil booth at AAPEX 2019 in Las Vegas.
Hundreds of show attendees visited the Lucas Oil booth throughout the three-day affair, where they were able to see the "Bag in a Box" first hand, in addition to the hundreds of automotive products currently available in the marketplace. Attendees were also presented with the chance to get an up-close look at the Lucas Oil Trans-Am Camaro driven by two-time Trans Am Champion Tomy Drissi.
Lucas Oil's award-winning "Bag in a Box."
About Lucas Oil Products, Inc.
Lucas Oil Products was founded by Forrest and Charlotte Lucas with the simple philosophy of producing only the best line of lubricants and additives available anywhere. Since its inception, Lucas has steadfastly adhered to this corporate objective. Through innovative product research and development, along with aggressive marketing programs, Lucas has established itself as the top selling additive line in the United States. Additionally, Lucas Oil offers a premium line of motor oils, greases, fuel treatments, industrial lubricants, and problem solving additives to help firmly establish Lucas Oil as a prominent figure in the marketplace.
For more information, visit www.LucasOil.com and on Facebook at www.facebook.com/OfficialLucasOil
Source: Lucas Oil Products, Inc.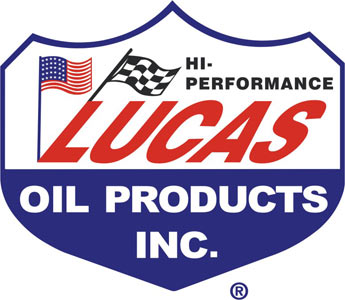 ####