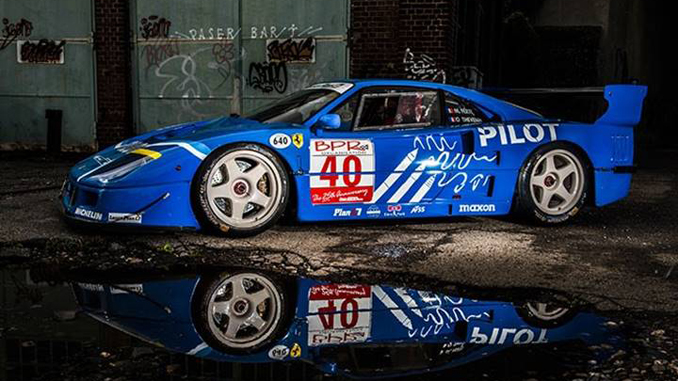 Entries Include Additional High Performance Bugatti and Ferrari Exotica
Rarely presented at auction, 1987 Ferrari F40 LM set to turn heads at RM Sotheby's sixth Paris sale, 6 February
Stunning French Blue F40 LM contested the 1995 24 Hours of Le Mans, and is the most successful example extant
F40 LM is joined by further supercar entries, including Bugatti EB110 SS, Veyron and Chiron, alongside Ferrari F50
Additional information on all lots for the Paris sale is available at rmsothebys.com
LONDON, ENGLAND – December 18, 2018 – (Motor Sports Newswire) – RM Sotheby's is delighted to announce a selection of high-spec, high-performance Ferrari and Bugatti models ahead of its forthcoming Paris auction, due to take place on 6 February 2019 at Place Vauban. A trio of modern Bugatti cars – including an EB110 SS, Veyron, and Chiron – will return home for auction on French soil, while sought-after and ultra-rare Ferrari listings extend to an F40 LM and F50.
An extremely rare 1987 Ferrari F40 LM leads the Italian marque entries. Upon entering production, the Ferrari F40 was already the fastest road car of its time, but the 'Le Mans' version took the model to new extremes – affording the car more aggressive bodywork, more extreme front and rear wings, larger disc brakes and calipers, revised suspension, a race-spec gearbox and a stripped-out interior with a futuristic digital dashboard. Chassis no. 74045 was originally used as a prototype car while the F40 was designed. The car was then converted to LM specification by Michelotto in 1992, and acquired by Michel Ferté in 1994, who finished 12th in the car at the 1995 24 Hours of Le Mans. A year later, the car was upgraded with a wider rear wing and has enjoyed further racing success in the BPR Global GT Series. It now comes to RM Sotheby's Paris sale as the most successful F40 LM, wearing its Le Mans livery of striking French Blue with Pilot sponsoring (Est. €4.500.000 – €5.500.000).
| | |
| --- | --- |
| | |
Another Ferrari modern classic set to excite bidders in Paris is a Classiche-certified 1996 Ferrari F50. Offered for sale with the rarely seen original trunk bag, the red Italian sports car is number 102 of only 349 ever made. This F50 was delivered new to a customer in France and is accompanied by its original luggage, flight case, hardtop and other accessories. Very few cars, either before or since the F50, offer such a compelling combination of thoroughbred performance and engineering pedigree, not to mention scarcity; and it is rare that such a fine example is offered for sale (Est. €1.700.000 – €1.900.000).
Augustin Sabatié-Garat, Auction Manager, RM Sotheby's Europe, said: "These latest additions to the Paris auction add five iconic supercars from two of the hobby's greatest marques to the catalogue. Individually, the F40 LM is a car so rare that we've only had the pleasure of offering one other example at auction in RM Sotheby's history; and this particular car is surely the most successful, having finished 12th overall at Le Mans. The three Bugatti models are all the ultimate supercars of their generation, in that they were unrivalled while in production. In many respects, they remain unrivalled today as collectable cars that are highly prized in the market place."
The three headline Bugatti entries underline a strong supercar and high-performance theme for the French sale. The 1994 Bugatti EB110 SS is the ultimate iteration of the EB110, the best of French and Italian engineering. The 'Super Sport' – lighter and more powerful than the standard version – was introduced in 1992, one year after the base model was first unleashed on public roads. Just 38 sports-enhanced models were ever made, while this example must be one of the lowest-mileage examples with a mere 907km from new. Powered by a 3.5-liter quad-turbocharged V12 engine rated at 592bhp, official figures for the EB110 SS recorded a top speed of 216mph (348km/h) and a 0-62mph (0-100km/h) time of 3.2 seconds (Est. €1.300.000 – €1.800.000).
Adding to the Bugatti presence in Paris, a 2014 Veyron 16.4 Grand Sport Vitesse is also set to fall under the gavel. Finished in the unique two-tone Porsche Carrera White and Blue, the 8.0-liter quad-turbocharged V16-powered Veyron on offer is one of 92 Grand Sport Vitesse models built and has covered just 2,750km from new (Est. €1.575.000 – €1.800.000). The trio of Bugatti supercars in Paris is completed by a 2017 Chiron, delivered new to Bugatti Dusseldorf, finished in two-tone Nocturne and Bugatti Light Blue over Beluga Black and Bugatti Light Blue, and having covered less than 1,800km. The Chiron is also powered by an 8.0-liter quad-turbocharged V16 engine, allowing it to accelerate from 0-60mph (0-97km/h) in just 2.4 seconds. While standard Chiron models are still on sale today, production is limited to 500, making this almost-new Chiron an attractive alternative as it is ready to purchase at auction (Est. €2.360.000 – €2.750.000).
| | |
| --- | --- |
| | |
Coinciding with the world-famous Rétromobile week (6-10 February 2019), RM Sotheby's Paris auction will present approximately 80 motor cars and a selection of automobilia at the historic Place Vauban on 6 February, immediately following the Festival Automobile International (31 January – 3 February). This exciting event features a stunning display of beautiful concept cars and pays tribute to car designers from around the world. For further information on Festival Automobile International, please visit www.festivalautomobile.com.
For further information on RM Sotheby's Paris auction or to view a frequently updated list of entries, please visit rmsothebys.com or call +44 (0) 20 7851 7070 to speak with a car specialist.
FOR MORE NEWS FROM RM SOTHEBY'S: #RMSothebys #RMParis
Visit: rmsothebys.com
Follow: www.instagram.com/rmsothebys | www.twitter.com/rmsothebys
Join: www.facebook.com/rmsothebys
Watch: www.youtube.com/rmauctionsinc
About RM Sotheby's
RM Sotheby's is the world's largest auction house for investment-quality automobiles. With more than 35 years' experience in the collector car industry, RM's vertically integrated range of services, from private sales and auctions (including both RM Sotheby's and RM Auctions events) to estate planning and financial services, coupled with an expert team of car specialists and an international footprint, provide an unsurpassed level of service to the global collector car market. In February 2015, RM formed a strategic partnership with Sotheby's, uniting the two companies for the full calendar of future automobile auctions. For further information, visit rmsothebys.com.
Source: RM Sotheby's
####