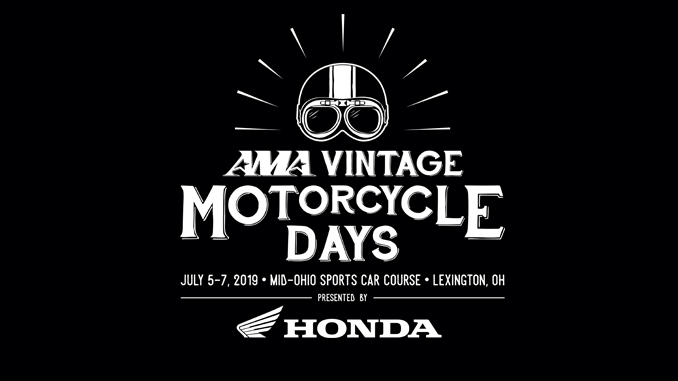 Celebrating the 50th Anniversary of the legendary Honda CB750
PICKERINGTON, OH – October 5, 2018 – (Motor Sports Newswire) – The American Motorcyclist Association welcomes Honda Motorcycles as the sponsor and featured marque of AMA Vintage Motorcycle Days, presented by Honda Motorcycles, America's grandest celebration of vintage motorcycles and the people who love them. The event is July 5-7, 2019, at Mid-Ohio Sports Car Course in Lexington, Ohio.
"The staff at American Honda is very excited to be sponsoring AMA Vintage Motorcycle Days," said Manager of Experiential Marketing Keith Dowdle. "As a member organization, the AMA stands proud as the representative for those of us who love motorcycles, and AMA Vintage Motorcycle Days brings together generations of people and motorcycles that reflect the true passion of our customers and the brands that they love."
In addition to celebrating the 50th anniversary of the groundbreaking CB750, which Honda introduced in 1969, AMA Vintage Motorcycle Days will acknowledge the 60th anniversary of American Honda Motor Co. Inc. The North American subsidiary of Honda Motor Co. was founded in 1959.
"What does a multi-national corporation do when it's taking the world by storm with small bore, functional two wheelers, like the Honda Cub, the Dream and the CB450?" asked AMA President and CEO Rob Dingman. "If you're Honda, you go in an entirely different direction and invent the original superbike — the CB750 — and you change motorcycling forever. That ingenuity and influence has driven innovation across the American motorcycle landscape for generations, and we're excited to honor it all at the 2019 AMA Vintage Motorcycle Days, presented by Honda Motorcycles."
Mid-Ohio Sports Car Course President Craig Rust encouraged everyone to come out and celebrate the holiday at the track.
"AMA Vintage Motorcycle Days at Mid-Ohio is a great family fun event, and with it being held over the Fourth of July weekend in 2019, that only makes this summer tradition more special," said President of Mid-Ohio Sports Car Course Craig Rust. "We are thrilled to see Honda come on board for next year's event and encourage all motorcycle enthusiasts to come out and join us for this wonderful celebration of motorcycling."
AMA members can purchase discounted tickets now at www.amavintagemotorcycledays.com. All camping and RV passes, as well as non-AMA member ticket sales, will be available at www.mid-ohio.com in December.
The Grand Marshal honoree, an AMA Motorcycle Hall of Famer who has played a significant role in Honda's history in America, will be announced soon.
AMA Vintage Motorcycle Days, presented by Honda Motorcycles, welcomes riders and racers of all brands to Mid-Ohio Sports Car Course for the annual event. All activity at the event will financially support the American Motorcycle Heritage Foundation, the 501(c)(3) that raises money for the AMA Motorcycle Hall of Fame.
AMA Vintage Motorcycle Days, presented by Honda Motorcycles, will feature vintage competition in road racing, motocross, hare scrambles and trials at Mid-Ohio and flat track racing at the nearby Ashland County Fairgrounds. Riders in these disciplines are racing for national championships or national championship series points. In addition, there will be exhibition pit bike races and dirt drags.
The event will include vendors from all areas of motorcycling, selling gear and services for motorcycles old and new. Past vendors have included vintage and modern gear sellers, painters and pinstripers, parts and tools dealers, community garages and much more.
There will be a drawing for a vintage raffle bike that raises additional funds for the AMA Motorcycle Hall of Fame. In 2019, the winning ticket will be drawn for a 1951 Harley-Davidson Panhead.
Motorcycling experts will speak on numerous topics at AMA Vintage Motorcycle Days, presented by Honda Motorcycles, including motorcycle restoration and travel. Speakers often include AMA Motorcycle Hall of Famers — true legends of the sport.
The AMA Motorcycle Hall of Fame Bike Show recognizes exceptional examples of motorcycles from all eras and countries of origin. Bike owners are encouraged to bring out their best original and restored machines for fans to appreciate.
AMA Vintage Motorcycle Days, presented by Honda Motorcycles, will also include North America's largest motorcycle swap meet, with more than 700 spaces of vintage motorcycles, parts, gear and memorabilia.
In addition, demo fleets will be on hand for riders to experience some of the best modern motorcycles available to purchase today.
Much more takes place at AMA Vintage Motorcycle Days for photos, video and articles from past events, see www.amavintagemotorcycledays.com.
About the American Motorcyclist Association
Founded in 1924, the AMA is a not-for-profit member-based association whose mission is to promote the motorcycle lifestyle and protect the future of motorcycling. As the world's largest motorcycling rights and event sanctioning organization, the AMA advocates for riders' interests at all levels of government and sanctions thousands of competition and recreational events every year. The AMA also provides money-saving discounts on products and services for its members. Through the AMA Motorcycle Hall of Fame in Pickerington, Ohio, the AMA honors the heroes and heritage of motorcycling. For more information, visit www.americanmotorcyclist.com.
Not a member? Join the AMA today.
Source: American Motorcyclist Association
####