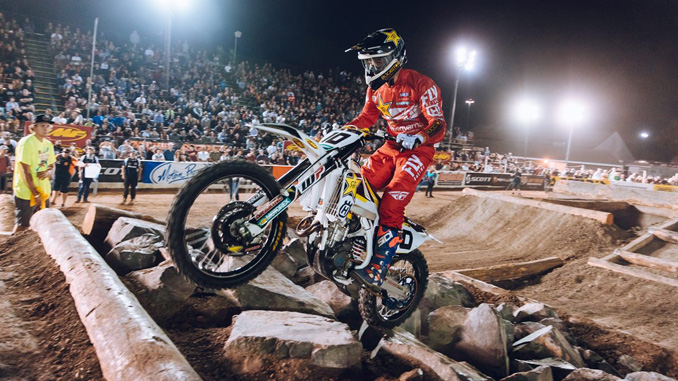 Haaker Claims the Win and an Extra Championship Point in a Dominating Ride
COSTA MESA, CA – September 17, 2018 – (Motor Sports Newswire) – Rockstar Energy Husqvarna Factory Racing Off Road's Colton Haaker domionated the Costa Mesa EnduroCross, the second round of the series, held in Costa Mesa, Calif. on Saturday. After winning his heat, he climbed his way to the top of the bracket races to take the extra championship point. He then carried the momentum into the Super EnduroCross Main where he put on a heroic come-from-behind ride and defeated the competiton to take home his first win of the season.
Haaker quickly went from fourth to first at the start of the second heat and pulled away, then held strong to take the win. He pulled a massive holeshot in his first bracket race to take the win, earned another victory in his second bracket race, and then lined up for the final bracket in the hopes to earn the important extra championship point. He took the early lead in the final bracket and held his ground to take the extra point. He was second at the start of the Super EnduroCross Main, but then went down shortly after the start which put him at the back of the pack. He put on a heroic ride and made his way back through the field and was one bike length behind the leader by lap seven. He went to battle and made an impressive pass for the lead right after the finish line the following lap, then pulled a gap and held strong to take the win.
"Costa Mesa was awesome this weekend," said Haaker. "I couldn't have asked for a better crowd or result! With a pretty flowy track, I was able to be aggressive and charge the whole race to get my first win of the season! I'm excited for Reno next weekend and I hope to keep the momentum rolling! Thanks to the whole team for the support!"
Next Event: September 22 – Reno EnduroCross – Reno, NV
Costa Mesa EnduroCross Results
Super EnduroCross
Colton Haaker – Rockstar Energy Husqvarna Factory Racing Off Road
Trystan Hart
Cody Webb
Ty Tremaine
Cristobal Guerrero
Benjamin Herrera
Geoff Aaron
Kyle Redmond
Cooper Abbott
Ty Cullins
Super EnduroCross Series Points Standings
Colton Haaker – Rockstar Energy Husqvarna Factory Racing Off Road – 51 points
Cody Webb – 47 points
Trystan Hart – 42 points
Ty Tremaine – 32 points
Kyle Redmond – 31 points
Geoff Aaron – 29 points
Ty Cullins – 27 points
Benjamin Herrera – 25 points
Cooper Abbott – 24 points
Noah Kepple – 21 points
Husqvarna Motorcycles. Tradition on two wheels since 1903.
Husqvarna Motorcycles are widely known and respected in the off-road world for a heritage of competition and numerous motocross and enduro world championships. Originally founded in Sweden in 1903, Husqvarna Motorcycles have been designed and manufactured in Mattighofen, Austria since 2013.
Rockstar Energy Drink
Rockstar Energy Drink is designed for those who lead active lifestyles – from Athletes to Rockstars. Available in over 20 flavors at convenience and grocery outlets in over 30 countries, Rockstar supports the Rockstar lifestyle across the globe through Action Sports, Motor Sports, and Live Music. For more information visit: www.RockstarEnergy.com
Source: Husqvarna Motorcycles GmbH
####