C. Force aims for fourth No. 1 qualifying position in five races and ninth overall in 2018
Pritchett had No. 1 qualifying position at most recent event in Epping
Anderson seeks ninth No. 1 qualifier of the season
Points leader Krawiec in position for first No. 1 qualifying spot of the season
MORRISON, CO – July 21, 2018 – (Motor Sports Newswire) –  Courtney Force is the current No. 1 Funny Car qualifier at the Dodge Mile-High NHRA Nationals, the first of three consecutive races of the daunting NHRA Western Swing.
Leah Pritchett (Top Fuel), Greg Anderson (Pro Stock), and Eddie Krawiec (Pro Stock Motorcycle) are also preliminary No. 1 qualifiers in their respective categories at Bandimere Speedway, the 14th of 24 events on the 2018 NHRA Mello Yello Drag Racing Series schedule.
Force posted a 3.966-second run at 322.73 mph during the second qualifying session in her Advance Auto Parts Chevy Camaro to take the preliminary top position. She is the current Funny Car points leader, as she seeks her fourth No. 1 qualifier in five races and ninth overall in 2018.
"To come out here to Denver and kick off the Western Swing it feels great to be able to have so far two solid passes down the race track and pick up six bonus points," said Force. "It feels good to be able to pick up a few more points and be in the No. 1 spot."
She and her teammate Robert Hight were the only two Funny Cars to dip below four seconds with his run of 3.986 at 321.58 to currently be in the second position, while her father and team owner John Force is third at 4.007 at 322.27.
In Top Fuel, Pritchett raced to the current No. 1 qualifying position with a run of 3.806 at 317.19 during the final qualifying session on Friday in her Mopar Dodge 1320 dragster. Pritchett has two No. 1 qualifying positions this season with her most recent coming at the previous event in Epping, N.H.
"We were able to run late in the night and the crew made last minute changes and that is what we saw on the track," said Pritchett. "They went for it, that is what this team is about and what I love about Todd (Okuhara, crew chief) and Joe (Barlam, crew chief), when it is time they can put it down and aren't afraid. That is the vibe of our team."
Anderson currently leads the Pro Stock class with his run of 6.933 at 197.19 during the first qualifying session during the day. Anderson, in his Summit Racing Equipment Chevrolet Camaro, posted the category leading pass during the first qualifying session of the day. The four-time world champion is chasing his ninth No. 1 qualifying spot of season and the 102nd of his career.
"It is the best I've run here on a Friday in 15 years," said Anderson. "Every year we come here and you start off behind the eight ball and it takes until Sunday to get a tune-up that is close then you have to find a way to win rounds on Sunday. We are way ahead of the schedule this weekend of what we normally do here and that is a great feeling."
Deric Kramer, the winner of the event in Topeka, qualified second with a run of 6.993 at 197.19 and points leader Erica Enders is sixth at 6.950 at 196.96.
Krawiec is atop the Pro Stock Motorcycle category with his track record setting elapsed time pass of 7.132 at 186.56 on his Screamin' Eagle Vance & Hines Harley-Davidson. Krawiec is the current category points leader with three wins but has yet to record a No. 1 qualifying position this season.
"It came out of the box and went a 13 with a two and it was a good clean run," said Krawiec. "I there was a hundredth or two left in it on that run because I was fighting down the track and this place is very sensitive to changes."
Qualifying continues at 5:15 p.m. on Saturday at Bandimere Speedway.
MORRISON, CO– Friday's results after the first two of four rounds of qualifying for the 39th annual Dodge Mile-High NHRA Nationals at Bandimere Speedway, 14th of 24 events in the NHRA Mello Yello Drag Racing Series. Qualifying will continue Saturday for Sunday's final eliminations.
Top Fuel — 1. Leah Pritchett, 3.806 seconds, 317.19 mph; 2. Steve Torrence, 3.813, 325.45; 3. Clay Millican, 3.814, 326.71; 4. Mike Salinas, 3.865, 272.12; 5. Scott Palmer, 3.907, 280.66; 6. Blake Alexander, 3.912, 300.60; 7. Brittany Force, 3.964, 254.42; 8. Tony Schumacher, 4.036, 299.40; 9. Antron Brown, 4.081, 248.07; 10. Greg Carrillo, 4.239, 287.47; 11. Jim Maroney, 4.295, 261.88; 12. Terry Totten, 4.449, 216.13; 13. Doug Kalitta, 4.706, 173.65; 14. Richie Crampton, 4.739, 167.09; 15. Terry McMillen, 9.166, 80.24.
Funny Car — 1. Courtney Force, Chevy Camaro, 3.966, 322.73; 2. Robert Hight, Camaro, 3.986, 321.58; 3. John Force, Camaro, 4.007, 322.27; 4. Ron Capps, Dodge Charger, 4.007, 320.81; 5. Tommy Johnson Jr., Charger, 4.031, 305.29; 6. Shawn Langdon, Toyota Camry, 4.048, 315.34; 7. J.R. Todd, Camry, 4.083, 305.01; 8. Bob Tasca III, Ford Mustang, 4.140, 299.40; 9. Jonnie Lindberg, Mustang, 4.197, 302.08; 10. Jack Beckman, Charger, 4.217, 294.56; 11. Jeff Diehl, Camry, 4.287, 272.50; 12. Cruz Pedregon, Camry, 4.457, 195.85; 13. Todd Simpson, Charger, 4.462, 270.81; 14. Terry Haddock, Toyota Solara, 4.583, 240.38; 15. Matt Hagan, Charger, 4.933, 161.48; 16. Tim Wilkerson, Mustang, 4.952, 161.27. Not Qualified: 17. Jim Campbell, 6.431, 88.11.
Pro Stock — 1. Greg Anderson, Chevy Camaro, 6.933, 197.19; 2. Deric Kramer, Camaro, 6.935, 197.68; 3. Alex Laughlin, Camaro, 6.937, 196.90; 4. Jason Line, Camaro, 6.940, 198.12; 5. Drew Skillman, Camaro, 6.942, 197.57; 6. Erica Enders, Camaro, 6.950, 196.96; 7. Chris McGaha, Camaro, 6.959, 196.62; 8. Jeg Coughlin, Camaro, 6.962, 197.16; 9. Tanner Gray, Camaro, 6.965, 196.96; 10. Vincent Nobile, Camaro, 6.965, 196.85; 11. Fernando Cuadra, Camaro, 6.971, 196.93; 12. Bo Butner, Camaro, 6.983, 196.82; 13. Matt Hartford, Camaro, 6.987, 196.99; 14. Will Hatcher, Dodge Dart, 7.167, 191.40; 15. Joey Grose, Camaro, 10.066, 94.07.
Pro Stock Motorcycle — 1. Eddie Krawiec, Harley-Davidson, 7.132, 186.56; 2. Andrew Hines, Harley-Davidson, 7.146, 188.04; 3. Hector Arana Jr, Buell, 7.155, 188.23; 4. Matt Smith, Victory, 7.158, 185.54; 5. Hector Arana, Buell, 7.207, 185.77; 6. Scotty Pollacheck, Suzuki, 7.220, 182.43; 7. LE Tonglet, Suzuki, 7.230, 184.95; 8. Steve Johnson, Suzuki, 7.234, 185.61; 9. Angie Smith, Buell, 7.243, 181.69; 10. Angelle Sampey, Buell, 7.253, 185.46; 11. Jerry Savoie, Suzuki, 7.259, 183.05; 12. Jim Underdahl, Suzuki, 7.266, 182.45; 13. Joey Gladstone, Suzuki, 7.288, 182.45; 14. Ryan Oehler, Buell, 7.309, 183.57; 15. Karen Stoffer, Suzuki, 7.393, 178.92; 16. Cory Reed, Buell, 7.417, 182.23. Not Qualified: 17. Kelly Clontz, 7.555, 180.69.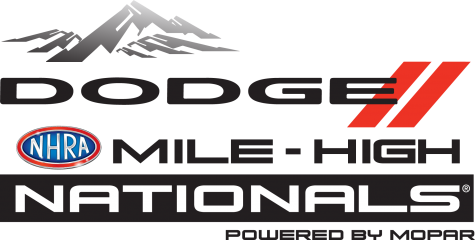 To purchase general-admission or reserved seats, call 800-664-UWIN (8946) or 303-697-6001. Tickets also are available online at www.bandimere.com. Kids 12 and under are free in general admission areas with a paid adult. To honor the Salute to First Responders, military and first responders can save 20 percent on general admission tickets at the gate. For more information about the NHRA visit www.NHRA.com.
About NHRA
Headquartered in Glendora, Calif., NHRA is the primary sanctioning body for the sport of drag racing in the United States. NHRA presents 24 national events featuring the NHRA Mello Yello Drag Racing Series, NHRA Lucas Oil Drag Racing Series, and E3 Spark Plugs NHRA Pro Mod Drag Racing Series presented by J&A Service. NHRA provides competition opportunities for drivers of all levels in the NHRA Summit Racing Series and the NHRA Drags: Street Legal Style presented by AAA. NHRA also offers NHRA Jr. Street program for teens and the Summit Racing Jr. Drag Racing League for youth ages 5 to 17. In addition, NHRA owns and operates four racing facilities: Atlanta Dragway in Georgia; Gainesville Raceway in Florida; Lucas Oil Raceway at Indianapolis; and Auto Club Raceway at Pomona in Southern California. For more information, log on to NHRA.com, or visit the official NHRA pages on Facebook, YouTube and Twitter.
Source: National Hot Rod Association
####