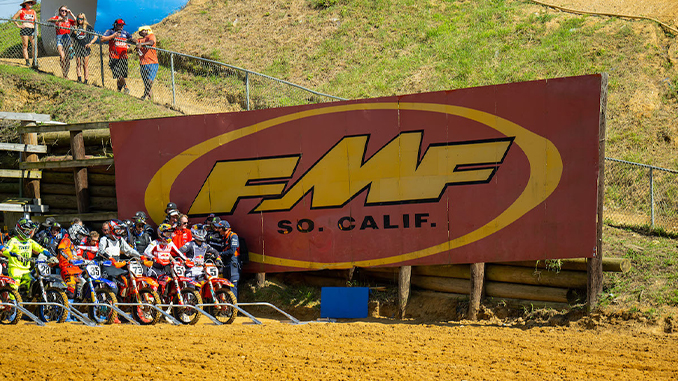 Aftermarket Exhaust Pioneer Extends Deep Legacy
in Support of American Motocross
MORGANTOWN, WV – May 4, 2023 – (Motor Sports NewsWire) – With the countdown to the start of the 2023 Pro Motocross Championship, sanctioned by AMA Pro Racing, well underway MX Sports Pro Racing has announced the return of FMF Racing as the "Official Exhaust" of American motocross. As one of the longest supporters of this storied championship, the Southern California-based manufacturer of high-performance exhaust systems will fittingly celebrate its 50 years of business and the "Power of Fun" throughout the summer, paying homage to the indelible and pioneering legacy of one of the sport's most iconic brands.
"It's no coincidence that the beginnings of FMF Racing coincide with the infancy of the Pro Motocross Championship, as both now boast a half century of showcasing the absolute best of what American motocross has to offer," said Davey Coombs, President, MX Sports Pro Racing. "The sport blossomed out of the booming Southern California racing scene, fostering motocross' first domestic superstars and one of its most influential brands in FMF. As this championship has continued to grow, so has the passion-driven business started by Don Emler Sr. in 1973, who together have become standard bearers for success. FMF's roots in support of Pro Motocross span almost as long as the company itself, which has made the brand synonymous with this prestigious championship."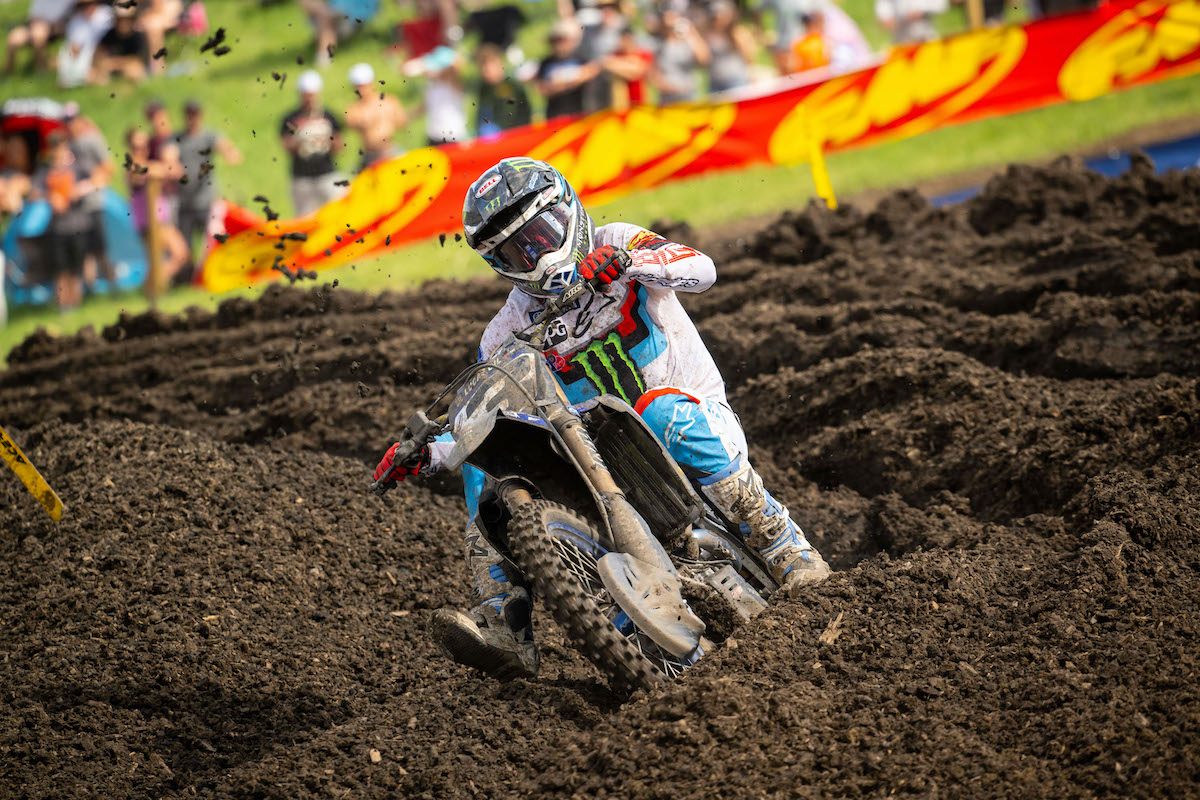 Defending 450 Class Champion Eli Tomac and the entire
Monster Energy Yamaha Star Racing team utilize FMF Racing exhausts.
Photo: Align Media
FMF, an acronym for Flying Machine Factory, was born out of obsession by founder Don Emler in 1973, who was in search of ways to go faster and, in turn, having more fun. A tinkerer by nature, Emler was fond of mechanical things and set forth discovering ways to make dirt bikes fly. His curiosity and devotion led to the first high-performance aftermarket exhaust systems used by the sport's fastest riders and has continued to grow throughout the past five decades, making FMF an industry powerhouse and a household name amongst motocross enthusiasts.
"Throughout our 50 years of existence one thing that has remained constant is a commitment to having fun. We come to work every day with the goal to make riding dirt bikes fun for everybody, from the weekend warrior to the factory racer. The sound, feeling, and even the smell associated with twisting the throttle is something that can't be replicated," said Donny Emler Jr., FMF Racing Marketing/Apparel Director. "Our journey as a business has been one heck of an adventure and we're proud to remain family owned and operated with genuine 'American Made' products. Our partnership with Pro Motocross spans 30 years and we cannot think of a better way to celebrate this milestone year for FMF Racing than to be at the races alongside our fellow motoheads all summer long."
One of the cornerstone elements of FMF's continued support of the Pro Motocross Championship has been its commitment to shining the spotlight on privateer racers, who serve as the lifeblood of the sport. The "FMF Privateer Power Award" highlights the underdog racer from each round of the season that defied the odds to compete alongside the sport's most high-profile names and grab the attention of the industry with a memorable performance. That tradition will continue for the 2023 season, bringing well-deserved recognition to the athletes whose passion and commitment embodies the fabric that FMF Racing was founded on.
The FMF Privateer Power Award celebrates the underdog racers
who defy the odds at each round of the Pro Motocross Championship.
Photo: Align Media
The 2023 AMA Pro Motocross Championship, presented by AMA Pro Racing, will commence on Saturday, May 27, from Southern California's Fox Raceway. The 11-round campaign will travel to 10 different states, with visits to iconic venues like Hangtown, Thunder Valley Motocross Park, High Point Raceway, RedBud MX, The Wick 338, Spring Creek MX Park, Washougal MX Park, Unadilla MX, Budds Creek Motocross Park, and Ironman Raceway.
---
For information about the AMA Pro Motocross Championship, please visit ProMotocross.com and be sure to follow all of the Pro Motocross social media channels for exclusive content and additional information on the latest news:
Available for download for both Apple and Android devices is the official Pro Motocross App. Fans of American motocross can have access to the world's most prestigious off-road motorcycle racing series right at their fingertips on their mobile devices. Developed by AMA Pro Racing, the Pro Motocross App provides users with the most important information surrounding the AMA Pro Motocross Championship, from series news to schedule and ticket information, as well as broadcast schedule details and live timing & scoring. Download it now via the App Store or Google Play.
---
MX Sports Pro Racing
MX Sports Pro Racing manages and produces the world's premier motocross racing series – the Pro Motocross Championship, sanctioned by AMA Pro Racing. MX Sports Pro Racing is an industry leader in off-road powersport event production and management, its mission is to showcase the sport of professional motocross competition at events throughout the United States. Through its various racing properties, partnerships and affiliates, MX Sports Pro Racing organizes events for thousands of action sports athletes each year and attracts millions of motorsports spectators.
Visit www.mxsportsproracing.com for more information.
AMA Pro Motocross Championship
The AMA Pro Motocross Championship features the world's fastest outdoor motocross racers, competing aboard homologated bikes from one of seven competing manufacturers on a collection of the roughest, toughest tracks on the planet. Racing takes place each Saturday afternoon, with competition divided into two classes: one for 250cc machines, and one for 450cc machines. MX Sports Pro Racing, the industry leader in off-road powersports event production, manages the AMA Pro Motocross Championship, while sanctioning comes from AMA Pro Racing.
More information can be found at www.ProMotocross.com.
SuperMotocross World Championship
The SuperMotocross World Championship™ is the premier off-road motorcycle racing series that combines the technical precision of stadium racing with the all-out speed and endurance of outdoor racing. Created in 2022, the SuperMotocross World Championship combines the Monster Energy AMA Supercross Championship and the AMA Pro Motocross Championship into a 31-event series that culminates in a season-ending two round playoff and SuperMotocross World Championship Final.
Visit SuperMotocross.com for more information.
AMA Pro Racing
AMA Pro Racing is the premier professional motorcycle racing organization North America, operating a full schedule of events and championships for a variety of motorcycle disciplines.
Learn more about AMA Pro Racing at www.amaproracing.com.
NBC Sports
NBC Sports connects people to the moments that matter most and serves sports fans 24/7 with premier live events, insightful studio shows, and compelling original programming. The sports media company presents premier content across linear platforms NBC, USA Network, Golf Channel, as well numerous digital sites, including Peacock. It also consists of NBC Sports Next, a subdivision of NBC Sports and home to all NBCUniversal digital applications in sports and technology within its three groups: Youth & Recreational Sports, Golf, and Betting & Gaming. NBC Sports possesses an unparalleled collection of media rights agreements, partnering with some of the most prestigious sports properties in the world: the International Olympic Committee and United States Olympic and Paralympic Committee, the NFL, Big Ten Conference, NASCAR. INDYCAR. PGA TOUR. Notre Dame The R&A, PGA of America, USGA, Churchill Downs, Premier League, MLB, Tour de France. Roland-Garros, and many more.
Peacock
Peacock's expansive programming features live sports coverage including Sunday Night Football, Premier League, MLB Sunday Leadoff, NASCAR, INDYCAR, Notre Dame Football, golf, Olympic sports, horse racing, and much more. Peacock also offers daily sports programming on the NBC Sports channel which streams Peacock Original Brother from Another and staples like The Dan Patrick Show and Pro Football Talk Live.
Source: MX Sports Pro Racing, Inc.
####