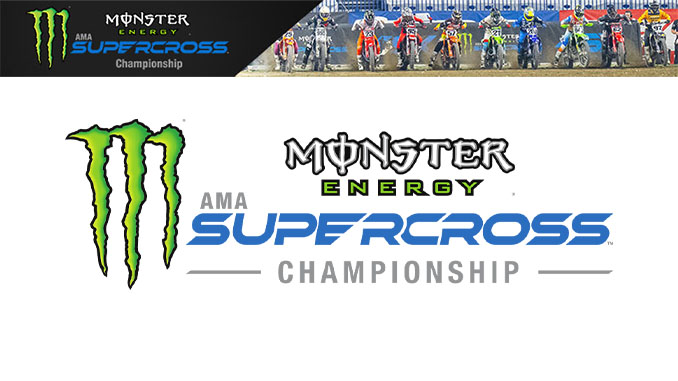 Tune into the TODAY Show live on Saturday morning from 7 – 9 a.m. ET on NBC to see Ken Roczen and Supercross featured
STAMFORD, CT – April 28, 2023 – (Motor Sports NewsWire) – Nissan Stadium in Nashville, Tenn., hosts Round 15 of the 2023 Monster Energy Supercross season and SuperMotocross World Championship series this Saturday live at 3 p.m. ET on NBC and Peacock.
Justin Barcia won his first 450SX Class Main Event of the 2023 season with a victory at MetLife Stadium last weekend. Eli Tomac remains atop the points standings (315 pts) trailed narrowly by Cooper Webb (304 pts) and Chase Sexton(294 pts). Eastern Regional 250SX Class points leader Hunter Lawrence has a chance to clinch his first career AMA Supercross title in Nashville following his second-place finish last weekend in the season's first of two Dave Coombs Sr. East/West Showdown races.
Race Day Live qualifying coverage on Saturday from Nashville gets underway at 9:30 a.m. ET exclusively on Peacock. All live Supercross coverage, including races, heats, and qualifying, plus on-demand replays, will be available on Peacock this season. Click here for more details.
NBC Sports' Supercross commentary team of Todd Harris (play-by-play), 15-time AMA champion Ricky Carmichael (analyst), seven-time AMA champion James Stewart (analyst), Daniel Blair (reporter), and Will Christien (reporter) will call the race. Eight-time AMA champion Jeremy McGrath is scheduled to join Carmichael and Stewart to discuss the current Supercross season and SuperMotocross World Championship series during the race.
NBC Sports' Supercross analyst Ricky Carmichael, a 15-time AMA champion, and nine-time AMA champion Ryan Villopoto chat with Justin Barcia about his victory last week and look ahead to Round 15 in Nashville on the latest episode of the Title 24 podcast here. Carmichael and Villopoto will discuss the latest news from around the SuperMotocross World Championship series every Tuesday throughout the 2023 season. The Title 24 podcast is available to watch on the NBC Sports Motorsports YouTube channel, Peacock and for download on all major podcast platforms, including NBCSports.com/podcasts, Apple Podcasts, Stitcher, Amazon Music, Spotify, Google Podcasts, and iHeart.
A record 31-race SuperMotocross World Championship schedule, inclusive of Supercross and Pro Motocross, will be presented across Peacock, NBC, CNBC, USA Network, and NBC Sports digital platforms in 2023, culminating with two SuperMotocross World Championship Playoff events and the SuperMotocross World Championship Final fueled by Monster Energy. The complete schedule can be found here.
BROADCAST TEAM
Play by Play: Todd Harris
Analysts: Ricky Carmichael, James Stewart
Reporters: Daniel Blair, Will Christien
HOW TO WATCH
TV – NBC, CNBC
Streaming – Peacock, NBCSports.com, NBC Sports app
– NBC SPORTS –
---
Media Contacts:
Sean Brennen
Feld Motor Sports – Senior PR Manager – Supercross
sbrennen@feldinc.com
About Feld Motor Sports:
Feld Motor Sports, Inc. is the worldwide leader in producing and presenting specialized arena and stadium-based motorsports entertainment. Properties include Monster Jam®, Monster Energy AMA Supercross, and the SuperMotocross World Championship. Feld Motor Sports, Inc. is a subsidiary of Feld Entertainment, Inc. Visit monsterjam.com, SupercrossLIVE.com, and feldentertainment.com for more information.
About Monster Energy AMA Supercross Championship:
Monster Energy AMA Supercross is the most competitive and highest-profile off-road motorcycle racing championship on the planet. Founded in America and sanctioned by the American Motorcyclist Association (AMA) since 1974. Over 17 weeks, Supercross attracts some of the largest and most impressive crowds inside the most recognizable and prestigious stadiums in North America to race in front of nearly one million live fans and broadcast to millions more worldwide. For more information, visit SupercrossLIVE.com.
About the SuperMotocross World Championship:
The SuperMotocross World Championship™ is the premier off-road motorcycle racing series that combines the technical precision of stadium racing with the all-out speed and endurance of outdoor racing. Created in 2022, the SuperMotocross World Championship combines the Monster Energy AMA Supercross Championship and the AMA Pro Motocross Championship into a 31-event series that culminates in a season-ending two round playoff and SuperMotocross World Championship Final. Visit SuperMotocross.com for more information.
About the American Motorcyclist Association:
Founded in 1924, the AMA is a not-for-profit member-based association whose mission is to promote the motorcycle lifestyle and protect the future of motorcycling. As the world's largest motorcycling rights and event sanctioning organization, the AMA advocates for riders' interests at all levels of government and sanctions thousands of competition and recreational events every year. The AMA also provides money-saving discounts on products and services for its members. Through the AMA Motorcycle Hall of Fame in Pickerington, Ohio, the AMA honors the heroes and heritage of motorcycling. For more information, visit americanmotorcyclist.com.
About NBC Sports:
NBC Sports connects people to the moments that matter most and serves sports fans 24/7 with premier live events, insightful studio shows, and compelling original programming. The sports media company presents premier content across linear platforms NBC, USA Network, Golf Channel, as well numerous digital sites, including Peacock. It also consists of NBC Sports Next, a subdivision of NBC Sports and home to all NBCUniversal digital applications in sports and technology within its three groups: Youth & Recreational Sports, Golf, and Betting & Gaming. NBC Sports possesses an unparalleled collection of media rights agreements, partnering with some of the most prestigious sports properties in the world: the International Olympic Committee and United States Olympic and Paralympic Committee, the NFL, Big Ten Conference, NASCAR, INDYCAR, PGA TOUR, Notre Dame, The R&A, PGA of America, USGA, Churchill Downs, Premier League, MLB, Tour de France, Roland-Garros, and many more.
About Peacock:
Peacock's expansive programming features live sports coverage including Sunday Night Football, Premier League, MLB Sunday Leadoff, NASCAR, INDYCAR, Notre Dame Football, golf, Olympic sports, horse racing, and much more. Peacock also offers daily sports programming on the NBC Sports channel which streams Peacock Original Brother from Another and staples like The Dan Patrick Show and Pro Football Talk Live. Click here to learn more and to sign up.
Source: Feld Entertainment, Inc.
####