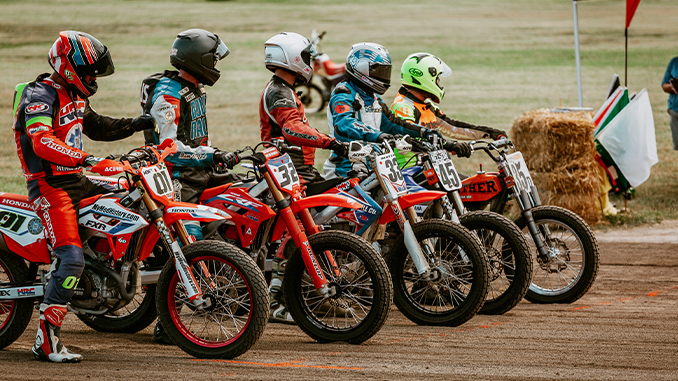 Seven-day racing event to run June 14-20 at Du Quoin State Fairgrounds
PICKERINGTON, OH – November 10, 2022 – (Motor Sports NewsWire) – The American Motorcyclist Association has announced the tentative racing schedule for the 2023 Mission Foods AMA Flat Track Grand Championship, which runs June 14-20, 2023, at the Du Quoin State Fairgrounds in Du Quoin, Ill.
Amateur TT racing will kick off the event Wednesday, June 14, with the weeklong schedule of competition concluding Tuesday, June 20, with Youth Short Track competition.
The AMA promotes and operates what's been for decades the most prestigious amateur flat track event in the country — and the only race in the United States where you can earn an AMA National No. 1 plate in amateur flat track racing. The annual event hosts different age groups and classes across four flat-track disciplines: Short Track, TT, Mile and Half-Mile.
"The AMA looks forward to hosting our flat-track racing members at this event, and we are excited to welcome Mission Foods back as our title sponsor for the second straight year," said AMA Track Racing Manager Ken Saillant. "The 2023 event is set to be better than ever, with a week of action-packed racing and outstanding performances from many promising riders."
Additionally, American Flat Track (AFT) is set to join the AMA at Du Quoin on Saturday, June 17, with a Grand National Mile event featuring the professional stars of the sport on Du Quoin's legendary "Magic Mile" — home to many famous races over the decades.
Following the weeklong event, multiple AMA National No. 1 plates will be awarded. The Nicky Hayden AMA Flat Track Horizon Award — given to the most promising amateur rider on the cusp of a professional career — will be announced along with the Vet/Senior Racer of the Year and Youth Racer of the Year awards.
Pre-registration for the event will begin soon, so stay tuned to AMA announcements on AmericanMotorcyclist.com and the AMA's social media channels for further information.
For more information on the 2023 Mission Foods AMA Flat Track Grand Championship, visit https://americanmotorcyclist.com/events-4/ama-flat-track-grand-championship/.
Event Schedule
Tuesday, June 13 – Rider Registration
Wednesday, June 14 – Amateur TT
Thursday, June 15 – Youth TT
Friday, June 16 – Amateur Mile
Saturday, June 17 – Youth Short Track, AFT Mile
Sunday, June 18 – Youth Half-Mile, Amateur Short Track
Monday, June 19 – Amateur Half-Mile
Tuesday, June 20 – Youth Short Track
*This schedule is subject to change
About the American Motorcyclist Association
Founded in 1924, the AMA is a not-for-profit member-based association whose mission is to promote the motorcycle lifestyle and protect the future of motorcycling. As the world's largest motorcycling rights and event sanctioning organization, the AMA advocates for riders' interests at all levels of government and sanctions thousands of competition and recreational events every year. Besides offering members money-saving discounts on products and services, the AMA also publishes American Motorcyclist, a recently revitalized and monthly full-color magazine (and digital version of same) that covers current events and motorcycle history with brilliant photography and compelling writing. American Motorcyclist is also North America's largest-circulation magazine. Through the AMA Motorcycle Hall of Fame in Pickerington, Ohio, the AMA honors the heroes and heritage of motorcycling. For more information, visit AmericanMotorcyclist.com.
Not a member? Join the AMA today: AmericanMotorcyclist.com.
Source: American Motorcyclist Association

####