BREA, CA – November 9, 2022 – (Motor Sports NewsWire) – For several decades Suzuki has produced innovative, well-performing, and reliable engines for a variety of motorcycles, and the fully new 776cc DOHC parallel-twin engine in the 2023 GSX-8S and V-STROM 800DE models continue this stellar reputation.
Choosing a parallel-twin configuration led to the creation of a new compact powerplant that permits design flexibility so Suzuki's designers can create ideal chassis geometry for a variety of motorcycle types. These goals were met with a narrow width, short length, and lightweight engine that can be positioned in the chassis for optimal handling and an ergonomically sound and comfortable riding position.
Suzuki's new parallel twin provides plenty of torque and peak power with smooth throttle response throughout its broad powerband. To avoid the deficiencies of other parallel-twin configurations this engine employs 270-degree crankshaft timing with the Suzuki patented, industry-exclusive Suzuki Cross Balancer to deliver a smooth, torque-rich experience. This innovative balancer design not only smooths operation but is key to each motorcycles' light weight and compact size, resulting in stable and nimble handling.
Suzuki's electronic throttle system helps the rider precisely control engine power that flows through the Suzuki Clutch Assist System (SCAS) and into the six-speed transmission fitted with a standard Bi-directional Quick Shifter. Riders may further tailor the engine's response using the Suzuki Intelligent Ride System (S.I.R.S.) which includes the Suzuki Drive Mode Selector (SDMS) and Suzuki Advanced Traction Control (SATC) systems.
| | |
| --- | --- |
| KEY STATS: | |
| Engine: | 776cc, 4-stroke, liquid-cooled, DOHC parallel-twin |
| Bore x Stroke: | 84.0 mm x 70 mm (3.3in. x 2.8in.) |
| Compression Ratio: | 12.8:1 |
| Fuel System: | Fuel Injected, 42mm throttle bodies x 2 |
| Starter: | Electric, Easy Start System – equipped |
| Lubrication: | Force-fed circulation, wet sump |
| Cooling: | Radiator, thermostatically controlled cooling fan. Liquid-cooled oil cooler |
Note: Actual fuel economy may differ with weather, road, conditions, rider behavior, and maintenance.
270-Degree Crankshaft Design
The 270-degree crankshaft configuration provides a similar power delivery as the 90-degree V-twins used in other Suzuki's, while producing a unique and exciting exhaust note. The spaced nature of the engine's power pulses enhances traction and makes for strong power output at low speeds, making the motorcycle easier to maneuver in slow traffic or through tight corners.
In addition, the 450 degrees of crank revolution between cylinder firings, (between 270° and 720° in the chart below), extends the time between power pulses, and provides the rear wheel the opportunity to regain traction. This is particularly beneficial when riding on a variety of road surfaces and conditions, making for a confidence-inspiring ride on a wide variety of motorcycles.
Suzuki Cross Balancer
Suzuki Cross Balancer
Suzuki Cross Balancer technology, patented by Suzuki and used here for the first time on a production motorcycle, helps create a compact, lightweight design that delivers smooth operation. This proprietary system positions its two balancers at 90° to the crankshaft, a first among production motorcycles.
This patented mechanism suppresses engine vibration making for smoother engine performance than parallel twins of the past were known for. This primary balancer design also helps realize a lightweight powerplant more compact from front to rear and reduces the need to heavy and complex engine mounting hardware.
Balancer No.1 cancels the primary vibration generated by the piston (reciprocating weight) of the first cylinder, while balancer No.2 cancels the primary vibration of the second cylinder. Adopting a 270-degree crankshaft angle cancels secondary vibration, contributing to even smoother engine operation. Furthermore, placing the two balancers at 90° to the crankshaft with each positioned equidistant from the crankshaft cancels primary couple vibration, further smoothing power delivery.
Pistons and Connecting Rods 
The engine's 84mm forged pistons were engineered using FEM (Finite Element Method) analysis to maximize strength and minimize weight. Conical machining inside the wrist pin holes transfers load and mitigates stress transferred to the crowns, enhancing engine durability.
The connecting rods also received thorough analysis to ensure a balance of weight and rigidity, to ensure stable connecting rod behavior during each power stroke.
Suzuki Composite Electrochemical Material (SCEM) Process 
The engine's cylinder bores are plated using Suzuki's Suzuki Composite Electrochemical Material (SCEM) process. Originally developed for racing and proven on racetracks around the world, the SCEM-plated cylinders provide better heat dissipation, reduced friction, and reduce piston ring wear, providing greater overall durability.
Ride-by-Wire Electronic Throttle Bodies 
Dual, linked 42mm electronic throttle bodies provide an authentic response and feel to the rider's throttle operation. The throttle bodies' Accelerator Position Sensor (APS) design is optimized, delivering the best balance of performance for both daily use and more aggressive riding.
High-Pressure Fuel Injectors 
The engine employs two ten-hole, long-nose, 49 PSI (343kpa) high-pressure-feed fuel injectors that maximize fuel atomization for better combustion efficiency and lower fuel consumption
Air Cleaner Box 
The 6.0L air cleaner box shape and intake pipe lengths were created using computer-aided design to help maximize peak power output plus strong torque production at low engine speed. Positioned under the seat, the air box size and shape contribute to the motorcycle's slim and compact chassis.
| | |
| --- | --- |
| Air Cleaner Box (Outside) | Air Cleaner Box (Inside) |
Using different-length tubes within the Air Cleaner Box allows for optimized airflow and helps maximize the engine's power delivery.
Air Cleaner Box Positioning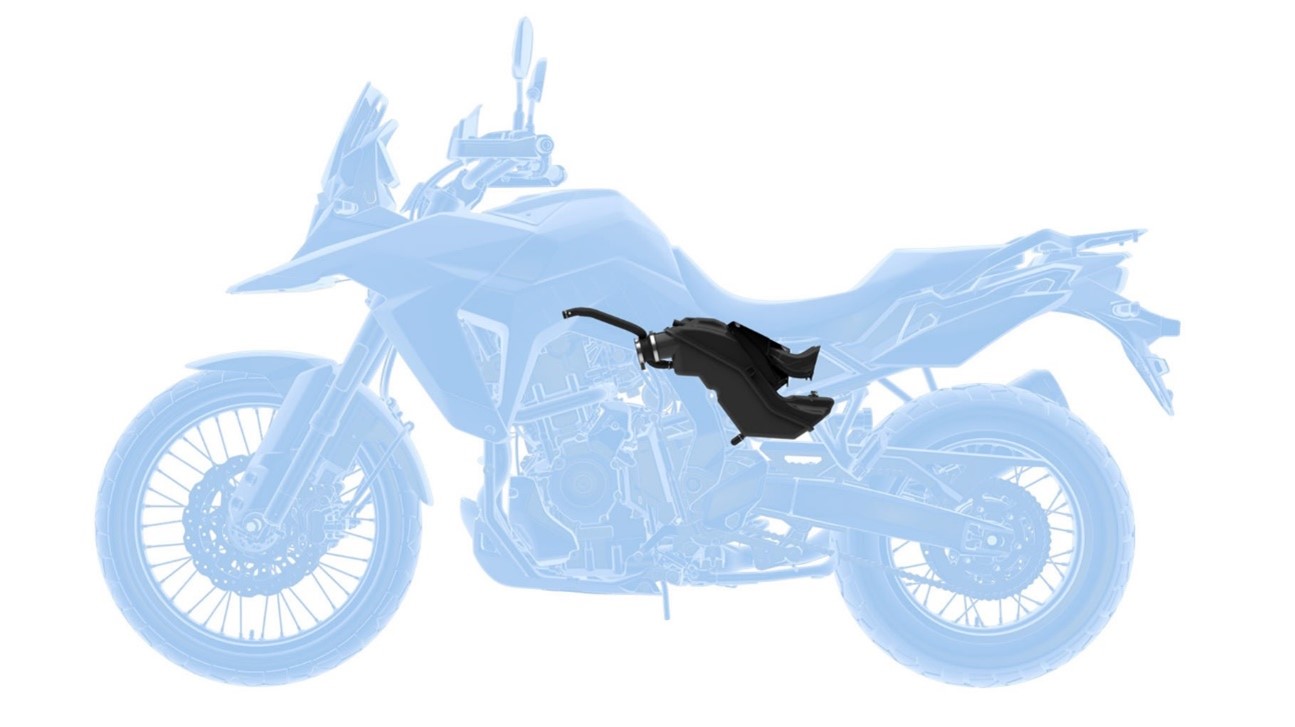 The air cleaner box's under-seat positioning helps provide a compact and slim chassis improving rider movement while on the bike.
Highly Efficient Cooling 
A large capacity radiator effectively cools this new parallel twin engine. A thermostatically controlled cooling fan helps stabilize coolant temperatures at low speed and stops.
Suzuki's unique Cooling System Inlet Control Thermostat Valve helps maintain consistent engine temperature and smooths the idle speed during warm-up. This helps stabilize combustion and contributes to reduced exhaust emissions.
Cooling System Inlet Control
The engine is also equipped with a lightweight, compact liquid-cooled oil cooler helping keep lubrication temperatures cooler for even smoother performance, and reliability.
Exhaust System
The 2-into-1 exhaust system is designed to produce a pleasing exhaust note befitting this new parallel-twin engine, whether enjoying a long touring run at highway speeds or running errands in town.
The two-stage catalytic converter inside the exhaust's collector helps limit emissions thus complying with world-wide standard, while helping maximize power output and overall performance.
Six Speed Transmission & Bi-directional Quick Shift System
The six-speed transmission features gear ratios that deliver exciting acceleration, whether shifting normally or when using the standard-equipment Bi-directional Quick Shift system to shift without clutch operation.
The V-STROM 800DE's precise shift linkage helps the rider easily and quickly select the ideal gear for the riding conditions. A sensor on the shift rod sends shifter movement data to the ECM, so the Bi-directional Quick Shift system precisely responds to the rider's actions.
Suzuki Clutch Assist System (SCAS)
The transmission's output is managed by the Suzuki Clutch Assist System (SCAS). This system works like a slipper clutch by allowing a small amount of clutch slip to enable smooth downshifts. It also works as an assist clutch, increasing plate pressure under acceleration, but always keeps the clutch lever pull light and precise. This large-diameter, wet, multi-plate clutch uses a precise cable-activated release, providing the rider with a light pull that also has superb friction-point feel.
Suzuki Clutch Assist System Cam Operation 
This exciting new Suzuki parallel-twin powerplant is a modern, highly engineered take on a classic motorcycle engine configuration. What sets this powerplant apart is how effectively it has reached its objectives- power and torque for a range of spirited and entertaining middleweight motorcycles while helping provide a slim and optimal riding position. Delivering the thrilling performance, durability and terrific value Suzuki is known for, while meeting new emission standards. It truly is a new engine resulting from a new way of thinking for a new era.
About Suzuki:
Suzuki Motor USA, LLC (SMO) distributes Motorcycles, ATVs, Scooters, Accessories, and ECSTAR Oils & Chemicals via an extensive dealer network throughout 49 states. Suzuki Motor Corporation (SMC), based in Hamamatsu, Japan, is a diversified worldwide manufacturer of Motorcycles, ATVs, Scooters, Automobiles, Outboard Motors, and related products. Founded in 1909 and incorporated in 1920, SMC has business relations with 201 countries/regions. For more information, visit www.suzuki.com.
Source: Suzuki Motor USA, LLC
####