WASHINGTON, D.C. – September 20, 2021 – (Motor Sports NewsWire) –
Textron Recall Summary
Name of Product: E-Z-GO PTVs and Tracker Off-Road Vehicles
Hazard: The parking brake catch bracket can wear out and cause the parking brake to fail, posing a crash hazard.
Remedy: Repair
Recall Date: September 16, 2021
Units: About 6,600
Customer Contact: Textron Specialized Vehicles toll-free at 888-525-6040 from 8 a.m. to 5 p.m. ET Monday through Friday, email at [email protected] or online, for E-Z-Go at https://ezgo.txtsv.com, click on Owners, then Recall Information, and for Tracker at www.trackeroffroad.com, and click on Recalls at the bottom of the page.
Textron Recall Details
Description: This recall involves Personal Transportation Vehicles (PTV) and Utility Vehicles, based on Textron Specialized Vehicles' TXT chassis, manufactured between March 1, 2021 and June 10, 2021. Recalled vehicles include the E-Z-GO Express S2, S4, S6 and L6, the E-Z-GO Freedom TXT, Valor and the Tracker Off-Road OX 400. These vehicles are commonly referred to as golf carts or golf cars and are used to transport people and material loads. The vehicle's serial number can be found below the driver's seat. The serial number range for the recalled E-Z-GO vehicles is 3509365 to 3531888 and the serial number range for the recalled Tracker Off Road vehicles is 8025639 to 8026154.
Remedy: Consumers should immediately stop using the recalled vehicles. Textron Specialized Vehicles is contacting all purchasers directly to coordinate a free repair. Consumers may contact Textron per the information listed below.
Incidents/Injuries: Textron Specialized Vehicles has received 19 reports of worn parking brake latch brackets. No injuries have been reported.
Sold At: E-Z-GO and Tracker Off-Road dealerships nationwide, online via E-Z-GO's Dealer to Driveway program, and through Tracker Off-Road Ready to Buy program from March 2021 through August 2021 for between $6,000 and $13,000.
Manufacturer(s): Textron Specialized Vehicles, of Augusta, Georgia
Manufactured In: United States
Recall number: 21-783
This recall was conducted, voluntarily by the company, under CPSC's Fast Track Recall process. Fast Track recalls are initiated by firms, who commit to work with CPSC to quickly announce the recall and remedy to protect consumers.
About the U.S. CPSC
The U.S. Consumer Product Safety Commission (CPSC) is charged with protecting the public from unreasonable risks of injury or death associated with the use of thousands of types of consumer products. Deaths, injuries, and property damage from consumer product incidents cost the nation more than $1 trillion annually. CPSC's work to ensure the safety of consumer products has contributed to a decline in the rate of deaths and injuries associated with consumer products over the past 40 years.
Federal law bars any person from selling products subject to a publicly announced voluntary recall by a manufacturer or a mandatory recall ordered by the Commission.
Source: U.S. Consumer Product Safety Commission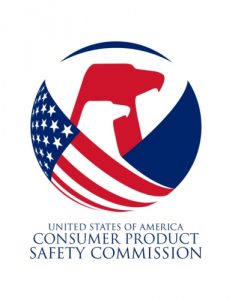 ####