Buddy Antunez, Broc Glover, and Chad Reed to Serve as Rider Coaches
MORGANTOWN, WV – September 2, 2021 – (Motor Sports NewsWire) – Following a groundbreaking first gathering of top amateur motocross talent in the East Region, the second phase of the inaugural MX Sports Pro Racing Scouting Moto Combine, presented by U.S. Air Force Special Warfare, is set to commence as a precursor to the Maxxis Fox Raceway II National, Round 11 of the Lucas Oil Pro Motocross Championship. Southern California's Fox Raceway will host the West Region section on Friday, September 3, where another contingent of elite prospects have been invited to take part in this pioneering new program.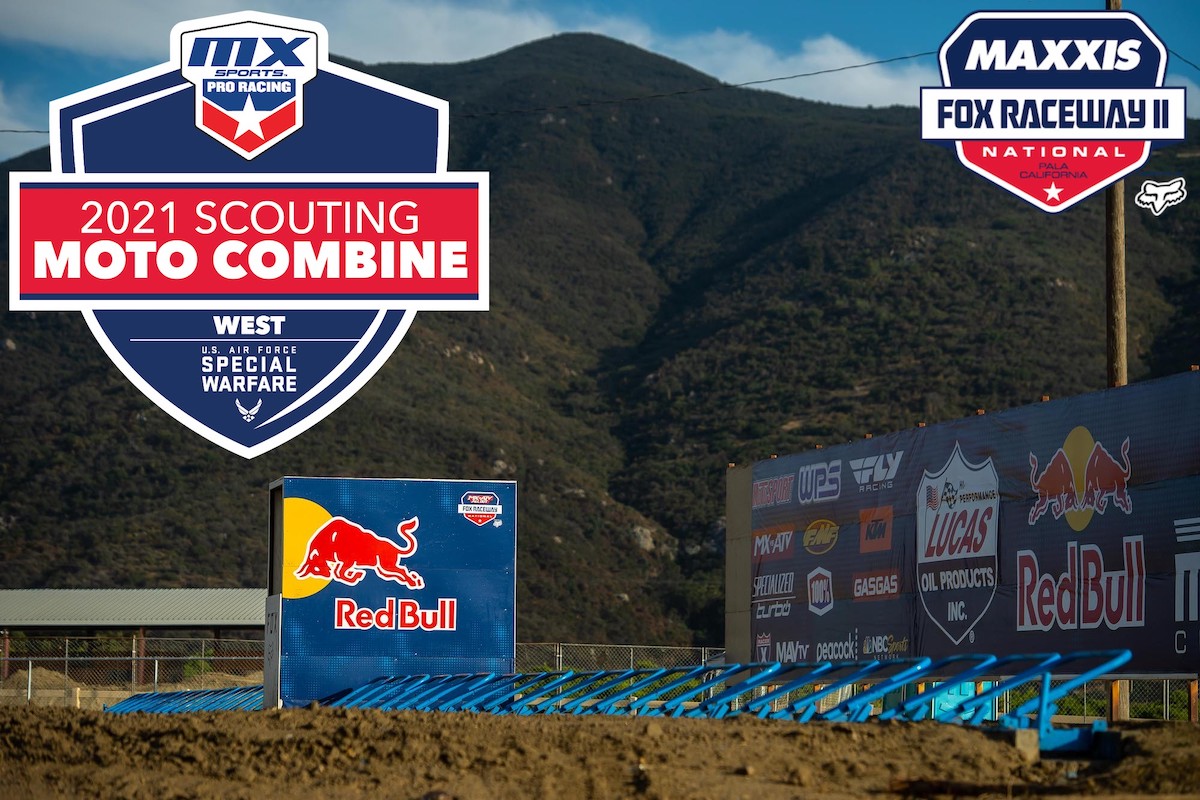 The collection of top A & B class riders that compose the West Region will be broken down into three groups, where they will be assigned to one of the three legendary riders that compose the combine coaching staff—AMA Arenacross icon Buddy Antunez, six-time AMA Pro Motocross National Champion Broc Glover, and former AMA Pro Motocross and AMA Supercross Champion Chad Reed. Their mentorship will provide insight into the many intricacies of the sport's professional level, particularly on the racetrack, guiding each prospect to success during a pair of 25-minute-plus-two-lap motos.
The motos serve as the centerpiece of the combine, allowing racers to showcase their potential to the dozens of key industry personnel in the pro paddock, from factory race teams with storied legacies to team managers in search of new blood. The combine schedule will emulate that of a Pro Motocross National, creating a professional atmosphere that includes practice, staging, podium interviews, and post-race media sessions.
Additionally, the West Region group will receive education surrounding the intangibles of the professional level away from the racetrack, with classroom-style sessions that focus on fitness and nutrition, with well-respected trainers Ryan Fedorow and Gareth Swanepoel, as well as media, with MAVTV and NBCSN host Jason Weigandt, event public address announcer Rob Buydos, Pro Motocross social media manager Sam Nicolini, and Pro Motocross media manager Brandon Short. The combine will also extend into Saturday's Fox Raceway II National, with a ceremonial parade lap during opening ceremonies.
West Region Rider Invite List:
Julien Beaumer / Lake Havasu City, Arizona / Husqvarna
Brock Bennett / Bakersfield, California / Husqvarna
Daxton Bennick / Morganton, North Carolina / KTM
Preston Boespflug / Battle Ground, Washington / Honda
Gavin Brough / Kaysville, Utah / Kawasaki
Matthew Curler / Malakoff, Texas / KTM
Collin Davis / Orangevale, California / GASGAS
Ryder DiFrancesco / Bakersfield, California / Kawasaki
Benjamin Garib / Chile / Yamaha
Talon Hawkins / Temecula, California / Husqvarna
Chance Hymas / Pocatello, Idaho / Kawasaki
Luke Kalaitzian / Sun Valley, California / Honda
Parker Ross / Herald, California / GASGAS
Noah Schuring / Portage, Michigan / Yamaha
Evan Stice / Carmen, Idaho / Honda
Gavin Towers / Venetia, Pennsylvania / Kawasaki
Brad West / Australia / Kawasaki
Hunter Yoder / Menifee, California / Honda
For information about the Lucas Oil Pro Motocross Championship, please visit ProMotocross.com and be sure to follow all of the Pro Motocross social media channels for exclusive content and additional information on the latest news:
Now available for download for both Apple and Android devices is the official Pro Motocross App. Fans of American motocross can have access to the world's most prestigious off-road motorcycle racing series right at their fingertips on their mobile devices. Developed by AMA Pro Racing, the Pro Motocross App provides users with the most important information surrounding the Lucas Oil Pro Motocross Championship, from series news to schedule and ticket information, as well as broadcast schedule details and live timing & scoring. Download it now via the App Store or Google Play.
Lucas Oil Pro Motocross Championship
The Lucas Oil Pro Motocross Championship, sanctioned by AMA Pro Racing, features the world's fastest outdoor motocross racers, competing aboard homologated bikes from one of seven competing manufacturers on a collection of the roughest, toughest tracks on the planet. Racing takes place each Saturday afternoon, with competition divided into two classes: one for 250cc machines, and one for 450cc machines. MX Sports Pro Racing, the industry leader in off-road powersports event production, manages the Lucas Oil Pro Motocross Championship. The title sponsor is Lucas Oil, a leading producer of premium oils, greases, and problem solving additives, all made in America. More information can be found at www.ProMotocross.com.
NBC Sports & Peacock
NBC Sports and Peacock will provide coverage of the 2021 Lucas Oil Pro Motocross Championship season across all 12 rounds, including every practice session, qualifier, Moto 1 race and Moto 2 race.  The Lucas Oil Pro Motocross Championship is part of NBC Sports' "Home of Motorsports" programming throughout 2021, spanning NASCAR, INDYCAR, IMSA, Mecum Auctions, Monster Energy Supercross, MotoGP, Progressive American Flat Track, Monster Jam, Dakar Rally, and more.
Lucas Oil Products, Inc.
Lucas Oil Products was founded by Forrest and Charlotte Lucas with the simple philosophy of producing only the best line of lubricants and additives available anywhere. Since its inception, Lucas has steadfastly adhered to this corporate objective. Through innovative product research and development, along with aggressive marketing programs, Lucas has established itself as the top selling additive line in the United States. Additionally, Lucas Oil offers a premium line of motor oils, greases, fuel treatments, industrial lubricants, and problem-solving additives to help firmly establish Lucas Oil as a prominent figure in the marketplace. For more information, visit www.LucasOil.com.
MAVTV Motorsports Network
MAVTV Motorsports Network is the only television network in the U.S. dedicated exclusively to motorsports. MAVTV offers an unparalleled line-up of exclusive and unique events. MAVTV goes beyond the national mainstream motorsports events to include grassroots racing from across the globe: drag racing, pro motocross, sprint boats, rally cars, short course off-road truck racing, sprint cars, pro pulling, drifting, ice racing, and everything in between. MAVTV knows you don't have to be a race fan to be an automotive enthusiast, which is why we have developed a package of automotive reality and custom build shows that are truly second-to-none. From 24/7 automotive and motorsports content on MAVTV Motorsports Network to the free and exclusive content available on MAVTV Select and the on-demand streaming service of MAVTV Plus, if it has a motor, it's probably on MAVTV – The Motorsports Network!
Source: MX Sports Pro Racing, Inc.
####