River Spirit Expo to Host First-Ever Mecum Event in Oklahoma, June 11-12
WALWORTH, WI – June 1, 2021 – (Motor Sports NewsWire) – Mecum Auctions, the world's largest collector-car auction company, will showcase 600 American muscle cars, classics, Corvettes, trucks, Hot Rods, customs and more at its debut auction event in Tulsa, Oklahoma, this June 11-12 at the River Spirit Expo.
This first-ever Mecum Tulsa event joins 11 other annual collector car auctions on Mecum Auctions' schedule, in addition to several other auction events featuring vintage motorcycles, antique tractors and Road Art. Mecum's recently concluded Indianapolis auction—the company's second-largest annual event—achieved $107.8 million in sales.
Consignments for Mecum Tulsa 2021 are highlighted by the Elkin Brothers Collection of 14 eclectic collector vehicles, including a 2005 Ford GT (Lot S105) with all four available options, two 1970 Chevrolet Chevelles (Lots S100 and S101)—one of which is a convertible—and three classic Ford Broncos (Lots S99, S102 and S103).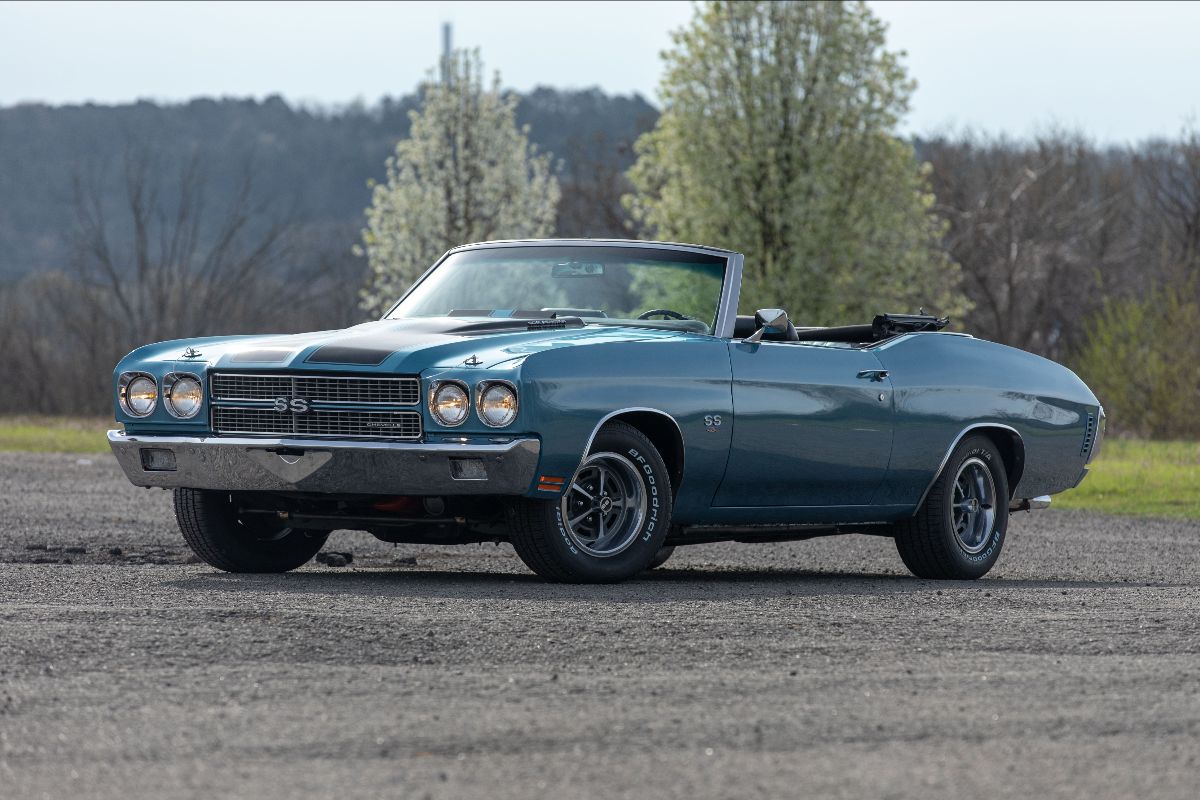 Other offerings include 24 vehicles from The Rick Holland Collection, most of which will be offered at no reserve. The selection includes a Dusk Pearl 1957 Chevrolet 210 (Lot F183) that is finished with Bel Air trim, a pink 1957 Ford Thunderbird (Lot F186), a 1973 Ford Bronco Sport (Lot F182) and a 1959 Willys Utility Wagon (Lot F189) with a 226 CI Super Hurricane 6-cylinder engine and a 3-speed manual transmission, to name a few.
The York Collection consists of 14 pristine cars dating from a 1931 Austin American Coupe(Lot S216) to a 1955 Chevrolet Custom Pickup (Lot S220), and the 13 cars from the Dick Ray Estate Collection—with all but four to be offered at no reserve—varies from a 1921 Ford Model T Pickup (Lot S80) and a 1933 Chevrolet Master Sedan (Lot S82), to a 1986 Ferrari 328 GTS (Lot S72) and a 1996 Dodge Viper GTS Coupe (Lot S74).
Also consigned for the Tulsa block is a 1970 Plymouth Cuda (Lot S112) with a V-Code 440 6-BBL engine and automatic transmission that was ordered by the dealer as a demonstrator and exists today as one of the mostly highly optioned V-Code 1970 Cudas anywhere boasting 37 factory options, as well as a 1957 Ford Thunderbird F-Code (Lot S141) that is one of 196 produced and that benefited from a four-year nut-and-bolt restoration using rebuilt original and NOS parts.
Those interested in consigning a vehicle for auction at Mecum Tulsa 2021 may find complete details about the consignment process and pricing at Mecum.com. Bidder registration is available online in advance and on-site at the auction for $200, and it includes admission for two to both auction days. Established health and safety protocols will remain in place for all those in attendance. For those unable to attend in person, enhanced remote bidding options are also available, with options for both online and telephone bidding.
For more information on Mecum Tulsa 2021 and all other scheduled 2021 auctions, visit Mecum.com. Mecum's website is updated daily with the latest consignments and includes detailed descriptions and photographs of the vehicles to be offered. For schedule information, to consign a vehicle or to register as a bidder for this and all Mecum events, visit Mecum.com, or call (262) 275-5050 for more information.
Schedule:
Mecum Tulsa 2021
Location: River Spirit Expo at Expo Square, 4145 East 21st Street, Tulsa, OK 74114
Date: June 11-12, 2021
Bidder Registration: $200 in advance online and at the door; includes admission for two to each auction day
Preview: Gates open daily at 8 a.m.
Auction: Vehicles begin daily at 10 a.m.
TV Schedule: To be announced
(All Times CT)
About Mecum Auctions
The Mecum Auction Company is the world leader of collector car, vintage and antique motorcycle, and Road Art sales, hosting auctions throughout the United States. The company has been specializing in the sale of collector cars for more than 30 years, now offering more than 20,000 lots per year and averaging more than one auction each month. The company today has expanded its catalog of offerings to include a wide array of collectibles encompassing entry-level to investment-grade classic and collector cars, vintage and antique motorcycles, signs and memorabilia items like gas pumps, pedal cars and clocks, and even collector-grade tractors and farm relics. Mecum Auctions is headquartered in Walworth, Wisconsin, and since 2011 has been ranked No. 1 in the world with number of collector cars offered at auction, No. 1 in the world with number of collector cars sold at auction, No. 1 in the U.S. with number of auction venues, No. 1 in the U.S. in total dollar volume of sales, and is host to the world's largest collector car auction held annually in Kissimmee, Florida, as well as the world's largest motorcycle auction held annually in Las Vegas.
Source: Mecum Auction, Inc.
####