CHINO, CA – December 16, 2020 – (Motor Sports NewsWire) – Let's face it, there is only one choice for the GSX-R1000 when it comes to the best exhausts and engine platform… Yoshimura.
Introducing our latest muffler design, AT2 for the bike that has won many superbike championships and has a special place in the heart of Yoshimura.
Our AT2 slip-on for the GSX-R1000 makes the high revving inline four come to life and sound like it should. Features include our exclusive Works Finish, an aggressively styled matte finish heal guard and end cap complimented by a facet-formed tip. End result 2.2% max power increase, 2.1 lbs. weight saving and being a Street Series slip-on makes it 50-state emissions legal.
Want more? Our AT2 full system includes all the same features and delivers pure performance you would expect from Yoshimura. Peak horsepower is up 6.3% in all the right places and torque up 2.4% with 8.7 lbs. weight saving. Get ready to "Feel The Speed".
The AT2 is proudly developed, designed and made in the USA.
The AT2 is a work of art. Our exclusive Works Finish, matte carbon fiber end cap and heal guard make the AT2 for the GSX-R 1000 beautiful.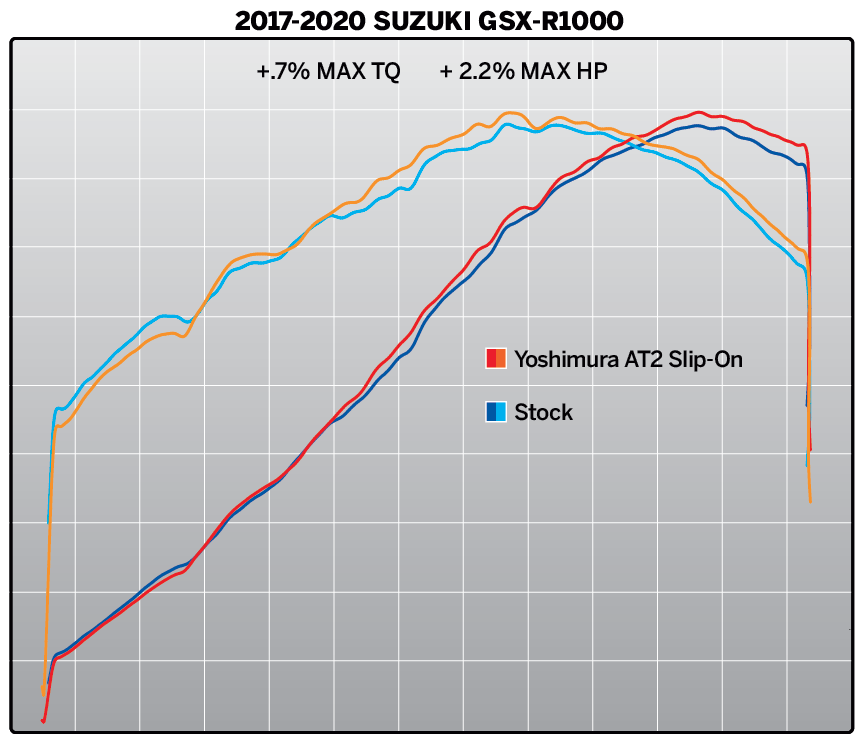 The AT2 full system is ready for track day or to hit the race circuit. A striking 8.7 pounds of weight loss and 6.3 max HP in the right places.
A custom crafted matte finish carbon fiber heal guard is included.
Our aggressively styled matte finish carbon fiber end cap is complimented by a facet-formed tip precisely trimmed using our 3-D laser cutting machine. Engineered and made in Chino, CA.
2017-20 Suzuki GSX-R 1000 AT2 slip-on and full system Pricing and Info

2017-20 Suzuki GSX-R1000 AT2 Street Series SO SS/SS/CF WF
Part #11182BP521
MSRP: $599.00
Hi-res images available here: https://www.dropbox.com/sh/ohcbuv05xnjb40l/AACMVfBfJ7MXtqwYuZJ_Vmt3a?dl=0
QUALIFIED MANUFACTURER DECLARED "REPLACEMENT PART"
Weights:
Stock muffler: 7.0 Lbs.
Yoshimura AT2 slip-on system: 4.9 Lbs.
2017-20 Suzuki GSX-R1000 AT2 Race Series FS SS/SS/CF WF
Part #11182AP521
MSRP: $1179.00
Hi-res images available here: https://www.dropbox.com/sh/gd06xv66gr674tv/AAAcZMOYkzHVz04yEkG1ldZQa?dl=0
QUALIFIED MANUFACTURER DECLARED "MODIFIED PART"
This product is designed and intended for closed course competition use only and is labeled as such, i.e. Yoshimura "RACE SERIES." Yoshimura RACE SERIES products are neither designed nor intended for use on PUBLIC ROADS or LAND. Such use is prohibited by Federal and State regulations.
Weights:
Stock exhaust system: 22.5 Lbs.
Yoshimura AT2 full system: 13.8 Lbs.
About Yoshimura
Yoshimura is "The Leader in Performance" and has been for over 65 years. With unmatched skills, knowledge and passion for racing, Yoshimura is on the forefront of the aftermarket. Yoshimura exhaust systems are race bred and feature the same legendary performance, fit, and quality that has been our trademark for six decades. To learn more about Yoshimura and view their wide variety of performance products, visit www.yoshimura-rd.com.
Source: Yoshimura Research and Development of America

####