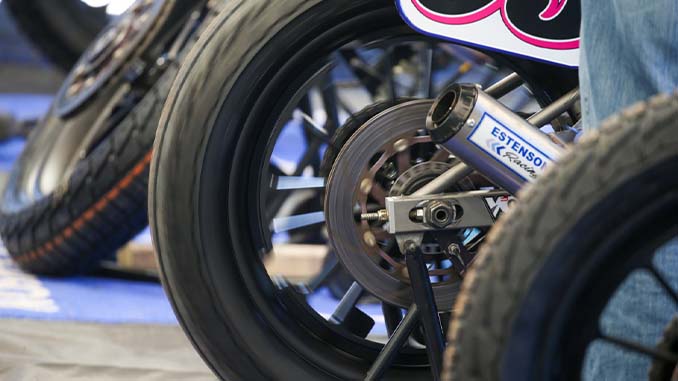 DAYTONA BEACH, FL – December 10, 2020 – (Motor Sports NewsWire) – The first annual Dunlop Tire Test wrapped up on Wednesday at Volusia Speedway Park following two hugely productive days.
Dunlop came into the test armed with five candidates vying for a single open slot to become the new tire compound made available for use during the 2021 Progressive American Flat Track season.
The great hope was to identify a tire that felt and performed similar to the preexisting DT4 R5 soft tire while showcasing durability more in line with the harder R9.
Dunlop came away extremely satisfied with the feedback they received from riders, along with one specific compound that showed itself capable of filling that "R7" (not an official designation) medium tire role.
"It was everything we hoped it would be," said, Michael Jackson, Senior Manager of Motorcycle Development & Road Race. "The weather's been good, the track's been in great shape for us. Steve Morehead and his crew certainly did a good job keeping the track consistent throughout the day with very little change, which has really helped us."
"We focused on questioning each rider on how the specs compared to the R5. We had five compounds here and we constantly tried to work back to the R5. We'd asked the riders, 'How long did it take to come in?' 'What's it like on entry?' 'What's it like on exit.' 'Is it consistent?' 'Is it safe?'"
Reigning AFT SuperTwins Champion Briar Bauman said, "There was one (compound) that really stood out. So it was cool to have a baseline, and as we tried the other ones, still remember that feeling and be fired up about it. It's a great direction."
Of course, Progressive AFT fans were fired up just to have bikes back on track, while getting something of a sneak peek at the 2021 season.
From that perspective, Jarod Vanderkooi stole the show on Tuesday, throwing down the fastest lap of the day as he made his debut on the No. 20 JCS Racing/HCRR Indian FTR750.
Once the final session had been completed, however, it was AFT SuperTwins king Bauman who boasted the #1 on the timesheets as well as his factory Indian.
Bauman was the only rider to break into the 19s (19.919) over the two days. That lap narrowly eclipsed the best time of JD Beach (20.043), who made serious gains aboard the No. 95 Estenson Racing Yamaha MT-07 DT on Wednesday.
While pleased with his speed, Beach kept things in perspective and understood what his primary job was this week.
"It's cool to be a part of this," he said. "It's really cool that they have the trust in me to give the feedback with the tires. For Dunlop and the series to want to put in the extra work and the time, it shows how much they care about it. I think this has been great."
Other riders who impressed with their outright pace while focusing on tire development were DAYTONA double winner Brandon Robinson (20.087), the aforementioned Vanderkooi (20.133) and reigning AFT Production Twins champion James Rispoli aboard the Latus Motors Harley-Davidson XG750R (20.155).
Meanwhile, AFT Singles dominator Dallas Daniels showcased AFT SuperTwins-like speed aboard his Estenson Racing Yamaha YZ450F, ranking fifth best overall at 20.243.
About Progressive American Flat Track
Progressive American Flat Track is the world's premier dirt track motorcycle racing series and one of the longest-running championships in the history of motorsports. Sanctioned by AMA Pro Racing in Daytona Beach, Fla., the series is highly regarded as the most competitive form of dirt track motorcycle racing on the globe. For more information on Progressive American Flat Track, please visit http://www.americanflattrack.com, like us on Facebook, follow us on Twitter, check us out on Instagram, live stream the events with TrackPass on NBC Sports Gold and catch all the Progressive American Flat Track racing action on NBCSN.
Source: American Flat Track
####