CHINO, CA – October 23, 2020 – (Motor Sports NewsWire) – One of the hottest adventure bikes that has come to market in the last few years is the 2021 Yamaha Tenere 700. This bike is so ripe for performance mods!
Our R&D team is very familiar with the 689cc parallel twin engine and their main goal was to get as much performance as possible from the T7. We called on our new RS-12ADV Race Series full system that has been specifically designed for off-road performance. It carries more power through the entire power spectrum, looks insane and it sounds like a beast! We were able to boost up the power and torque on the new Yamaha by 5.4% peak HP and bumped up the peak torque by a very nice 3.2%, numbers that will provide even more off-road fun as well on the race course with the T7. We even saved 6.3 pounds compared to the stock system!
A sibling of our RS-12 Motocross systems, the RS-12ADV keeps the same styling as its sibling with PTF (Precision Taper Fit) sound inserts and an aggressively styled matte carbon fiber end cap. It also boasts our exclusive Works Finish with laser cut and etched logo stainless heal guard.
Yoshimura RS-12ADV is proudly designed, developed and manufactured in Chino, CA.

2021 Yamaha Tenere 700 with RS-12ADV Race Series full system
RS-12ADV in Works Finish is a work of art!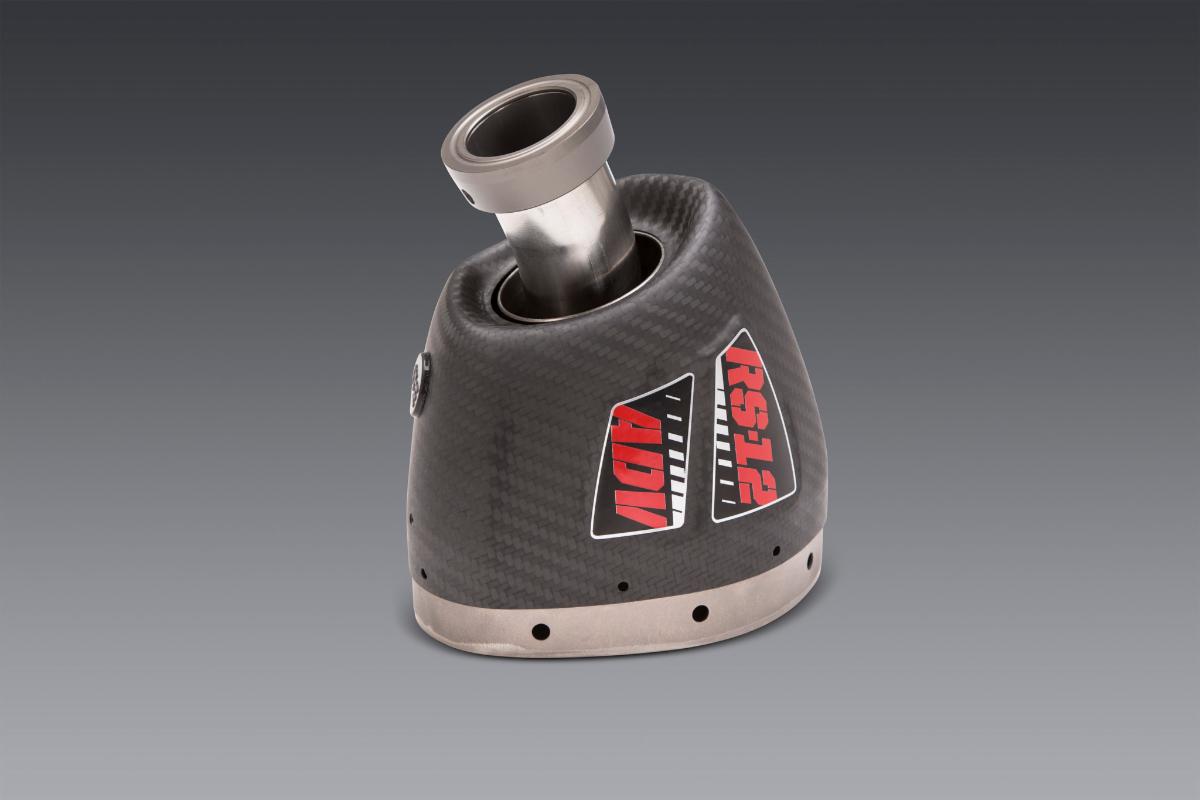 PTF (Precision Taper Fit) makes changing sound inserts a breeze! Our aggressively styled RS-12 matte finish carbon fiber end cap is designed and made in Chino, CA.
2021 Yamaha Tenere 700 RS-12ADV Race Series Pricing and Info
2021 Yamaha Tenere 700 RS-12ADV Race Series FS SS/SS/CF WF
Part #13710AS520
MSRP: $849.00
Hi-res images available here: https://www.dropbox.com/sh/ascgwh8noslcunv/AAAFIBVY7cQOcll35uYdbmO_a?dl=0
FOR CLOSED COURSE COMPETITION ONLY; NOT INTENDED FOR STREET USE
Weight:
Stock system:18.5 Lbs.
Yoshimura RS-12ADV full system:12.2 Lbs.
About Yoshimura
Yoshimura is "The Leader in Performance" and has been for over 65 years. With unmatched skills, knowledge and passion for racing, Yoshimura is on the forefront of the aftermarket. Yoshimura exhaust systems are race bred and feature the same legendary performance, fit, and quality that has been our trademark for six decades. To learn more about Yoshimura and view their wide variety of performance products, visit www.yoshimura-rd.com.
Source: Yoshimura Research and Development of America

####