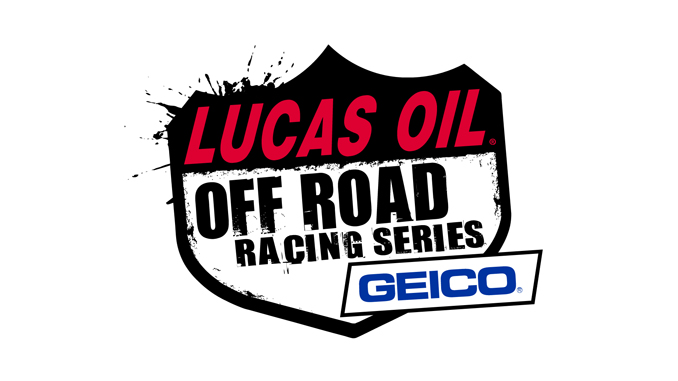 CORONA, CA – October 22, 2020 – (Motor Sports NewsWire) – While the 2020 racing season may have come to a conclusion, the Lucas Oil Off Road Racing Series Presented by GEICO (LOORRS) and its racers showed their continued support for those in need by amplifying the efforts of Stronghold Motorsports in bringing attention to pediatric cancer awareness by hosting the first-ever #Hoods2Help campaign, benefiting Loma Linda University Children's Hospital (LLUCH). The campaign was part of the two-day LOORRS season finale held at Glen Helen Raceway on October 16 and 17.
The Lucas Oil Off Road Racing Series #Hoods2Help campaign, in collaboration with Stronghold Motorsports and Loma Linda Children's Hospital, was a special campaign designed to benefit LLUCH during Pediatric Awareness Month. The campaign provided children at LLUCH the opportunity to design their own race truck. Participating teams selected a design and then had it replicated and wrapped onto their race vehicles for the stop of the season.
More than 40 children presently under LLUCH care, including outpatient, submitted drawings
Even during these times, the racing community has stepped up in a big way with drivers like the Baileys (Madix and Irie), RJ Anderson, Carson Parrish and others who showcased these new looks in support of their respective new 'co-pilots' and the work at the LLUCH.
"Lucas Oil and Stronghold Motorsports have been fortunate over the years to see the amazing work that Loma Linda University Children's Hospital has provided for families going through the most challenging times, and right now they need your support more than ever." – Ritchie Lewis, Series Director, Lucas Oil Off Road Racing Series
"We are proud of our family's long-standing support of the hospital. The children of our communities continue to face trauma, childhood cancer, congenital heart disease and other life-altering realities. We are grateful for Lucas Oil in supporting Loma Linda University Children's Hospital commitment to serving the most vulnerable – our children." – Scott Bailey, COO, Stronghold Engineering
The culmination of everyone's hard work paid off as the drivers and their newly wrapped vehicles were able to connect via Zoom with their young designers to surprise them and announce them as their copilots for the race weekend.
RJ Anderson (left) and Madix Bailey (right) shown above during the Zoom calls
All of the families that participated were given links to Lucas Oil Racing TV to see the action live, as well as links for the hospital to be able to broadcast the races internally for everyone to enjoy. Sponsorship for the event helped cover the redesign and vehicle panels for this project, with all additional funds raised going directly to LLUCH to finance the Hospital's greatest needs. Loma Linda University Children's Hospital understands that even during these uncertain times, their dedicated health care teams continue to work diligently to keep their young patients and families, caregivers and team members healthy and safe.
In addition to Sponsorship options, an online auction is being held with unique items including race helmets signed by members of both Pro Lite and Pro 2 classes:
https://one.bidpal.net/Lucasoil/browse/all
Lewis wanted to make sure the 2020 season ends on a high note, keeping perspective of the bigger picture as he concluded, "With the unprecedented challenges that 2020 has brought to all of us, and far beyond that of just us here at Lucas Oil, we remain in resolve to keep our competitors and teams safe but to have something good that we can do in support of others in need, like those at Loma Linda University Children's Hospital." 
For information about the Lucas Oil Off Road Racing Series please visit LucasOilOffRoad.com and be sure to follow all of the LOORRS social media channels for exclusive content and additional information on the latest news:
Lucas Oil Off Road Racing Series
The Lucas Oil Off Road Racing Series is the evolution of the long-standing support of short course racing by Forrest Lucas and Lucas Oil Products. Steeped in the midwest tradition of short course off-road racing infused with a west coast influence, Lucas Oil Off Road Racing brings intense four wheel door-to-door action to challenging, fan-friendly tracks. Our events can be seen on CBS, CBS Sports Network, MAVTV, and on LucasOilRacing.TV. Lucas Oil Off Road Racing Series: This is Short Course! For more information, please visit http://www.LucasOilOffRoad.com/, and be sure to sign up for our newsletter in our Newsletter Signup section of the home page.
Source: Lucas Oil Off Road Racing Series
####