New Original Series Starring Ewan McGregor and Charley Boorman
"Long Way Up" to Debut Globally September 18 on Apple TV+
MILWAUKEE, WI – August 4, 2020 – (Motor Sports NewsWire) – Apple TV+ today unveiled a first look at "Long Way Up," an epic new motorcycle series, starring and executive produced by Ewan McGregor and Charley Boorman, which reunites best friends after more than a decade since their last motorbike adventure around the world.  The first three episodes of "Long Way Up" will premiere globally on Apple TV+ on Friday, September 18, and new episodes will roll out weekly.
Covering 13,000 miles over 100 days through 16 border crossings and 13 countries, starting from the city of Ushuaia at the tip of South America, Ewan and Charley journey through the glorious and underexposed landscapes of South and Central America in their most challenging expedition to date, using cutting edge technology on the backs of their electric Harley-Davidson LiveWire® motorcycles in order to contribute to the sustainability of the planet.
The new series will follow Ewan and Charley as they journey through Argentina, Chile, Bolivia, Peru, Ecuador and up through Colombia, Central America and Mexico.
Harley-Davidson is thrilled to be featured in Apple's Long Way Up with Ewan McGregor and Charley Boorman. The Harley-Davidson LiveWire™ model is an exhilarating electric motorcycle that pushes the boundaries of performance, technology and design in the two-wheel world. The LiveWire motorcycles ridden in the new series are production-based and modified to push these boundaries to the edges of the earth for this epic collaboration. Riders can experience a LiveWire motorcycle at select Harley-Davidson dealerships around the world.
"Long Way Up" is a new original series that follows Ewan and Charley's previous adventures in "Long Way Round" and "Long Way Down.
About Harley-Davidson Motor Company

Harley-Davidson, Inc. is the parent company of Harley-Davidson Motor Company and Harley-Davidson Financial Services. Our vision: Building our legend and leading our industry through innovation, evolution and emotion. Our mission: More than building machines, we stand for the timeless pursuit of adventure. Freedom for the soul. Since 1903, Harley-Davidson has defined motorcycle culture with an expanding range of leading-edge, distinctive and customizable motorcycles in addition to riding experiences and exceptional motorcycle accessories, riding gear and apparel. Harley-Davidson Financial Services provides financing, insurance and other programs to help get Harley-Davidson riders on the road. Learn more at www.harley-davidson.com.
Source: Harley-Davidson, Inc.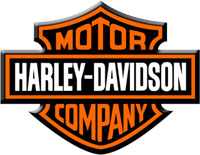 ####