U.S. Rep. Troy Balderson introduces resolution; winner of BMW sidecar announced
PICKERINGTON, OH – July 16, 2020 – (Motor Sports NewsWire) –  Some 200 motorcyclists took advantage of sunny skies and warm weather on Saturday, July 11, to attend an open house and bike night supporting the AMA Motorcycle Hall of Fame museum.
Held on the wooded 23-acre campus of the American Motorcyclist Association in Pickerington, the event kicked off at 5 p.m. with music, food trucks and free admission to the museum. AMA Chief Operating Officer James Holter laid out an adventure motorcycle loop through the woods to offer a challenge to riders who donated to the museum.
Deal hunters perused vintage bikes and parts at a swap meet, and Schmidt's Sausage Truck and Kenny's Meat Wagon cooked up a feast. Representatives from Ohio motorcycle rights and training organizations promoted safe motorcycle operation and rider courses.
"I started riding as a kid, and I've been loving it ever since," said Andrae Steward, an instructor for Motorcycle Ohio and the Harley-Davidson Riding Academy. AMA Director of Member Activity Heather Wilson, who is also a chief instructor for Motorcycle Ohio and helped organize the event, trained Steward.
To mitigate exposure during the COVID-19 pandemic, motorcycle parking was spaced to allow social distancing, outside restroom facilities were provided, face coverings were encouraged and hand-sanitizing stations were located throughout the Hall of Fame.
During a three-hour window, nearly 180 people took in museum displays that provide an in-depth look at the history of motorcycling in America.
One of the highlights of the evening was a drawing for the AMA Hall of Fame raffle bike, a 1973 BMW R75/5 sidecar rig restored by Jay Medieros of Vintage Triumph Supply in Bedford, Mass. AMA President and CEO Rob Dingman drew the winning ticket.
AMA Motorcycle Hall of Famer Mary McGee, who learned to ride a motorcycle in 1957, is the lucky recipient of the BMW. McGee was stunned to receive a phone call from Dingman.
"I almost fell over," she said. "I just can't believe it. I'm so excited."
McGee, who bought 15 tickets, was one of many AMA members and others who participated in the raffle.
"For those of you who didn't win," Dingman said, "we have another raffle bike in front of the museum that I would encourage you to take a look at. It is a custom Harley-Davidson that you have to see to believe."
Kevin Dunworth of Dunworth Machines built the bike that captured Dingman's attention, a modern big-wheel hardtail spin on the museum's "Lords of the Board Track" exhibit that pays tribute to Hall of Famers Eddie Brinck, Ralph Hepburn and Shrimp Burns.
The Ocean City, Md., builder began with a 100th-anniversary edition Harley-Davidson Sportster XL 883 specifically chosen for the project.
"Just to hear some people say, 'Wow, that blows me away,' is a sense of pride and ownership," Dunworth said.
U.S. Rep. Troy Balderson (R-Ohio), an avid motorcyclist, AMA member and member of the Congressional Motorcycle Caucus, used the event as an opportunity to introduce a resolution recognizing July 11 as "Antique Motorcycle Enthusiast Day."
"Restoring antique motorcycles is not only a passion for many Ohioans," Balderson said, "it creates well-paying, highly skilled jobs for people in all 50 states. A beloved icon of our country's past, antique motorcycles represent the rich history of Americana."
All proceeds from AMA bike nights benefit the AMA Hall of Fame, which was established in 1998 by the American Motorcycle Heritage Foundation to honor the heroes and legends of American motorcycling and highlight their achievements and contributions to the sport.
About the American Motorcyclist Association
Founded in 1924, the AMA is a not-for-profit member-based association whose mission is to promote the motorcycle lifestyle and protect the future of motorcycling. As the world's largest motorcycling rights and event sanctioning organization, the AMA advocates for riders' interests at all levels of government and sanctions thousands of competition and recreational events every year. The AMA also provides money-saving discounts on products and services for its members. Through the AMA Motorcycle Hall of Fame in Pickerington, Ohio, the AMA honors the heroes and heritage of motorcycling. For more information, visit www.americanmotorcyclist.com.
Not a member? Join the AMA today.
Source: American Motorcyclist Association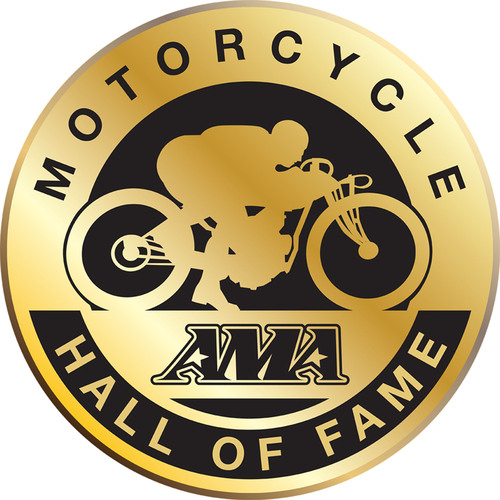 ####