CHINO, CA – July 8, 2020 – (Motor Sports NewsWire) – New for the Suzuki GSX-S 750 is our AT2 slip on system. This amazing system checks all of the boxes for those looking to make their GSX-S 750 a head turner. Aesthetics, sound, performance and weight reduction!
A cousin of the Alpha Taper muffler, AT2 has new styling with an all-new matte carbon fiber end cap and heal guard as well as an all new faceted inner end cap assembly all in our legendary Works Finish. It just looks fast standing still!
With a nice base power plant that boasts 96hp the new AT2 increased power and torque throughout the power range adding 2% max HP and 2% max torque gains. And the sound – the incredible exhaust note the AT2 gives off is an exhilarating growl that is unmistakable Yoshimura! To cap it off the weight reduction from stock using the AT2 is
5 1/2 pounds!
Proudly made in the U.S.A.
2020 Suzuki GSX-S 750 with Works Finish AT2 Slip-on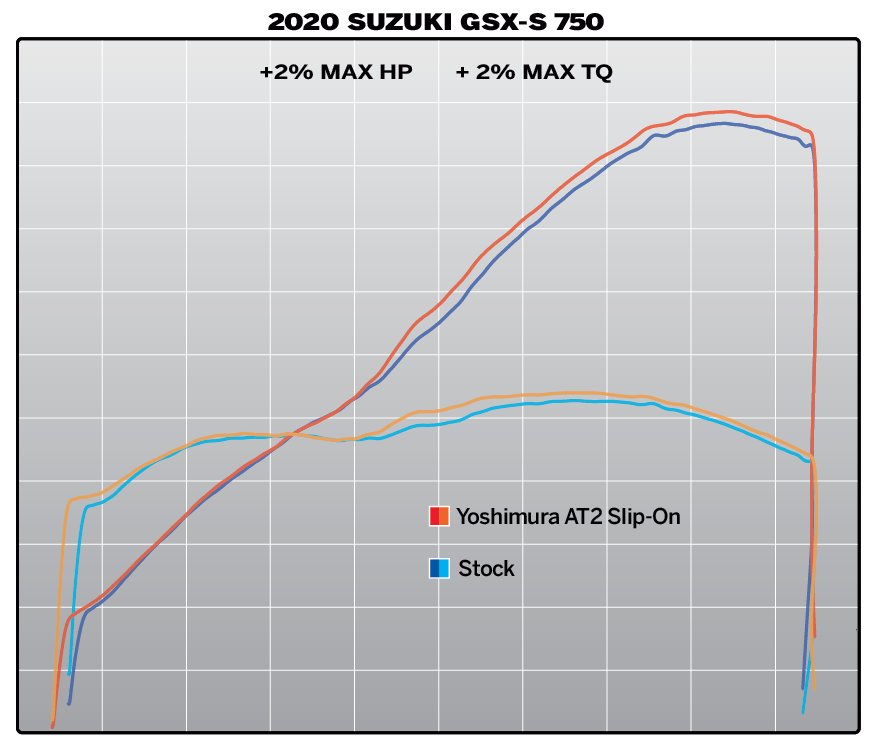 2018-20 Suzuki GSX-S 750 AT2 Slip-on Street Series Pricing and Info
2018-20 Suzuki GSX-S 750 AT2 Street SO SS/SS/CF WF
Part #11801BP521
MSRP: $549.00
Hi-res images available here: https://www.dropbox.com/home/Yoshimura%20Hi-Res%20Images/11801BP521
QUALIFIED MANUFACTURER DECLARED "REPLACEMENT PART"
Weight:
Stock muffler: 10.2 Lbs.
Yoshimura AT2 Slip-on: 4.8 Lbs.
About Yoshimura
Yoshimura is "The Leader in Performance" and has been for over 65 years. With unmatched skills, knowledge and passion for racing, Yoshimura is on the forefront of the aftermarket. Yoshimura exhaust systems are race bred and feature the same legendary performance, fit, and quality that has been our trademark for six decades. To learn more about Yoshimura and view their wide variety of performance products, visit www.yoshimura-rd.com.
Source: Yoshimura Research and Development of America

####