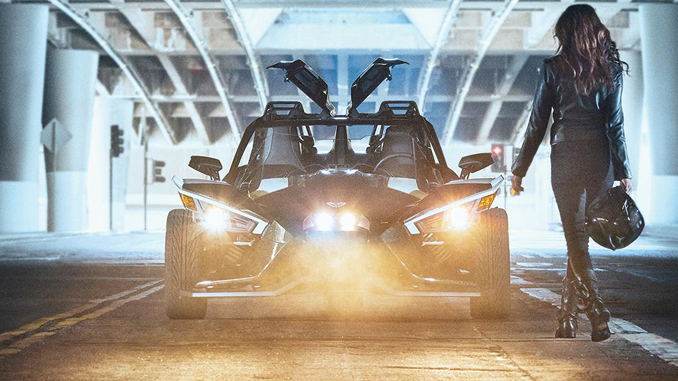 Consumers to Receive a $50 Restaurant Gift Card For Every Dealership Test Drive Taken in May and June in the Summer to Drive Program
MINNEAPOLIS, MN – May 2, 2019 – (Motor Sports Newswire) – Polaris Slingshot, the three-wheeled roadster which delivers a joyride unlike anything on the road, today announced its "Summer to Drive" test drive program.
This summer, Slingshot is offering dinner on them! – For every consumer test drive through May and June, participants will receive a $50 restaurant credit. The promotional credit will be eligible at more than 100,000 restaurant locations, offering consumers a broad selection of dining styles and cuisines across the country through Dining Advantage®.
"Summer is the perfect time to get behind the wheel of a Slingshot and enjoy the open-air driving experience of Slingshot. Visit any of our Slingshot dealers around the country, test drive and enjoy a meal on us from a wide variety of restaurants," said Josh Fulkerson, Slingshot Sr. Director.
The Summer to Drive program will run from May 1 to June 30, 2019. The Dining Advantage® restaurant dining credit is easily redeemed by visiting DiningAdvantage.com, registering the code, searching and selecting your favorite offers and printing or displaying the offer at the merchant.
You can drive to dinner in comfort and style in any of the four 2019 Slingshot models. Each Slingshot packs a GM Ecotec 2.4L DOHC four-cylinder engine and delivers 173 horsepower by way of a five-speed manual transmission. Starting at $20,999, the Slingshot S is the entry-level model with gloss black cast aluminum wheels. The SL model, starting at $25,999, features a seven-inch, touchscreen Ride Command infotainment system, a 100-watt Rockford Fosgate® audio system, rear view camera, a clear wind deflector, 18-inch and 20-inch front and rear cast-aluminum machined wheels. At $29,999, the SLR boasts race-inspired Sparco® components, including steering wheel, shift knob and pedal covers. The SLR also features two-piece composite brake rotors, exclusive SLR bolstered sport bucket seats and a 20-inch 305mm rear forged-aluminum wheel. Finally, at $30,999, the Grand Touring comes well-equipped with features and accessories straight from the factory, including quilted comfort seats, a color-matched Slingshade® top and rear fender and a tall wind deflector. The SLR and Grand Touring come standard with Ride Command with GPS navigation, phone integration, customizable vehicle display screens and more.
Owners can personalize their Slingshots with a variety of Slingshot Engineered Accessories that deliver customization, interior upgrades, and performance. In 2019, Slingshot S owners can significantly upgrade the interior with Ride Command, quilted comfort seats, Rockford Fosgate audio, wind deflector options, LED lighting and storage bags. Slingshot also offers its owners a color-matched Slingshade top for sun protection and rear fender for additional style and spray protection in the rain. Performance-minded drivers can further enhance their Slingshot with an adjustable BILSTEIN shock kit, two-piece lightweight rotors, and lightweight aluminum forged wheels and tires.
For full terms and more information about the program details, visit https://slingshot.polaris.com/en-us/test-ride/summer-to-drive/.
To find the authorized Slingshot dealer closest to you, visit PolarisSlingshot.com.
For more information about Slingshot, visit PolarisSlingshot.com. Follow Slingshot on social media: Facebook.com/PolarisSlingshot, @Slingshot on Twitter and @PolarisSlingshot on Instagram. For information on Polaris Adventures and Slingshot rental locations, visit Adventures.Polaris.com.
About Polaris Slingshot
Polaris Slingshot®, a product of Polaris Industries Inc. (NYSE: PII), is a three-wheeled autocycle that delivers a ride like nothing else you've ever experienced. It is "The Ultimate Joyride™." The Slingshot is powered by a 2.4-liter engine with a five-speed manual transmission and comes in a variety of models that will leave you grinning from ear-to-ear. To learn more, visit www.PolarisSlingshot.com.
Slingshot® is a three-wheeled autocycle. It is not an automobile. It does not have airbags and it does not meet automotive safety standards. Three wheel vehicles may handle differently than other vehicles, especially in wet conditions. Always wear a DOT-approved full-face helmet and fasten seatbelts. The Driver may need a valid motorcycle endorsement. Don't drink and drive.
Source: Polaris Industries Inc. 
####