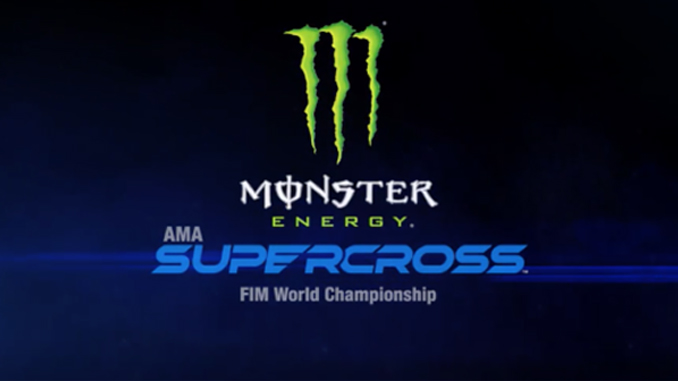 Austin Forkner Makes it Three in a Row in Eastern Regional 250SX
DETROIT, MI – February 24, 2019 – (Motor Sports Newswire) – The second of three Triple Crown rounds of the Monster Energy AMA Supercross, an FIM World Championship provided six Main Events packed with close racing and exciting finishes in front of a screaming crowd of 47,801 at Ford Field in Detroit, Michigan. In the end it was Monster Energy Kawasaki's Eli Tomac winning the overall in the 450SX Class with a drama-filled final race. It was smoother sailing for Monster Energy/Pro Circuit Kawasaki's Austin Forkner in the Eastern Regional 250SX Class, becoming the first rider ever to sweep all three Main Events in either class; it was Forkner's third straight win in as many rounds for his division.
Eli Tomac becomes the second multi-race winner of the season joining Cooper Webb (L) and Chad Reed (R) on the podium at Ford Field in Detroit.
SmarTop/Bullfrog Spas Honda's Justin Brayton grabbed the holeshot of the first of three 12-minute plus one lap 450SX Class Main Events with JGRMX/Yoshimura/Suzuki's Chad Reed right behind. Team Rocky Mountain ATV/MC KTM WPS' Blake Baggett sat third with series points leader coming into Detroit Red Bull KTM's Cooper Webb behind. The day's fastest qualifier, Eli Tomac was the man on the move, coming up from outside the top ten. Webb lost places, being overtaken by Tomac right at about the six-minute mark. But Tomac wasn't done, using a quad line to reach Brayton then pass with less than two laps to go. Tomac explained his dramatic turnaround from the previous week as, "Just being comfy, and just riding more effortlessly. It's a combination of a few things, but [I] just feel one hundred percent better this weekend."
In the second 450SX Class Main Event Cooper Webb came out of the first turn with the holeshot with Monster Energy Kawasaki's Joey Savatgy and Tomac on his tail. Along with Red Bull KTM's Marvin Musquin, the four pulled a gap on the rest of the field with Team Honda HRC's Ken Roczen buried back in eighth. Five and a half minutes in Tomac reached the lead, and from there gapped Webb by over six seconds. Musquin went down trying to pass Savatgy; he remounted but ran out of time before being able to make the pass for a podium position. Tomac was on a roll, "I felt really good again, like I'm moving around so much better to get to my lines. It's just fun riding on my dirt bike. The track was getting a little more broken down that time, [I] gotta be a little more careful here and there but overall still really good."
Cooper Webb (2) led a star-studded gate into the first turn of Main Event 2 beating out the likes of Eli Tomac (3), Joey Savatgy (17), Marvin Musquin (25) and Ken Roczen (94).
The final race of the night was a nail-biter as Tomac got a bad start then ran wide against a Tuff Blox and then off the track. He fought from as far back as fourteenth to finish in sixth. Baggett was the early leader, but Monster Energy Yamaha Factory Racing's Justin Barcia was on the move, going quickly from fourth to the lead in the first four minutes of racing. Webb took advantage and got past Baggett at the same time then set his sights on Barcia. With under three minutes on the clock Webb dove under him in the same turn where Barcia had taken the lead. Webb pulled away, but Baggett became a factor in the closing laps. In the end Webb held on, beating Baggett by under half a second. Tomac's 1, 1, 6 Main Event scores gave him the overall win; Webb grabbed second place, and holds onto the points lead with 6, 2, 1 scores, and Chad Reed stepped onto the podium for the 132nd time in his Monster Energy career courtesy of his 3, 5, 7 scores, which edged out Roczen by one point.
After the third Main Event, Tomac said on the podium, "What really got me in that moto was when I went off the track, like on lap two or three. [I] almost clipped the Tuff Blox and had to go around this double, it shuffled me back. I mean, I was back in the beginning, but that really put me in the pressure cooker there and I was like, 'Am I really doing this right now?' So I got my head back in it and made the charge back. I was watching the points gap, [Brian] Krantz was doing a good job of giving me the position in that situation. I used up my whole cushion but it paid off. We're at such a better spot than we were and just felt more 'me' tonight."
Eli Tomac goes 1-1-6 in the three Main Event Triple Crown format earning him first place and 26 Championship points.
When asked about his struggles in qualifying and the early races, Webb said, "I was struggling earlier and, you know, tried to reinvent the wheel, change the whole bike, do this, do that. And just wasn't riding like myself, wasn't focused like I should have been. The old saying 'if it [ain't] broke don't fix it,' so went back to original settings for the last one and wouldn't you know it, that's the best setting. So I think I just kind of struggled, but I was pumped for myself; I mean, qualifying ninth and getting better each time. The first Main Event I really struggled, so to bounce back and get a second in the second one and a win in that one. It was a close one, but it was cool. It was nice to lead again, even though it was a Triple Crown Main Event, get a Main Event win and second on the night is good, so keep the ball rolling. But it was nice, intense racing tonight. The track was really demanding but they fixed it a lot with all the time they had so it made it a good race track."
Chad Reed's last podium was at Glendale, Arizona in 2017. When asked what got him back, he answered, "Honestly just starts and finally riding to your ability. It's been a long time. For the guy who's stood up here more than anybody in the history of the sport, I take it on personally as just feeling less about myself for not getting up here and, you know, running around the top ten, outside the top ten. So it feels so rad to be up here. I'm really, really proud and honored to race this JGR Suzuki. It's been a lot of fun…"
Chad Reed continues to set records as his 3rd place finish earned him his 132nd podium finish in 16 seasons.
The Eastern Regional 250SX Class racers had three ten-minute Main Events and Austin Forkner dominated the night just as he's been dominating the series. In the first Eastern Regional 250SX Main Event Forkner grabbed the holeshot; he lost the lead momentarily on the opening lap, but eventually pulled out a lead that stretched to over ten seconds as TLD/Red Bull KTM's Jordon Smith and GEICO Honda's Chase Sexton battled over second. A last lap attack through the whoops backfired on Sexton; he had to ride off the track and around the final berm to avoid a big crash, allowing Monster Energy/Star Racing/Yamaha's Justin Cooper to grab third.
In the second 250SX Class Main Event Smith grabbed the holeshot but Forkner quickly got past and checked out, building a lead that reached over seven seconds. Jordon held on for second, with JGRMX/Yoshimura/Suzuki's Alex Martin reaching third and Sexton finishing in fourth.
Forkner made history by winning the third 250SX Class Main Event, becoming the first rider ever to win all three. Smith ran much of the race in third but lost that position to an aggressive last lap pass by Cooper; it didn't matter in the overall as Smith earned second overall with 2, 2, 4 finishes. Sexton kept close to Forkner for most of the final race, and second place was good enough for third overall with 4, 4, 2 finishes.
The Eastern Regional 250SX Class podium from Left to Right – Jordon Smith, Austin Forkner and Chase Sexton.
Asked how he pulled off the first Triple Crown sweep, Forkner said, "Honestly my starts. My starts were dialed all night. The last start was the best one I had, and I knew I had it like five feet out of the gate, it was just such a good jump. My bike is the best it's been this year as far as fast [and] handling, it's just the complete package right now it makes my life easier. So, if I can just get a start like that, after how the first couple races went, I was pumped and I didn't think anybody would catch me. That was the 'Minneapolis me' not the 'Dallas me' today. 'Dallas me' was worried a little bit too much about what was going on behind me and today I was like, 'I'm not going to do that, I'm going to get out front and I'm going to push ahead. I'm not looking back. It doesn't matter, I'm just going to ride as fast as I can and as hard as I can. Track got tough, ended up starting to jump through the whoops and I think that was key because I blitzed them the first couple of laps and I was just not comfortable with it. It would have been easy to make a mistake so I started jumping through them, got 'em down pretty good and yeah, solid race."
Jordon went 2, 2, 4, with wrist injury from the previous round in Arlington, "It's a lot of riding here at the Triple Crowns, it's 60 minutes of riding [including qualifying] and I didn't get to do any riding this week. I went to Doctor Berg and got an X-Ray and MRI and luckily no breaks or tears, it was just bone bruised really bad. So [I] did as much therapy as I could during the week and I did one ten-minute moto on Thursday and man, I was bummed after that ten-minute moto because it was hurting really bad and I wasn't sure if I was going to be able to make it through the whole day. I've got to give it up to the whole team, Troy Lee, Red Bull, KTM, they worked with me all day. Even the suspension guy was making changes to try and help my wrist instead of necessarily help my bike out there at times. I've just got to give it up to them and Doctor Navarro; without them I wouldn't have made it thought the night. It was definitely tough and it got tougher and tougher as the night went on."
Chase Sexton was asked about his starts on the podium, "I had a really good start in the first race. I got a little pushed wide by Austin, we were side by side going into the first corner. Got into second place in that first race and made a little mistake and it cost me. The second start was not good; [I] came from a ways back to get to fourth. And that last moto I was like I've got to go out there and try and win this race. Austin's riding really good, we've just got to get in front of him and give him a little pressure. I rode pretty good in the first part of the race but then we got into lappers and slowed me down just a little bit and kind of knocked me out of my groove. But [I'm] looking forward to the East/West Showdown and trying to get my first win, that's what I'm looking for."
Next weekend Monster Energy Supercross goes to Mercedes-Benz Stadium in Atlanta, Georgia for round nine of the 450SX class and the season's first East/West Showdown where riders from both regional championships ride together for points for each series.
For the latest media highlights, please click the links below:
450SX Class Video Highlights
250SX Class Video Highlights
450SX Class Results
Eli Tomac, Cortez, Colo., Kawasaki
Cooper Webb, Newport, N.C., KTM
Chad Reed, Dade City, Fla., Suzuki
Ken Roczen, Clermont, Fla., Honda
Blake Baggett, Grand Terrace, Calif., KTM
Marvin Musquin, Corona, Calif., KTM
Justin Barcia, Greenville, Fla., Yamaha
Joey Savatgy, Tallahassee, Fla., Kawasaki
Justin Brayton, Mint Hill, N.C., Honda
Zach Osborne, Abingdon, Va., Husqvarna
450SX Class Championship Standings
Cooper Webb, Newport, N.C., KTM (173)
Ken Roczen, Clermont, Fla., Honda (167)
Marvin Musquin, Corona, Calif., KTM (161)
Eli Tomac, Cortez, Colo., Kawasaki (160)
Dean Wilson, Clermont, Fla., Husqvarna (122)
Justin Barcia, Greenville, Fla., Yamaha (120)
Blake Baggett, Grand Terrace, Calif., KTM (119)
Chad Reed, Dade City, Fla., Suzuki (114)
Aaron Plessinger, Hamilton, Ohio, Yamaha (104)
Justin Brayton, Mint Hill, N.C., Honda (97)
Eastern Regional 250SX Class Results
Austin Forkner, Richards, Mo., Kawasaki
Jordon Smith, Belmont, N.C., KTM
Chase Sexton, Clermont, Fla., Honda
Justin Cooper, Huntington, N.Y., Yamaha
Martin Davalos, Tallahassee, Fla., Kawasaki
Alex Martin, Clermont, Fla., Suzuki
Mitchell Oldenburg, Godley, Tex., Yamaha
Kyle Peters, Greensboro, N.C., Suzuki
Kyle Cunningham, Willow Park, Tex., Honda
Blake Wharton, Denton, Tex., Honda
Eastern Regional 250SX Class Championship Standings
Austin Forkner, Richards, Mo., Kawasaki (78)
Jordon Smith, Belmont, N.C., KTM (65)
Justin Cooper, Huntington, N.Y., Yamaha (63)
Chase Sexton, Clermont, Fla., Honda (60)
Alex Martin, Clermont, Fla., Suzuki (51)
Mitchell Oldenburg, Godley, Tex., Yamaha (50)
Kyle Peters, Greensboro, N.C., Suzuki (44)
Martin Davalos, Tallahassee, Fla., Kawasaki (43)
Kyle Cunningham, Willow Park, Tex., Honda (43)
Brandon Hartranft, Brick, N.J., Yamaha (41)
For more information, visit SupercrossLIVE.com, the official website of Monster Energy Supercross, or follow via social channels:
Media Contact:
Sean Brennen
Feld Entertainment
703-448-3664
sbrennen@feldinc.com
About Monster Energy Supercross
Monster Energy AMA Supercross, an FIM World Championship, is the most competitive and highest-profile off-road motorcycle racing championship on the planet visiting 13 different states in 2019. Founded in America and sanctioned by the American Motorcyclist Association (AMA) in 1974, Supercross is currently co-sanctioned by the Federation Internationale de Motocyclisme (FIM), the official global governing body for motorcycle racing, thus making it a formal World Championship. Over 17 weeks and a million-dollar All-Star Race, Supercross attracts some of the largest and most impressive crowds inside the most recognizable and prestigious stadiums in North America to race in front of nearly one million live fans and broadcast to millions more worldwide. For more information, visit SupercrossLIVE.com.
About Feld Entertainment, Inc.:
Feld Entertainment® is the worldwide leader in producing and presenting live touring family entertainment experiences that bring people together and uplift the human spirit. Properties include Monster Jam®, Monster Energy Supercross, Disney On Ice, Disney Live!, Marvel Universe LIVE!, Sesame Street Live!,DreamWorks Trolls The Experience and Jurassic World Live (coming Fall 2019). Across the brand portfolio, Feld Entertainment has entertained millions of families in more than 75 countries and on six continents. Visit feldentertainment.com for more information.
About the American Motorcyclist Association:
Founded in 1924, the AMA is a not-for-profit member-based association whose mission is to promote the motorcycle lifestyle and protect the future of motorcycling. As the world's largest motorcycling rights and event sanctioning organization, the AMA advocates for riders' interests at all levels of government and sanctions thousands of competition and recreational events every year. The AMA also provides money-saving discounts on products and services for its members. Through the AMA Motorcycle Hall of Fame in Pickerington, Ohio, the AMA honors the heroes and heritage of motorcycling. For more information, visit americanmotorcyclist.com.
Source: Feld Entertainment, Inc.
####