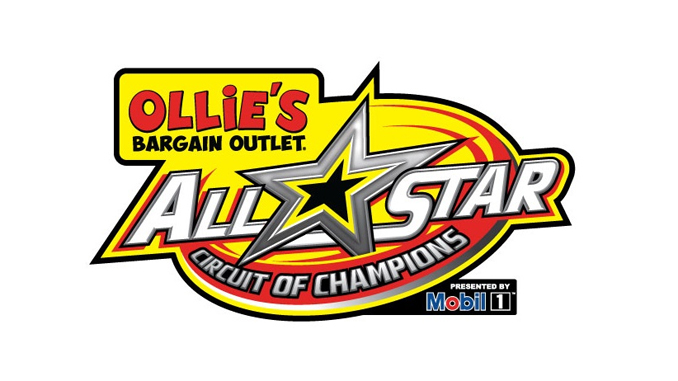 BROWNSBURG, IN – November 28, 2018 – (Motor Sports Newswire) – Celebrating five seasons under the ownership of three-time NASCAR Cup Series champion, Tony Stewart, the Ollie's Bargain Outlet All Star Circuit of Champions presented by Mobil 1 will continue an upward trend and ultimately reach new heights in 2019, set to visit 35 facilities for 56 events between late-January and the end of September. America's Series will visit 12 states during their journeys, marching throughout much of the Midwest and Mid-Atlantic, as well as northern Florida.
In traditional fashion, the All Star Circuit of Champions will launch the new year with action in the Sunshine State, set to do battle at Bubba Raceway Park and Volusia Speedway Park for five events between January 31 and February 7.
"We are more than excited to release our 2019 schedule of events," Tony Stewart said, All Star Circuit of Champions owner. "To have the opportunity to showcase our talents across such a wide area is truly special. I want to thank all of the tracks, their promotional teams and staffs for helping us put this schedule together. It takes a lot of hard work and organization. With the recent addition of Ollie's Bargain Outlet to help fuel our motivation, I'm confident this is going to be a year for the record books."
After a five-race stint in Florida to kick-off the season, Tony Stewart's All Stars will relax for a two months before returning to competition in the heart of the Mid-Atlantic, first visiting Virginia Motor Speedway (VMS) in Jamaica, Va., on Thursday, April 11. The visit to the Old Dominion State will launch the 2019 point season for the All Star Circuit of Champions. Like 2018, Florida events will not award points toward the overall All Star championship. In addition, the season's first point-earning event will award a $10,000 top prize.
Including the visit to VMS, ten events on the 2019 All Star schedule will award more than the traditional $5,000 top prize. In fact, seven of the ten high-paying programs will hand out top prizes equaling a minimum of $10,000; Virginia Motor Speedway on April 11 ($10,000), Wayne County Speedway's Ohio Sprint Speedweek finale on June 22 ($10,000), Jackson Motorplex on July 26 ($10,000), Wayne County Speedway's Pete Jacobs Memorial on September 1 ($10,000), the 52nd Annual Tuscarora 50 at Port Royal Speedway on September 7 ($52,000), the Dean Knittel Memorial at Atomic Speedway on September 14 ($12,554), and the Dirt Classic at Lincoln Speedway on September 21 ($20,000).
The Tommy Hinnershitz Memorial at Williams Grove Speedway and the Lou Blaney Memorial at Sharon Speedway will each award a $6,000 top prize in 2019, while the Jack Gunn Memorial at Williams Grove Speedway, once again supporting a twin feature format, will award a combined total reaching $8,000; $4,000 to each twin feature winner.
The 37th edition of Cometic Gasket Ohio Sprint Speedweek presented by C&R Racing will take on a slightly new look in 2019 with Wayne County Speedway hosting a pair of events including the $10,000-to-win finale. Demanding, to say the least, the Ohio Sprint Speedweek schedule, stretching from Friday, June 14 until Saturday, June 22, will be comprised of nine-straight events kicking off with action at Attica Raceway Park.
Following the Attica Speedweek opener, the All Stars will trek to Eldora Speedway, Muskingum County Speedway, Wayne County Speedway, Sharon Speedway, Atomic Speedway, Mansfield Motor Speedway, Limaland Motorsports Park, and Wayne County Speedway, respectively.
Once again, the All Star Circuit of Champions will have the opportunity to compete west of the Mississippi River, as the Series sets aim for a trio of stops throughout southern Minnesota and the eastern half of Iowa. Including the aforementioned Jackson Motorplex, the All Stars will invade 34 Raceway and Knoxville Raceway during their venture into the heart of the Midwest; a perfect test session for the annual Knoxville Nationals scheduled for mid-August.
The second of two visits to The Big E in 2019, the All Star Circuit of Champions will conclude their upcoming season by co-headlining the historic 4-Crown Nationals at Eldora Speedway. Joining all three national touring divisions of USAC, the 4-Crown Nationals finale will feature four divisions and four main events, all of which contested on Saturday, September 28.
Additional news and notes pertaining to the new year will be posted throughout the off-season. Fans are encouraged to stay alert via social media, as well as at www.allstarsprint.com.
2019 All Star Schedule:
1/31/2019 Bubba Raceway Park
2/1/2019 Bubba Raceway Park
2/2/2019 Bubba Raceway Park
2/6/2019 Volusia Speedway Park
2/7/2019 Volusia Speedway Park
4/11/2019 Virginia Motor Speedway
4/12/2019 Williams Grove Speedway
4/13/2019 Port Royal Speedway
4/14/2019 Bedford Speedway
4/19/2019 Attica Raceway Park
4/20/2019 Attica Raceway Park
(Attica will use rain date of 4/26 only if both 4/19 & 4/20 are cancelled)
4/27/2019 Wayne County Speedway
5/3/2019 Lernerville Speedway
5/4/2019 Sharon Speedway
5/17/2019 Wilmot Raceway
5/18/2019 Plymouth Dirt Track
5/19/2018 TBA in IL or WI
5/24/2019 Attica Raceway Park
5/25/2019 Wayne County Speedway
6/7/2019 Outlaw Speedway
6/8/2019 Stateline Speedway
6/9/2019 Weedsport Speedway
6/14/2019 Attica Raceway Park
6/15/2019 Eldora Speedway
6/16/2019 Muskingum County Speedway
6/17/2019 Wayne County Speedway
6/18/2019 Sharon Speedway
6/19/2019 Atomic Speedway
6/20/2019 Mansfield Motor Speedway
6/21/2019 Limaland Motorsports Park
6/22/2019 Wayne County Speedway (6/23 rain date)
6/28/2019 Jacksonville Speedway
6/29/2019 Dirt Oval @ Route 66
7/6/2019 Sharon Speedway
7/12/2019 Utica-Rome Speedway
7/13/2019 Orange County Fair Speedway
7/14/2019 Lebanon Valley Speedway
7/26/2019 Jackson Motorplex
7/27/2019 Knoxville Raceway
7/28/2019 34 Raceway
8/16/2019 I-96 Speedway
8/17/2019 Plymouth Speedway
8/22/2019 Grandview Speedway
8/23/2019 Williams Grove Speedway
8/24/2019 Lincoln Speedway
8/25/2019 BAPS Motor Speedway
8/30/2019 Attica Raceway Park
8/31/2019 Attica Raceway Park
9/1/2019 Wayne County Speedway (9/2 rain date)
9/6/2019 Port Royal Speedway
9/7/2019 Port Royal Speedway (9/8 rain date)
9/13/2019 Atomic Speedway
9/14/2019 Atomic Speedway (9/15 rain date)
9/21/2019 Lincoln Speedway
9/22/2019 Hagerstown Speedway
9/28/2019 Eldora Speedway (9/29 rain date)
About the All Star Circuit of Champions:
All Star Enterprises, LLC, wholly owned by Tony Stewart, d/b/a the All Star Circuit of Champions, is a winged sprint car series. The All-Star Circuit of Champions Sprint Car Series is one of the oldest traveling 410 sprint car organizations and is a staple of grassroots, open-wheel racing. Formed in 1970 by Bud Miller, the series has largely been considered the first 'outlaw' Sprint Car organization of the modern era. Motorsports entrepreneur Tony Stewart agreed to terms with Guy Webb to become the sole owner of the original winged sprint car tour in January of 2015. In 2019, MAVTV Motorsports Network will continue to be the official television home of the Ollie's Bargain Outlet All Star Circuit of Champions presented by Mobil 1 and will broadcast ten high-profile events.
About Ollie's Bargain Outlet:
Ollie's Bargain Outlet, Inc., founded in 1982, is one of America's largest retailers of closeouts and excess inventory, offering real brands at real bargain prices. Famous for its signature catch-phrase Good Stuff Cheap, Ollie's has a huge variety of famous brand-name merchandise in every department – food, books, housewares, toys, electronics, domestics, clothing, furniture, health and beauty, flooring, seasonal items and so much more – at up to 70 percent off the fancy stores' prices. You never know what you'll find at one of Ollie's 303 "semi-lovely" stores in Alabama, Arkansas, Connecticut, Delaware, Florida, Georgia, Indiana, Kentucky, Louisiana, Maryland, Michigan, Mississippi, New Jersey, New York, North Carolina, Ohio, Pennsylvania, Rhode Island, South Carolina, Tennessee, Texas, Virginia and West Virginia. For more information, visit www.ollies.us. Like us on Facebook or find us on Twitter at @OlliesOutlet. Ollie's is a publicly-traded company on NASDAQ under the ticker symbol OLLI.
About Mobil 1:
The world's leading synthetic motor oil brand, Mobil 1™ features anti-wear technology that provides performance beyond our conventional motor oils. This technology allows Mobil 1 to meet or exceed the toughest standards of car builders and to provide exceptional protection against engine wear, under normal or even some of the most extreme conditions. Mobil 1 flows quickly in extreme temperatures to protect critical engine parts and is designed to maximize engine performance and help extend engine life.
For more information, visit mobiloil.com, on Twitter @Mobil1 and, on Facebook, www.facebook.com/mobil1.
Mobil, Mobil 1 and Mobil 1 Racing are registered trademarks of Exxon Mobil Corporation or one of its subsidiaries.
Source: All Star Enterprises, LLC
####