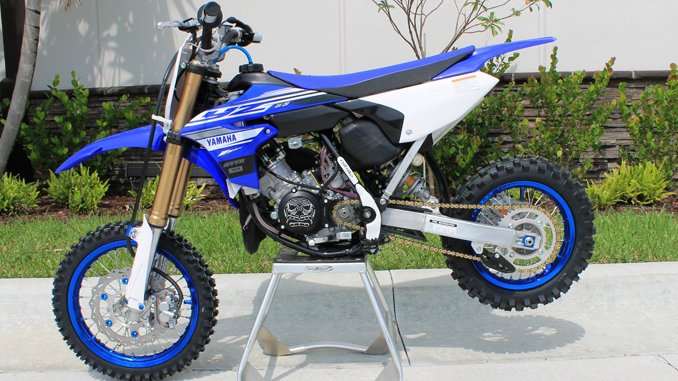 STUART, FL – July 5, 2018 – (Motor Sports Newswire) – Nihilo Concepts has just released their complete line of aftermarket parts for the New Yamaha YZ 65. Nihilo has built a reputation for developing innovative aftermarket products for all late model Motocross and Off Road race bikes. They are one of the very few fully USA based manufactures and they take pride in making everything in house and not importing parts from overseas. Everything is fabricated and assembled to the highest standards at their state of the art Florida manufacturing facility.
| | |
| --- | --- |
| | |
At Nihilo their mission is to develop parts that aren't typically available within the industry but that everyone wants. Things such as one piece Billet Titanium foot pegs, Until now One piece Ti pegs were not available to the public. Nihilo makes Ti pegs for Factory KTM, and many of the top teams, these are the same pegs that anyone can buy from Nihilo. They also pretty much invented the pre-cut Frame Grip Tape market, Nihilo Grip Tape can be found on the frames of many Factory teams as well as thousands of regular racers around the world.
When Yamaha announced that they were coming out with a new 65cc machine Nihilo immediately went to work designing as many parts as possible, all with the idea of making them better, stronger, lighter and faster than the stock components while making the bike look good at the same time.
Some of the parts Nihilo makes are:
Ignition Covers
Clutch Covers
Case Savers
Sprockets
Full Floating over size front brake Rotors
Thick rear brake rotors
Grip Tap
Billet rear brake pedal
Billet Shift lever
Close pull Clutch Lever
Heavy Duty Clutch Springs
Carbon Fiber Glide Plate
Carbon Fiber Rear master cylinder cover
Chain Block
Ny-lock Axel Nuts
Tall Seat Foam
Gripper seat covers
Radiator louver graphics
Ti Foot Pegs
Oil Fill Plug
Front Brake line clamp
Aluminum Fork Guard Bolts
Blue Fuel Line
Nihilo Graphics Kit
Joe Brewster (Owner of Nihilo Concepts)
It's been a lot of fun developing parts for this new exciting 65 from Yamaha, we are seeing a lot of interest in the new bike and it has already begun to prove itself at the big amateur events throughout the country. We are just completing final testing with some of the fastest amateur riders in the US and everything is holding up well and working great. Kade Johnson one of Yamahas top BluCru riders especially loves the positive feel that the new rear brake pedal gives him because it is mounted more rigid than the stock part and rides on a ball bearing it gives him better control of the rear brake.
Go to www.nihiloconcepts.com and check out all the latest parts for the YZ 65, while you are there click the link for your own bike and see for yourself why they say "Nihilo has a Passion for Innovation."
Source: Nihilo Concepts
####