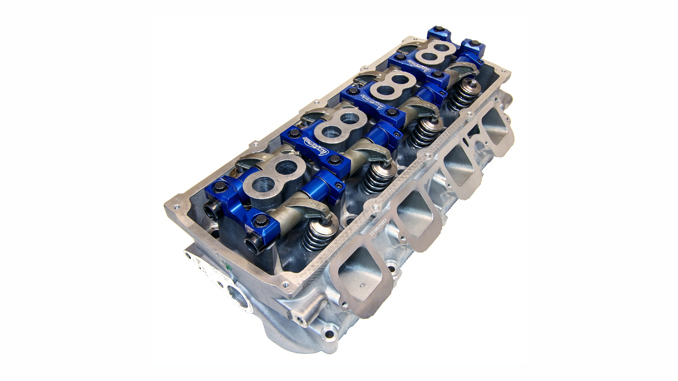 DEARBORN HEIGHTS, MI – May 14, 2018 – (Motor Sports Newswire) –  Livernois Motorsports' new Powerstorm HEMI® Rocker Bar Systems increase valvetrain stability for 5.7L, 6.1L and 6.4L HEMI engines, supporting tuning and engine enhancements that increase engine speed. One system is designed specifically for 5.7L and 6.1L, while the other system is for 6.4L engines.
Crafted from CNC-machined billet 6061 aluminum and extruded round 6061 aluminum, the lightweight rocker bar systems help stabilize the HEMI engines' unique valvetrain at higher rpm, enhancing durability and reducing friction – particularly with tuned engine combinations and power adders such as superchargers or nitrous oxide. These bolt-on components simply replace the engines' original rocker bars.
"A HEMI engine is designed to produce serious horsepower and torque, which can impact the stability of the valvetrain. At Livernois, we created our Powerstorm Chrysler HEMI Rocker Bar Systems to increase that stability which then allows for drivers to achieve higher speeds with greater safety," said Tom Millen, General Manager for Livernois Motorsports. "We were first to market with these systems nearly ten years ago, and they're still a popular product."
Livernois' HEMI rocker bar systems include upgraded rocker bar shafts, billet aluminum rocker bars, fastened with ARP bolts, shaft washers, shaft collars and adjustable clamps for setting the rocker position. The shafts are made of 4130 chromoly steel and offer increased wall thickness for greater strength. Together, each system weighs about 15 pounds, saving about three pounds from the stock systems.
Livernois offers the rocker bar systems individually, but can assemble them into a complete cylinder head as well. Installation is available at the Livernois' Michigan facility.
About Livernois Motorsports
Livernois Motorsports is a Dearborn Heights, Michigan-based automotive aftermarket company with more than 20 years of experience specializing in engineering services as well as performance aftermarket products design and manufacturing. Specializing in late model Ford, GM and Chrysler performance parts, service and tuning, the company owns a 36,000 square foot facility that houses its full-service operations. Featured are 17 hoists, four chassis dynos, 2 for all wheel drive, a portable 2-wheel drive, an engine dyno, full engine machine shop and engine build facility, private label and custom product manufacturing, cylinder head development center, seven CNC machines, a fabrication shop and 600/1020 flow benches. Livernois also stocks parts from hundreds of manufacturers to supply customers with virtually any performance enhancing product they may desire. For more information, contact Livernois Motorsports by calling (313) 561-5500 or on the web at livernoismotorsports.com/. Follow Livernois on Facebook: Livernois Motorsports And Engineering, Instagram: @livernoismotorsports or Twitter: @LivernoisMotor
Source: Livernois Motorsports
####