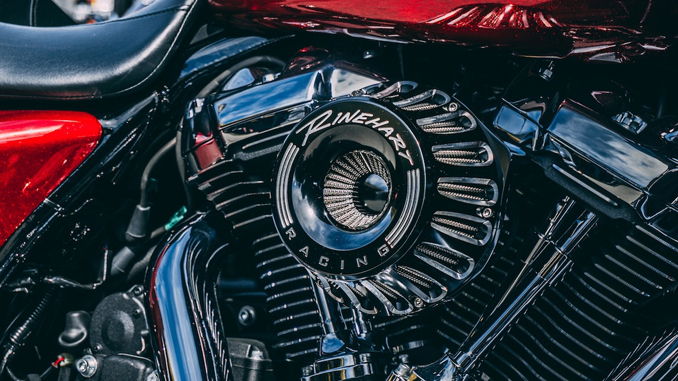 ARDEN, NC – April 17, 2018 – (Motor Sports Newswire) – For Harley-Davidson® owners in search of improved air intake and the performance boosts that come with it, Rinehart Racing® has introduced the Moto Series Inverted Air Cleaner. This bolt-on accessory is available for a wide range of Harley-Davidson models, and is now in stock online and at authorized Rinehart Racing dealers.
The Moto Series Inverted Air Cleaner was meticulously engineered to dramatically improve airflow compared to stock air filters. The inverted, pleated top and sides maximize the amount of air flowing to the engine from all angles, not just the sides. The design features a highly efficient hidden breather and virtually closed loop system, while the synthetic filter element is water-resistant, removable and washable for easy maintenance. Each Air Cleaner is machined from forged aluminum and given a chrome or black finish to complement your bike's distinct style.
"Upgrading your exhaust system makes an immediate impact on the performance, look and sound of your motorcycle," explained Rinehart Racing Owner & CEO, Judd Hollifield. "But many people overlook the importance of the air going into your engine. Upgrading your air intake, especially in combination with a Rinehart Racing performance exhaust system, will improve performance in a big way."
While the Moto Series Inverted Air Cleaners can be easily installed on most bikes, they were designed to deliver best performance gains when installed in conjunction with full system or slip-on exhausts from Rinehart Racing.
The Moto Series Inverted Air Cleaners are available online and from authorized Rinehart Racing dealers.
About Rinehart Racing
From its beginnings as the exhaust system of choice for championship-winning NASCAR® and IndyCar® teams to its rise in the v-twin motorcycle marketplace, Rinehart Racing® has established itself as the premier manufacturer of performance exhausts for Harley-Davidson and Indian Motorcycles. The American-made exhaust systems are now well-known for their distinctive sound, elegant style, and signature end caps, a testament to the company's innovative designs, proprietary technology and quality craftsmanship. The Rinehart Racing team is dedicated to providing the best customer service possible, helping to welcome new riders to the Rinehart Family one exhaust system at a time. Learn more at www.rinehartracing.com.
Source: Rinehart Racing
####