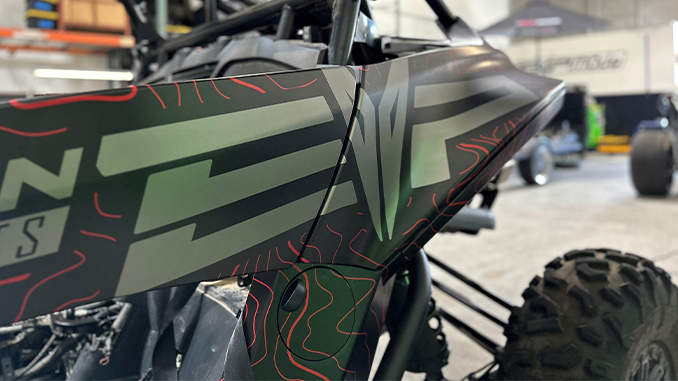 MCKINNEY, TX – September 7, 2023 – (Motor Sports NewsWire) – Segway Powersports has partnered with Evolution Powersports (EVP), a Powersports aftermarket accessories manufacturer, to develop a line of performance aftermarket accessories for the Villain SX10 SSV platform. EVP will introduce and debut a fully-custom Segway Villain at the Sand Sport Super Show (Booth 9100-LI).
"The philosophy we have at Evolution Powersports is to design and create the highest quality aftermarket products built to meet or exceed OE standards," explains Evolution Powersports Co-Founder Todd Zuccone. "We want to provide the Villain with added power and a unique sound while improving the overall performance to compete with the other vehicles in its class."
"We're excited to unveil what the team at Evolution Powersports will bring to the market for the Villain platform," shared Gabriel Cruz, Marketing Director at Segway Powersports. "With their track record of producing high-quality products that work in real-world conditions, we are excited to share how they have enhanced the performance, ride experience, and overall enjoyment of the Villain platform."
Evolution Powersports has developed a range of aftermarket enhancements for the Villain platform, which include a bolt-on, intercooled turbo system designed to boost the stock horsepower output by approximately 40%. Subsequently, Evolution introduced a dealership ECU reflashing system, enabling authorized Segway Powersports dealers to enhance customer performance through ECU reprogramming. To further augment performance and create a more aggressive sound, EVP will introduced a high-performance bolt-on exhaust system. Complementing these upgrades, various clutch components will be introduced to maximize the performance of the OEM CVT.
Shane Wilson, Vice President of Corporate Strategy at Segway Powersports, emphasized, "The transformation of consumer behavior commences with aftermarket support and acceptance. Our partnership with Evolution Powersports marks the initial stride towards bolstering Segway's Powersports division in terms of aftermarket support."
Look for Segway Powersports to unveil an Evolution Powersports Villain SX10 model fitted with its aftermarket parts at the year's Sands Sports Super Show on September 15-17, Booth 9100-LI.
For more information about Segway Powersports products, please visit the U.S. Segway website at SegwayPowersports.us and follow Segway Powersports on its social media channels at @segwaypowersportsus.
ABOUT SEGWAY
Since 2012, Segway-Ninebot has been dedicated to leading the innovation of short- distance transportation and robotics. As a high-tech enterprise integrating R&D, manufacturing, sales, and service, Segway-Ninebot owns over 1,000 basic core patents in global industries, which have been applied to products in multiple areas, including innovative mobility, robotics, and the powersports industry. A subsidiary of the Segway-Ninebot Group, Segway Powersports shares the Segway mission to infuse technology into innovative products that "simplify the movement of people and objects" and adhere to the motto "Fear No Place."
Source: Segway Powersports 
####