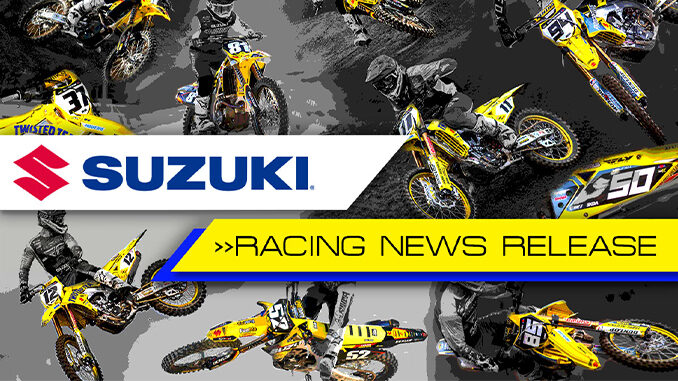 HEP Motorsports and BarX Teams Continue 2023's Progression
BREA, CA – May 25, 2023 – (Motor Sports NewsWire) – Suzuki Motor USA, LLC is pleased to announce its continued alliance with HEP Motorsports for the 2023 AMA Pro Racing Motocross Championship. Suzuki and HEP Motorsports will race as Twisted Tea/HEP Suzuki Presented by Progressive Insurance. Bar X Suzuki will continue to spearhead Suzuki's 2023 motocross 250-class racing efforts in the Championship.
Coming off a successful 2023 Supercross campaign, Twisted Tea/HEP Suzuki Presented by Progressive Insurance team riders include Fredrik Noren (47), Marshall Weltin (50),  and Kyle Chisholm (11) racing on Suzuki RM-Z450s.
Marshall Weltin and Fredrik Noren will run the 450 class, with Kyle Chisholm competing in select rounds of the 2023 AMA Pro Racing Motocross Championship.
Veteran racer Fredrik Noren joins the Twisted Tea/HEP Suzuki squad. Freddie Noren comes to the team with 27 career AMA Pro Motocross Championship 450-class top-ten results and is projected to be a strong addition to the team and its continued progression.
Supercross 450-class stalwart Kyle Chisholm finished the 2023 Supercross season with solid results. Finishing the 2023 SX season in 15th place, Chisholm had consistent race performances,  with his best result of the 2023 SX season at the penultimate stop in Denver, recording a solid 8th place. Chisholm will compete in select 2023 MX Outdoor rounds.
Rounding out the Twisted Tea/HEP Suzuki 450-class team is Marshall Weltin. Hailing from Ulby, Michigan, Weltin is moving up from the 2023 250 SX East series, where he showed consistent performance, highlighted by 11th-place finishes in Atlanta and Daytona.
Robbie Wageman, and Dilan Schwartz will spearhead BarX Suzuki's 250 class efforts in the 2023 AMA Pro Racing Motocross Championship while Derek Drake will try his hand on the RM-Z450.
Competing for Suzuki in the 2023 AMA Pro Motocross Championship's 250 class is BarX Suzuki's  Robbie Wageman (59),  and Dilan Schwartz (85): who joins the BarX Suzuki squad from the Progressive Insurance ECSTAR Suzuki team. BarX Suzukis third rider, Derek Drake (53) will step up into the 450 class for the outdoor series. BarX Suzuki also showed consistency and progress in the 250 SX season that just concluded.
Wageman had a solid season in the 250SX West series, finishing 11th overall, with a best result of ninth at Glendale. Derek Drake, from San Luis Obispo, CA continues with Bar X having finished in 15th place in the 250 SX West Series Championship. Drake's strongest showings were 12th-place finishes at Anaheim 1, Glendale, and Denver. Dilan Schwartz joins Bar X having achieved a 16th place finish in the 250 SX West Series Championship, with an 11th place result at Denver.
Suzuki RM-Z450 and RM-Z250 make for some of the
best-turned-out race bikes of 2023.
"The 2023 Supercross season was an exciting time for the Suzuki teams, with a nice progression of improving results as the season progressed," stated Suzuki's Motorsports Manager Chris Wheeler, "with both the RM-Z450 and RM-Z250 continuing to show consistent performance and results, our teams are amped to race the Outdoors," added Wheeler.
"We are excited to bring the team's Supercross season momentum to the Outdoors series. Our program has made great strides in 2023, and we are looking forward to extending this effort to the AMA Pro Motocross Championship. Testing and development efforts in 2023 have achieved some great results for Suzuki fans," HEP Motorsport's Team Principle, Dustin Pipes stated.
Suzuki's teams now take on the challenge of the 11-round AMA Pro Motocross Championship. And then onto the SuperMotocross World Championship Finals fueled by Monster Energy returning this September.
The all-new series seeds the top 20 racers in combined supercross and motocross season championship points into two Playoff rounds,  and the Final at the Los Angeles Coliseum.
The AMA Pro Motocross Championship kicks off at Fox Raceway in Pala, California on Saturday, May 27th.
For more team news, and the latest from the Supercross season and SMX World Championship series, please visit SuzukiCycles.com/Racing/Motocrossand HEPMotorsports.com.
Press Contact:
MC Press Relations
Suzuki Motor USA, LLC 
MCPressRelations@suz.com
About Suzuki:
Suzuki Motor USA, LLC (SMO) distributes Motorcycles, ATVs, Scooters, Accessories, and ECSTAR Oils & Chemicals via an extensive dealer network throughout 49 states. Suzuki Motor Corporation (SMC), based in Hamamatsu, Japan, is a diversified worldwide manufacturer of Motorcycles, ATVs, Scooters, Automobiles, Outboard Motors, and related products. Founded in 1909 and incorporated in 1920, SMC has business relations with 201 countries/regions. For more information, visit www.suzuki.com.
Source: Suzuki Motor USA, LLC
####