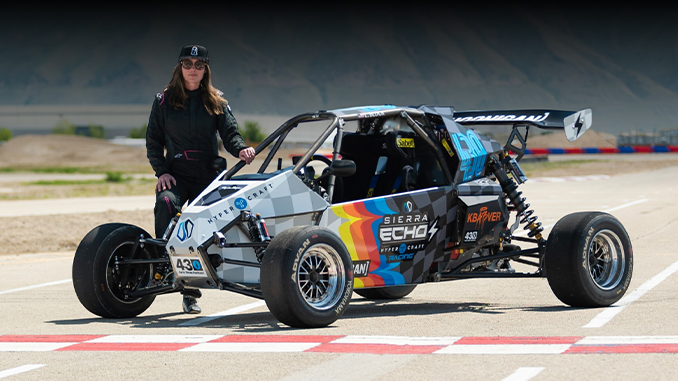 PROVO, UT – May 24, 2023 – (Motor Sports NewsWire) – Professional Rally Driver Lucy Block, mother of three and wife of global action sports star the late Ken Block, has announced in partnership with SIERRA Cars and Hypercraft that she will race Pikes Peak International Hill Climb (PPIHC) on June 25 in Colorado Springs, driving in Ken's honor.
"My biggest accomplishments have always been being a mother to my kids and a strong, supportive wife. Being given the opportunity to drive to the summit for Ken at Pikes Peak is an honor. He gave so much to the action sports community. Driving Pikes Peak International Hill Climb gives us a way to carry Ken's spirit forward and do something he was excited to do himself. We are eager to be able to use this opportunity to create awareness around 43 Institute, and celebrate my husband's love for motorsports and innovation," said Block.
Competing in the Unlimited Class, and for her first time up Pikes Peak, Block will pilot the SIERRA ECHO EV powered by Hypercraft. The ECHO EV is built on SIERRA Cars' race-proven chassis and a Hypercraft electric drive system. It was developed as a joint partnership between Hypercraft, a leading powertrain manufacturing startup in EV mobility, and SIERRA Cars, a high-performance recreational and race vehicle manufacturer.
The Block's daughter, 16-year-old Lia Block, also a rally driver, will make an untimed tribute run for her father, driving the same pink Porsche 911 "Hoonipigasus," that Ken drove less than one year earlier. Block's 2022 attempt at a record-setting run at Pikes Peak was foiled by engine failure. His family and the automotive world suffered a massive loss when Ken died tragically in a snowmobile accident on January 2, 2023.
"We are so honored to take part in this year's PPIHC with the Block family. Shortly after Ken's passing, I was speaking with Lucy and realized how important it was to her that she remains in motorsports with her family. Getting Lucy involved at Pikes Peak seemed like the place where we could make the most positive impact," said SIERRA Cars Founder and Professional Racecar Driver Cole Powelson. "Standing on the summit of Pikes Peak on race day is one of the greatest pleasures I've ever known. To be able to share that with Lucy and Lia is the thing I'm looking forward to most this year."
"Ken has been a big inspiration to many of us at Hypercraft, for decades," said Hypercraft Co-Founder and Chief Marketing Officer Jonathon Miller. "The opportunity to work with Lucy, and to be the EV powertrain provider for the SIERRA ECHO that will take her up this legendary mountain, is a huge honor, to say the least. We're excited to see the Block family inspire the next generation of performance culture, just like their dad did."
The SIERRA ECHO EV powered by Hypercraft is a driver-focused experience with unsurpassed driving versatility. It features a single-seat chassis design built from tubular DOM steel armed with rally-inspired steering, suspension and braking that can conquer everything from sand to ice and asphalt.
Vehicle Specs:
Hypercraft-supplied drive system delivering 300 bhp of peak power (225 kW) and 368 ft/lbs (500 Nm) of peak torque at a maximum of 12,000 RPM, which is enough power to propel the car to 120 MPH.
Energy storage also comes from Hypercraft via three 18.6 kWh batteries.
A Sadev gear reduction with LSD transfers power through a set of RCV axles.
Suspension is handled by a dual wishbone front design with 10″ or 12″ of adjustable wheel travel and Zbroz 2-way adjustable shocks.
Wilwood 4 piston calipers squeezing vented rotors and a hydraulic handbrake easily bring the 1,350 lb ECHO to a stop.
On the inside, the driver-focused interior consists of an AEM digital display, a Sabelt steering wheel, seat and six-point, race-certified harness.
Powelson explained, "EVs are very well-suited for Pikes Peak, because they don't suffer a loss in power due to altitude, like gas-powered vehicles. Fans of Pikes Peak will be excited to learn the same model of car Lucy is racing is the same car we're offering for purchase. This is a historical first for Pikes Peak racers, fans and car manufacturers competing in the race."
Further, Hypercraft, SIERRA Cars, and Block are working to raise funds for the Block family's non-profit 43 Institute, donating a portion of proceeds from the sale of seven "Block Edition" cars to the organization in support of its mission, with the goal of raising $43,000. These seven specialty vehicles are race-ready and feature the same Block-tribute livery graphics as Lucy's Pikes Peak car. Additionally, each of the seven vehicles will be hand-signed by members of the Block family.
Click HERE to view hi-res images. For more information, please visit www.43i.org, www.hypercraftusa.com, and www.sierra-cars.com.
Sales inquiries, please contact: cole@sierra-cars.com.
Media inquiries, please contact sonia@gallerypr.com.
Source: Hypercraft
####