March 23, 2023  – (Motor Sports NewsWire) – Where history takes the lead. The Legend and Heroes Tour Traveling Moto Museum is pleased to announce that it will recognize Jason McCormick for his accomplishments and achievements in the sport of supercross and motocross. In a presentation before opening ceremonies at the eleventh round of the 2023 Monster Energy Supercross Series in Seattle, WA, on March 25, 2023, McCormick will be honored by the tour. He joins an elite group of men and women that made the sport of supercross what it is today.
About Jason
Hailing from Vancouver, Washington, just a couple of miles upriver from the world-famous Washougal MX Park, McCormick would become one of the most prominent Pacific Northwest motocross racers during his career.
Jason turned pro in 1993 and traveled the national circuit with fellow PNW racer Ryan Huffman. The two riders made their mark as privateers. In that first season, McCormick scored two Top-10 overalls at Washougal and Broome-Tioga and was 10th overall in the final series standings.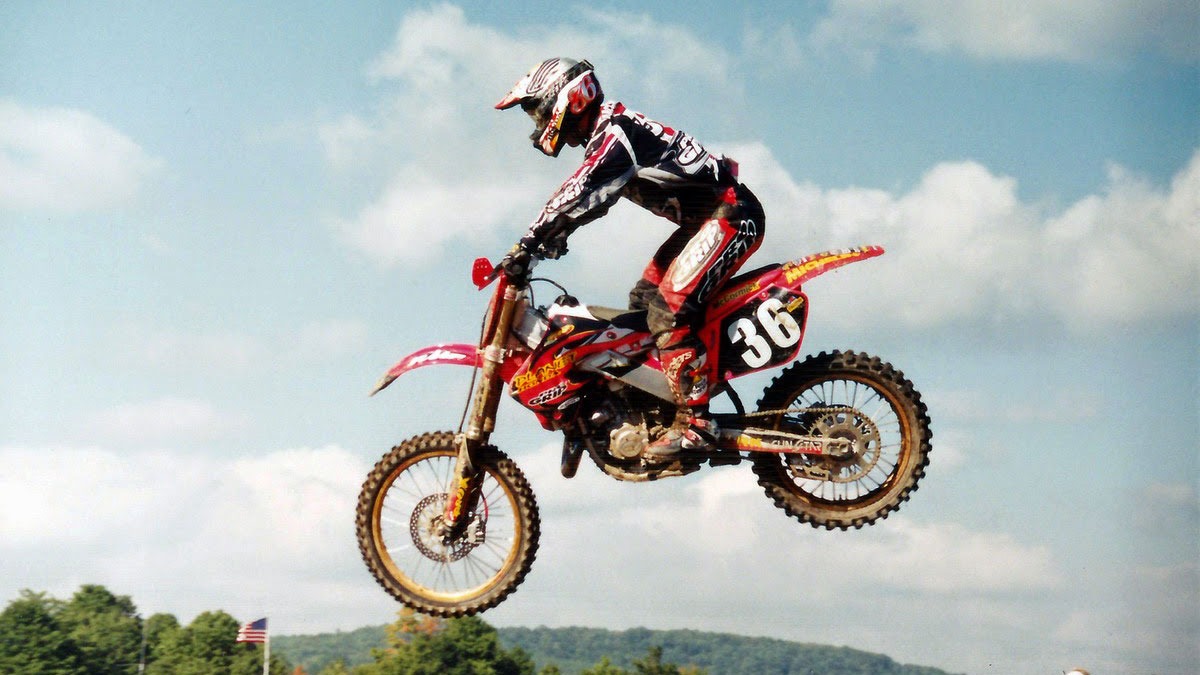 A darling of the Pacific Northwest fans during his career, McCormick always rose to the occasion at Washougal. He finished seventh overall in 1994, third overall in 1995, eleventh overall in 1996, ninth overall in 1997, and third overall in 1998 and 1999. He was also fourth place at the Seattle Supercross in 1998.
Not just a northwest specialist, during his career, McCormick has had more than 80 top 20 finishes in motocross and supercross races all across the country.
He was an FMF Honda racer in 1998, and in 1999 and 2000, he rode for the Planet Honda team. It was on that team that is perhaps what he is most remembered for.
From Washougal Track Announcer Brian Barnes, when speaking about Washougal MX Park. "The biggest moment here ever was Jason McCormick in 1999. He got a fifth in the first Moto, and in Moto 2 amidst the frenzy of the crowd, he won, beating Ricky Carmichael, and got third overall."
When he finished racing professionally, he started JMR Suspension in 2010. As a professional factory racer for over 12 years and a test rider for multiple suspension companies, Jason developed settings and products on the market today. His elite knowledge of racing and suspension testing makes JMR Suspension a leader in the industry.
Today he enjoys his life in the PNW, where he is married and has two children.
Join us on Saturday at the Monster Energy Supercross as we honor Jason.
See behind-the-scenes footage, great vintage photos, and stories by visiting our website and social media accounts.
Website – www.legendsandheroestour.org
Facebook – www.facebook.com/LegendsAndHeroesTour
Instagram – www.instagram.com/legendsandheroestour
About the Tour:
The Legends and Heroes Tour is a professional historical display and timeline of America's greatest motorsports, motocross, and supercross. A registered 501c charity, the tour works throughout the year to share the joys and history of supercross and motocross. On-site, the tour encompasses nearly 5000 square feet of moto history with bikes, gear, and other memorabilia that transport our guests back in time through the sport's history. Visited by more than 9 million guests since its inception, the Legends and Heroes Tour attends each stop of the Monster Energy Supercross Series. Visit us in the Pit Party at a supercross or other event near you or online at www.legendsandheroestour.org.
The Legends and Heroes Tour would not be possible without great sponsors like Acerbis, AHRMA, American Honda, CALVMX, Dunlop Motorcycle Tires, EZ-Up, Motion Pro, Spectro Oils, SSR Motorsports, and Yuasa Battery. – Thank you all.
Source: Legends and Heroes Moto Museum
####