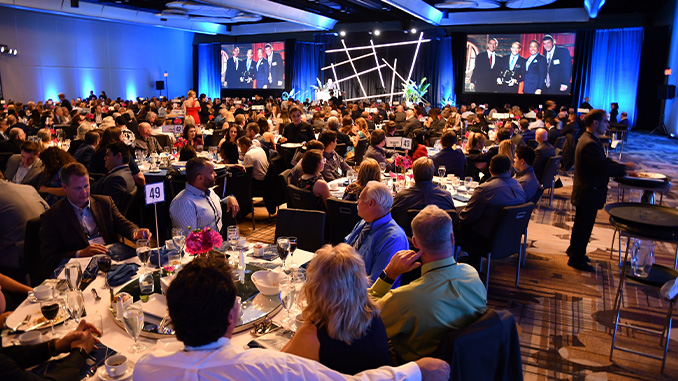 SEMA Installation & Gala to be held in new West Hall of the
Las Vegas Convention Center
DIAMOND BAR, CA – April 23, 2021 (Motor Sports NewsWire) – SEMA leadership, volunteers, and industry icons will gather in Las Vegas for the 2021 SEMA Installation & Gala on Friday, July 30.
The SEMA Installation & Gala is a long-established tradition where individuals who have made extraordinary contributions to the industry are recognized and celebrated. Since 1976, the SEMA Gala has served as a formal gathering where new SEMA Hall of Fame inductees are introduced, incoming Board of Directors are sworn in, and outgoing Board of Directors are honored.
This year's event will take place for the first time in Las Vegas, Nevada. Specifically, the event will be held in the new West Hall of the Las Vegas Convention Center, the same facility where thousands of industry professionals will gather for the 2021 SEMA Show in November.
"SEMA has a deep history and connection with the city of Las Vegas," said Chris Kersting, SEMA president and CEO. "We could not be more excited about celebrating the industry in Las Vegas, and christening the West Hall with such a noteworthy event."
The SEMA Installation & Gala will be one of the first events held in the West Hall since construction of the 1.4 million-square-foot facility was completed in January. The event, which is expected to include about 400 individuals, will also mark SEMA's first mass gathering to take place in more than a year.
"I look forward to the SEMA Gala each year – even more so this year than any other year since it will be a reunion for our industry's friends and family," said Kersting. "The SEMA Installation Gala is important to the association, the members, and the industry, and it's about much more than just introducing new Hall of Fame members or recognizing our Board of Directors. The event is about community, family and celebration, with people who share a common passion and love for the industry."
Tickets to the 2021 SEMA Installation & Gala are available to all SEMA members and can be purchased at https://www.eventbrite.com/e/2021-sema-installation-and-gala-tickets-92403153319. Details about the honorees (new Hall of Fame members and incoming Board of Directors) will be announced in May.
About SEMA
SEMA, the Specialty Equipment Market Association founded in 1963, represents the $46.2 billion specialty automotive industry. The industry provides appearance, performance, comfort, convenience and technology products for passenger and recreational vehicles. Association resources include market research, legislative advocacy, training and product development support, as well as leading trade shows such as the SEMA Show in Las Vegas, NV, and the Performance Racing Industry (PRI) Trade Show in Indianapolis, IN. For more information, visit www.sema.org, www.semashow.com, or www.performanceracing.com.
Source: Specialty Equipment Market Association
####